Featuring postgame quotes from the following: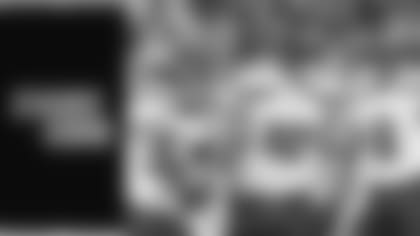 Re-live Each Game With The Seahawks Rewind Podcast
Re-live every Seahawks game this season with game highlights, player and coach postgame interviews, and a whole lot more. Available on Spotify, Apple Podcasts, Stitcher and wherever else you might get your podcasts.
PETE CARROLL: That was a really frustrating start for us. The Rams did really well. They took care of the ball and did a nice job. I have a lot of respect for Sean (McVay) and the job that he does. They did a heck of a job today. First half we had the ball four times and we got in scoring position. We didn't get our touchdowns out of the drives, missed field goal, and it felt like we were moving and we were in control of that part of it, but the second half we just couldn't get any first downs. Couldn't make the ball go. Got harder as the game went on and we didn't do well. On the other side of the ball was a third down disaster for us, 11 for 17, so great job by Stafford. He's just that good. We gave him opportunities. We didn't get heat on him, and we needed to generate it. I look at a little bit of misjudgment on my part that we would be able to do things we've been doing and be able to play a good football game. Didn't work out that way. We needed to pressure them more and get heat on them to cover them up and get off the darn field. This is a big challenge for us to bounce back. Look what we're going against. Going to go against one of the hottest teams in the world coming up in Detroit. We'll see how this goes. Now it's about us digging back into it. We've done a ton of the right stuff all the way through. I've been telling you how the preparation has gone. When it matched up and came time, we weren't able to get off the field like we thought we would be able to. They did a nice job taking care of it and didn't give us the football other than the blocked kick. That's enough to play a good football game if they can take care of the ball, and they did. We've got a lot of work to do.
Q. Update on Charles Cross and Abe Lucas?
PETE CARROLL: Yeah, Charles has like a sprained big toe, and the x-rays from what I heard didn't look bad. We'll see. But he felt something and so we had to look at him. Abe's (Lucas) knee just acted up on him again. He doesn't have a knee injury. Just the same knee we rested him on during camp just got really sore during the game and couldn't fire the way he needed to, so we had to get him out of there. I don't know what to tell you about that one.
Q. On how they played in the first half…
PETE CARROLL: Yeah, it kind of felt that we gave up the first drive and got off the field the rest of the opportunities in the first half. So, it's 13 to seven and looked it like we were in a very good football game and ready to go. We came out to go for the win and play good football and be aggressive, but we didn't execute the way that we had counted on. We didn't finish the way we needed to. It's really obvious. Why that happened, we've got to go back to work and see what we can do to help the guys. I have a big role in this. I've got to make sure I am helping our guys on defense and make sure that the assessments we make on offense, we can count on better than we did. We just didn't execute like we thought we could.
Q. On only having two quarterback hits on 38 dropbacks.
PETE CARROLL: We didn't blitz a lot. We did some. But he got rid of the football really well. It's all aspects, didn't cover him as tight as we needed to and didn't rush enough to disrupt him. He's a great thrower, and if you give him time he can tear you up, and he did. He had a great day today.
Q. On the offensive issues in the second half...
PETE CARROLL: Starkly different to me the way we played in the first and second half. We were in there talking about it right now, trying to figure out how it got so erratic. We weren't on it and didn't convert and get the ball moving. We didn't run the ball, we didn't do anything. Did nothing in the second half. We were trying and calling the stuff and we had things that we thought we could do, and we weren't able to get it done.
Q. How hard was that for an offense when both tackles go out in quick succession?
PETE CARROLL: It's about as hard as it gets when both guys go. We'll see how Stone (Forsythe) and Jake (Curhan) did, but you could see at the end we were hurting a little bit (protecting).
Q. What was your thought on the personal fouls from your team at the end of the game?
PETE CARROLL: I thought we lost our minds a little bit, and we'll talk about that. That shows you the frustration and based on the expectation that we were going to be better and not in that situation. I don't like seeing this look, that looks terrible. We'll talk about that. That's not something that I'm concerned about. We were in that position and we've got to make better decisions.
Q. When the guys were coming out pre-game, did you pay attention to Bobby's ovation?
PETE CARROLL: As a matter of fact I did. I thought that was amazing. I felt it. I felt the response of the fans to him. I thought he played a really good ballgame today. I couldn't tell all of it, but I thought he played really well today and meant a lot to him. I thought he did a really good job being poised about it like you would hope and expect he would playing his old team. But I thought that was an extraordinary statement by our fans of appreciation and love for the guy that has given so much to this program. He deserves every bit of it, and I thought it was perfect moment.
Q. On Jordyn Brooks' first game back…
PETE CARROLL: He did pretty good. We've got to see how he did coverage-wise because they did hit a lot of stuff inside and we played a lot of zone stuff and mixed our zones up. We weren't able to get in front of many balls, but I don't know. I've got to look at the film. A great accomplishment. We rested him a little bit. He added up some plays, so we got him out of there, kind of what we were thinking would happen. Devin (Bush) was ready to play and all that, but it's a great accomplishment for him to get back.
Q. The penalty they called on Tre Brown on the third down. Did you get a good look at that?
PETE CARROLL: No, I didn't. I mean, I would like some information on it.
Q. What did you think of Tre Brown's day?
PETE CARROLL: I've got to look at the film.
Q. How has the team responded all off-season and pre-season, how surprised were you?
PETE CARROLL: Yeah, I am surprised and disappointed that we weren't cleaner. 13 to six, no big deal. We were in pretty good shape. Moved the ball well in the first half, and really felt like we should be able to take the next step and take control of the football game. I thought we were in great shape to do that. It's shocking to me now that we weren't able to take advantage of that. I don't care what the score is at halftime. I like being ahead which we were, and I like the fact that we moved it. They also scored on the first drive and didn't score on any of the other drives. So, we felt like we had a real shot. I don't think we were cocky at all. We surely didn't talk like that. We didn't respond well enough.
PETE CARROLL: Yeah, he's fine. He was examined but he was fine. (Boye) Mafe had his knee looked at, but he finished the game, so he was alright. That's all we have.
Q. What do you feel like changed for you guys as an offense first to second half?
GENO SMITH: That would be good to see on film, to see exactly what changed. I feel like we just didn't execute when it comes down to it. You know, I'll be the first to say that as always you can put that on me. It's my job to make sure we're ready, always prepared, always competing. I just feel like we didn't do that to the best of our ability in the second half. Just one game. Obviously not the way we wanted to start, but the good part is that it's not 17. So we got to figure out how to get better from this and we got 16 opportunities to go out there and right this wrong.
Q. How surprised I guess though are you by the result just given I guess the expectations you guys had coming into the year?
GENO SMITH: It's the NFL. They're a good team. They're a couple years removed from winning the Super Bowl. They got some key players there that helped them do it. I'm surprised, yes, I am. I didn't expect to come out and lose at all, let alone in that fashion. Hats off to the Rams. They wanted it more and played harder and executed better.
Q. How much of a challenge is it to have not one but both tackles go down to start the second half and try it run the offense the way you had coming into?
GENO SMITH: Yeah, I mean, when you lose any of your key guys it's going to be a challenge. We got guys who continue to step up, and so we expect those guys to step up. I don't think they
were the reason we didn't execute. I think like I said, when you look at it, you put that on me. I got to go out there and play better for the guys and make sure we're on point. But it's a challenge to lose your guys. We need those guys. They're a big part of our offense. When it comes down to execution I got the ball in my hands and I got to go out there and make the plays no matter what happens.
Q. You said the Rams wanted it more. How concerning is that alone?
GENO SMITH: You know, that's something we got to get better at. We got to understand we got to go earn it every play, every down, every single game. Like I said, it's the NFL. I know we got a lot of young guys who for their first time are playing regular season football and might not know how hard you got to play to go out there and get wins. They don't come easy, and so I think this is going to be a great learning experience for us. I think we can look at these moments later in the season and say that we gained from it. Obviously it stinks today and it sucks. Really does. I hate losing. I don't like losing. But the one thing I do know about this team and myself is that we're going to get back to work and come tomorrow, really starting tonight, I'm going to get back to work and fix things and figure out how to be better for next week.
GENO SMITH: I hope so. It better be. You know, we don't lose at home. We can't do that. Let alone in this fashion. So for a lot of guys around here, including myself, we got to look ourselves in the mirror, point the finger, and figure out how to get better.
Q. The touchdown in the second quarter to Metcalf, take us through that play.
GENO SMITH: Yeah, great play call by Shane. We got some man-to-man coverage right down there and DK ran a great round. Got open, I was able to find him in the end zone, and it was great to have that happen.
Q. Other touchdown opportunities in the first half and you settled for field goals. Was that disappointing?
GENO SMITH: Yeah, very disappointing. We talk about scoring touchdowns, finishing drives, and that's a big emphasis for our offense. When we get down there in the strike zone around the 15, 20 yard line, we got to keep moving the chains until we get into the end zone. I feel like we kind of stalled. There are some things we can do better. It's going to be important for us to fix those things moving into the future.
Q. What did you see to make you think the Rams want it more?
GENO SMITH: Just by the score. They went out and executed and did what they were supposed to do. It was a tough environment. Our fans were rocking and it was loud and it wasn't easy. They found a way. I think that's something that obviously we'll see those guys again, but it just looked like they were playing harder and that's why they won.
Q. Sorry if you answered this already, but what happened on the third downs?
GENO SMITH: Man, that was a big disappointment, but overall we just didn't execute. That's something that we'll be able to look at on film, figure out a way to get better from it. Just from my vantage point without watching film felt like we didn't execute to the best of our ability.
Q. There was 14 black quarterbacks who started in week one. Wondering what that means to you to be part of that?
GENO SMITH: It's a tremendous honor just to be able to start, and I guess that's kind of history making. I don't know really what to say about that right now. I'm kind of just stuck on the game. I'll say I'm honored.
(On what it was like to have the 12s give him the loudest ovation we have heard in some time) "It was cool. I mean, it's always been love from even the moment I left, coming back. They've always had a piece of my heart. It was something that was really special. Unfortunately, we couldn't give them the win."
(On what happened today) "I think the biggest thing is that we have to get off the field. Like, third downs were really bad. We kept extending the play. Toward the end of the game, we have to make sure that we keep our cool and keep our composure and not beat ourselves."
(On how surprised he was about the third down performance) "It definitely was surprising. It definitely was not something we anticipated or expected, but it happened. We have a lot more games left and we will figure it out."
(On whether he sensed that the Rams played harder) "I don't know. I wouldn't be surprised. I'm pretty sure a lot of people wrote them off, said that they weren't going to be anything this year. Coming into this first game, I'm pretty sure they were going to be fired up. Especially in a divisional game and playing us you didn't expect anything less."
(On whether it worries him that another team may have wanted it more) "Not at all. It's one game."
(On whether anything seemed different about the Rams run game) "They sprinkled in a little bit of 12 personnel. They ran a lot of more, like, gap scheme, pullers, things of that nature. But you know I thought we played it pretty decent. We just need to get off the field on third down."
(On whether there is any consolation in saying that the run defense was pretty good) "I got to watch film. It's kind of hard to figure everything out right now. We felt like there are still some
leaky yards there in the run game, pass game, that we can get better at. We can get better. It's the first game."
(On whether he said anything to DK Metcalf after the taunting penalty) "Yeah, we addressed that. So, we're good."
(On the third down challenges, was it players on the field not executing, or a lack of identification of the play) "We just need to execute. They made some great throws, but we could do better overall. The whole defense, from the rush to the linebackers to the secondary. We could all do better."
(On whether the Rams were doing some different in the passing game than what they had shown in the past) "I think they were trying to space us out more. They were running more routes outside of the hash that made us have to honor that which kind of opened up the middle. But, we'll adjust."
(On what they need to work on for next week) "The biggest thing is third down. We need to get off the field. Freshly off the field, that is probably what I would say."
(On what he would tell the young players after a game like today) "I think it's a combination between this is the NFL, and you're going to get their best shot. Regardless of the record, regardless of the team, they're going to come back. Those guys get paid, too. Those guys have families, too, that they're trying to feed. So, you need to bring your A game every single time you step on the field. So, you take that, but at the same time you understand this is week 1. There are 16 more games left. There's a lot of teams that start off 8-0 and fade to the back; there's a lot of teams that struggle in the beginning, and catch fire right before the playoffs. It's the team that takes their losses and learn from their mistakes throughout the course of the season, play better, have camaraderie that's going be, I believe, at the end, happy with the results."
(On what happened today with the offense) "The first half, you see, we scored on all drives. I don't think we punted not one time. Then, in the second half, it seemed like we hit a roadblock, and I just felt like the Rams played harder than us. Their defense played harder than our offense, and you know they reaped the benefits from it."
(On what happened between him and Ahkello Witherspoon) "Well, I was blocking, and I guess I blocked him a little too hard and pushed him to the ground. He got all mad because he felt like I blocked him in the back. I mean, that's just how I play. I block every play, and when I don't have the ball, I'm never taking a play off or jogging trying to take a play off. So, that's what transpired."
(On if the officials told him what they thought was unsportsmanlike) "I saw their coaches yelling at me or saying something to me and their players, I let that get to me, and I retaliated. You know the second man always gets called, so, just have to be better in that aspect."
(On if Bobby Wagner talked to him about his unsportsmanlike conduct) "No sir, not yet."
(On the Rams playing hard) "You never want to see another team or the opposing team, especially somebody in your own division, play harder than you. I'm pretty sure there were a lot of mistakes that we have to clean up on film. I can't wait to get back to it tomorrow and fix our mistakes, and practicing and winning always takes the bad tastes out of your mouths. Looking forward to this week."
(On if the team took the Rams lightly) "No. Any Sunday, anybody can get beat in this league. You should never take anybody lightly. They played harder, and I felt it out there on the field. You all probably saw it watching the game. Whenever a team plays harder than you, you're definitely susceptible to losing."
(On the turn of events in the second half) "It's not dramatic because we always expect to go out there and score anytime we have the ball and always expect our defense, of course, to stop them. When things don't go our way we have to overcome adversity and start leaning on each other and not go our separate ways. We all have the Seattle Seahawks jersey on. The coaches are in it together with us, and everybody in that locker room is in it together. You can't just start separating, you always have to stick together and play as a team."
(On how special it was to be back on the field) "It was special. Just to be out there with the guys, like you said, not the outcome that we wanted, but it was great to be out there. It was very humbling. I'm just grateful to be out there, so I thank God."
(On what it means to have Bobby Wagner back) "Absolutely, having a guy like that next to me makes my job 10-times easier. The communication part of it is probably the biggest part. I don't know how many tackles he had; he probably had 100 tackles today. I just appreciate playing next to him. We'll get over this one and bounce back."
(On how the defense performed against the run) "I thought we played pretty good versus the run today. We had a few mistakes there at the end as far as penalties, but I thought, for the most part, we played sound in the front seven."
(On how the Rams adjusted in the second half) "We just couldn't get off the field on third-down. We let some explosive plays get out on us, which led to some field goals. I think they only scored two touchdowns, but they got a bunch of field goals, and good field position. We've just got to clean some things on defense for third-down and we'll be right where we need to be."
(On how much of the first half is a feeling-out period) "I look at it as an opportunity. This is really the first time that everybody is together. It's going to take some time, we've got next week to prepare for. Early in the game it was a feeling out process, we still had a lead, we've just got to finish. We're still maturing as a team."
(On what the Ram's defense changed in the first half) "I'm not really sure. I'll have to check the film out and see what they changed and find a fix from there."
(On the impact of losing Charles Cross and Abe Lucas) "It's always next man up. Those two guys (Cross and Lucas) are studs. You want them on the field at all times, we've got other guys, it's the NFL, you've got to be ready when your number is called."
(On his takeaways from this game) "I just think we've got to learn how to finish. Last year, we played good Seahawks football, and I think we've got to flush last year. Flush last year because we're not going to sneak up on anybody this year. I'm just ready for next week."
(On the return of Bobby Wagner) "Man, Seattle loves Bobby. I love Bobby. He makes playing football fun. Having Bobby back in Seattle is amazing."
(On not stopping the Rams offense on third down) "Could be a lot of factors. We'll give kudos to them, they blocked us up pretty well, got open versus us. As a collective effort on defense we just have to be better."
(On how Los Angeles' long offensive drives affects the defense) "We're all in shape. We all are ready to run around however long the drive may be. You just have to execute. I think those drives lasted long because of our third down numbers. You got to improve on that going forward."
(On not panicking after Week 1) "It's a long football season. This team is resilient. We're going to improve going forward. It's not end all, be all Week 1. It's a long season. This team is tough and we're going to bounce back."
(On his first NFL game) "It was a tough game, with the loss and stuff like that but still enjoyed being out there. I know we're going to clean stuff up and come back stronger next week."
(On the mindset heading into Week 2) "What's happened, happened. Nothing really to look back on, just going on the film, cleaning up, and putting our head down and continuing to work and get better each and every day."
(On having two offensive tackles out) "It's just next man up mentality so I'm not really worried about it. I know the guy behind him is just going to do their job so it's not really a concern to me."
(Opening statement) "It was good. We all practice hard and we were trying to come out here and play as hard as we can for each other. We will get back to work Monday. We're not going to get down because it's one game. We're going to keep pushing keep and keep playing hard for each other on this defense."
(On the defensive third down issues) "We have got to get to the quarterback plain and simple. We have to get home. We have to win our one-on-ones and we have to communicate as one. That's unacceptable, that's on us, we have to take that to the chin. We have to go get better starting Monday."
(On the Rams getting the ball out fast) "We know that they were going to go quick-game and get the ball out fast. That's just a compliment to us on the flip side because we have guys that can get to the quarterback. Them getting the ball out pretty fast, once again it's tough. If you don't win on first contact with a guy that's getting the ball out that fast, things like that can happen like tonight."
(On what he took from the tough second half) "We have a lot to learn, we came in and they had a great gameplan for us and we didn't execute the way we were supposed to. Hats off to them, we have to get back in the lab and get back to work, that all it is. It's week one of the season out of a 17-game season, we weren't going to win the Super Bowl week one. At the end of the day, we lock in, we fix what we need to fix, and we come to work with a worker's mentality."
(On what he saw from the young receivers on the Rams) "They had a good game, hats off to those guys. They had a really good game and for us we have to be better on the back end and we will be."
(On an explanation for the roughness call) "He flopped, it is what it is. I got to be smarter at the end of the day. He flopped, so it is what it is."
(On coming back next week) "Super confident. I don't lose faith that I have in my team over one week. I think we will be fine, sometimes it's good to have a wake-up call early in the season and we got it over with now. We got punched in the chin, we have to see how we come out and fight, and come out and fight next week."
(On the numbers on third down) "Well I haven't seen the numbers yet, without the numbers it can't be good. If we're being real, we got to be better. We got to complete passes. Not to be negative about it, but we hold ourselves to a high standard and that wasn't it."
(On why they weren't good on third down) "I'll have to get back to you on Monday, there's a lot of things that could've gone wrong. It could've been routes ran a different way, it could've been missing assignments, its could've been a multitude of things. I'm not going to put any blame anywhere when I haven't really looked at it. We definitely have a lot to think on."
(On what he is feeling right now) "Super frustrated for me personally. That was a tough loss for us but we'll will see where it goes."
Check out some of the best action shots from the season opener vs the Rams at Lumen Field on September 10, 2023. Game action photos are presented by Washington's Lottery. This gallery will be updated throughout the game.