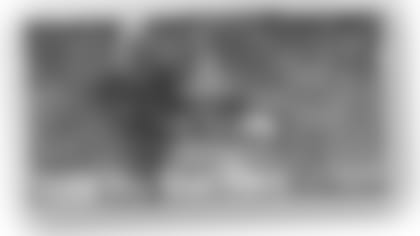 Rookie Sea Gal Melanie was chosen to be the Sea Gal's 2008 Pro Bowl Cheerleader in Hawaii.  Now back from her journey, Melanie will be giving fans an inside look at her trip in her 2008 Pro Bowl Diary.
If I could pick one experience thus far that has truly changed my life, this week would be that moment.  The learning experiences, people, and memories that were created in one week will stay with me forever.  From being a rookie on the Sea Gals this year, to being chosen as this year's Pro Bowl Cheerleader, I will never forget the impact it has had on my life and I would love to share it with everyone.
---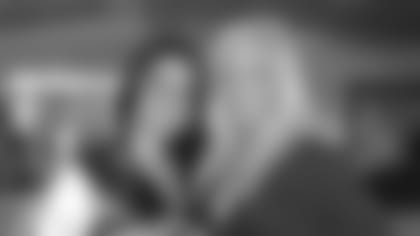 Arriving in Hawaii on Monday, February 4th, I had no idea  what to expect. All I knew was that I was ready to work hard and bring a part of the Sea Gals to the Pro Bowl.  That's when I met Tony, one our 24-hour security guards. I've never been greeted at the airport like that in my life. He gave me the biggest and friendliest hug, put a beautiful lei around my neck, and said, "Melanie! Welcome to Hawaii!"
From that moment on, I knew this week was going to be unforgettable. Two other women had arrived the same time as me; Kathy from the Arizona Cardinals and Kristin from the San Francisco 49ers.  What a warm welcome! These girls were not only beautiful, but so great to start off the week with! And I hadn't even met anyone else yet!
When I walked into my hotel room, there was a Reebok bag with my name on and an itinerary of events throughout the week. I couldn't wait to see who my roommate was going to be, and unfortunately she hadn't arrived yet. But slowly as the girls did arrive, excitement filled the hallways of our hotel floor. We introduced ourselves with hugs and conversations, and we all could not  wait to start the week as a new family.
Finally, Linda had arrived! My roommate! She happened to be from the New York Jets. A brand new squad started this year! So we ended up having a lot in common both being Rookies of our teams.
---
When my alarm went off at 5am, both Linda and I had no problems getting out of our beds. We were in paradise doing what we love to do! We hurried down to breakfast eager to meet the directors of e2k Sports, our choreographers, and our top of the line security!
I soon learned that every morning breakfast will be held in the same private dining room. When I walked into that room, the glass doors were open with a full view of the bright blue ocean, breakfast on the table, and Pro Bowl paraphernalia on our chairs.
As Ron, Maria, Diane, and John introduced themselves, I couldn't imagine a better group of individuals to work with. The excitement they had for us, the motivational speeches, and their personalities were above and beyond amazing.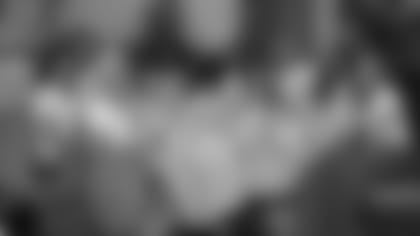 They explained to us that for once, this is our time. It is going to be our time to show why we were chosen as a Pro Bowl Cheerleader to represent our teams. They told us that this week is about having fun and being recognized for all our hard work. I thought to myself, "What a way to start off every morning; Amazing people, an inspirational speech, and a gift of on our chairs? This has got to be too good to be true!"
After breakfast it was on to our first photo shoot as a new team. The photo shoot set up was next door at the Royal Hawaiian Hotel right on the beach with a full view of the dormant volcano, Diamond Head.
It was breathtaking! The set was roped off and fans were eagerly waiting to take our pictures.  The shoot took a couple of hours and it started to rain a little while we were out there, but the sun was shining, and the lighting was fabulous!
Soon after, we had about an hour to grab some lunch and get changed into our own teams' practice attire to start our first rehearsal. Talk about exhausting! We were practicing from about 12:30pm to 10pm.
Now, before we even got to Hawaii, each Pro Bowl Cheerleader was sent a DVD with 13 dances on it to learn and know before we arrived. Believe it or not, when Diane (our Pro Bowl choreographer) turned on that music each and every girl knew every dance! It was unbelievable to get that many girls together who have never met, and just start dancing the same routines together.
Thus ends the first work day. Needless to say, we were exhausted and ready for bed.
More to come...I have so much to say!