This feature originally appeared in the September 8 issue of Hawk Mail. To subscribe to Hawk Mail, click here.
Ask any player who the funniest guy in the Seahawks locker room is, and you'll hear the usual suspects like Michael Bennett or Richard Sherman. But Bobby Wagner describes Brock Coyle as "the quietest, funniest guy" he's ever met.
"He does the best impersonations of everybody on the team. It's the funniest thing in the world," Wagner says. "He does a good Christine Michael, he does a good coach [Kris] Richard, he does a good Sherman. … You have to get the funny out of him, but once you get it out of him, he's pretty funny.
"He should be a comedian. But he's going to be a governor."
Which begs the question: Why am I talking to you, Bobby Wagner? I need to go interview the funny linebacker with a future in politics.
1. Coyle introduced Wagner to Montana during the offseason.
"I was this close to a bison. They just happened to be on the road. … We found out the females are the more aggressive ones, which is kind of funny – that's how life is – but we were lucky because the one female wasn't paying attention to us. So we got by, everything was safe, so we're all good."
---
2. He's really good at pool.
"I'm a pool shark. I'm really good. I feel like I could compete with the guys on TV, I think. They should have a pool table in the locker room. I would probably run it."
---
3. He's not so good at cooking, though.
"I want to be better at cooking. I stay in my lane with chicken, spaghetti, you know, simple stuff. All the exotic stuff, I stay away from."
---
4. He also stays away from mushrooms.
"I refuse to eat mushrooms. Never. It makes me feel funny after I eat them."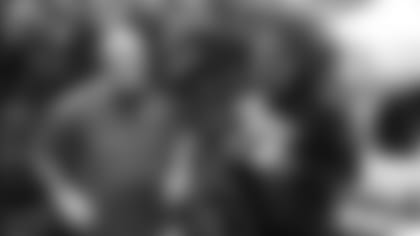 ---
5. He reads a lot on the iBooks app.
"I just started The Road to Character [by the New York Times columnist David Brooks]. I read before I go to bed."
https://twitter.com/Bwagz54/status/577683989047029760
---
6. He would like to jump out of plane someday – but not Luke Aikins-style.
"Hell, nah. I saw it, good for him. I need a parachute, I need somebody flying with me, I need something at the bottom, I need the works."
---
7. His dream vacation destination is Fiji.
"It's a tropical place, a place I've heard about that I want to go."
---
8. He would like to pet a lion.
"Another place I'd say is Africa, because I've never been to Africa. Just from what I've heard, people say Africa is a very beautiful place. You always see on TV the poverty and stuff like that, but there's a ton of beautiful places. And I want to pet a lion."
---
9. He's working on his ping-pong game.
https://twitter.com/Bwagz54/status/599345261110931456
---
10. He still has Teenage Mutant Ninja Turtles on his DVR.
"Power, Ninja Turtles, Ballers, Martin, Fresh Prince, and Deadpool the movie."
https://www.instagram.com/p/otvktbSlRU/
---
11. His biggest fear?
"My biggest fear is not being happy."
---
12. His hero is his mom.
"Because she's amazing. Nobody can beat her."
https://twitter.com/Bwagz54/status/169571057026605058