A year ago, Josh Wilson's head's was spinning.
As a second round draft choice, the cornerback from Maryland was the Seahawks No. 1 pick in the wake of having traded their first round draft choice to New England for Deion Branch in 2006. He was expected to compete for the starting cornerback spot opposite Marcus Trufant, or at least the nickel back spot.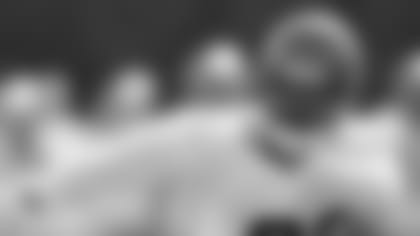 Instead, well, let him tell the story ...
"Last year when I came to camp I was kind of playing with the lights out," Wilson said. I didn't know what was around me, I didn't know what was going on. I was trying to get my eyes adjusted."
Arguably the fastest man on the roster, Wilson did make plays on special teams, some in the secondary and returned a kickoff for a touchdown that was huge in a come-from-behind win in St. Louis. But by his own admission, it was a year of transition, better described as growing up for the 5-9, 192-pound native of Upper Marlboro.
This time around, he's making plays downfield, in the offensive backfield, and gaining the understanding and focus to play up to his talent level.
"Now the lights have come on and I just have a feeling for everything a lot better," Wilson said. "I'm able to go out there and just play football, be an athlete and use my skills instead of mentally just being out of it. Last year, I was trying to learn the nickel, the dime, right corner, left corner ... learn all that. Special teams ... I was on a roller coaster. Now I'm just a lot more comfortable and I'm able to make plays."
He was a big factor in the win last week over the Chicago Bears and now he'll get another chance to show his advancement when the Seahawks travel to San Diego for their Monday night game with the Chargers with hopes of extending their preseason record to 3-0.
Wilson's advancement can be a huge bonus for secondary coach Jim Mora around the starting corners Trufant and Kelly Jennings, along with nickel back Jordan Babineaux. Mora has watched Wilson come in as a brash rookie trying to carve out his own territory, to a veteran getting a grasp on what it requires to succeed in the NFL and contribute to the team.
"He's much more consistent as a football player in every phase of the game," Mora said. "This year Josh is much better out on the edge as a corner, his footwork is better and his technique out of his break is better. When we move him inside to the nickel position he's very solid in there. He understands all the coverage now, the route concepts, and he knows where to fit on the run. This is how to become a complete player.
"Look, it's his second year. He's very, very smart human being. His work ethic is tremendous. With a year of experience, his approach has changed. He's a much more serious kid than he was last year. Last year as a rookie, he was almost like the little brother in the room. And you know what ... he's not taking that anymore. He's asserted himself, changed his approach and you see it on the field every day."
In retrospect, he says he loved every minute of the ribbing he took from the veterans last year, knowing full well that this time around he will work to provide the same loving experience on the rookies this year. He needed the help of Russell's chiding from strong safety and Deon Grant's instruction from free safety.
To be sure, the teasing and the teaching were often one in the same.
"I loved it, and it just kept me going at times," Wilson said. "It was fun. Sometimes, if people are messing with you, you must be doing something right and they see something in you. It helped me out at times truthfully, especially B-Russ. Because B-Russ, he'll say some things if it was anybody said it I might get upset. But he's look out for me the best. They all are. He and Deon – especially the safeties – those guys are trying to help me out and get me in the right position because we're all a team here. If everybody's good, then we're all good. That's all they're looking for."
And so is he. He turned enough heads at Maryland and got a good contract to buy his house and begin the kind of life as an NFL player that he dreamed about from the time his late father Timothy Wilson played the game.
Now it's his turn to build a career and thinking the game isn't enough. Now he's got to play it the right way every time he steps out onto the field.
"I graduated from college and I figured out this is my job," Wilson said. "I'm not a student/athlete anymore. I'm just an athlete, I need to be more focused and sweep the corners, as coach Mora would say, 'You've got to sweep the corners and just take care of the details. Don't try to throw the dirt in the corners like you used to do when you were trying to clean the floor.' I just try to take care of every detail and make sure I'm doing everything as exact as I can and it makes a difference."