SEATTLE - Not a single 'case of the Mondays' was apparent during the early morning hours of July 25 at CenturyLink Field, where instead the scene was highly reminiscent of a spirited Seahawks gameday. 
Roughly 2,000 12s packed the stadium's north plaza in advance of Seattle's single-game ticket on-sale event. Fans came decked head to toe in Seahawks blue and green, waving 12 flags, snapping twelfies, and enjoying hip-hop sounds from DJ SupaSam while taking in entertainment under the summer sun from the Sea Gals, team mascot Blitz, and emcee Gee Scott.
Each of the 12s in the stadium's north end donned a numbered wristband from 1 to 2,000 obtained after waiting in line this past Sunday, a wearable that ensured them a chance to purchase seats at a Seahawks game this fall. After procuring a wristband, 12s could leave the area, but were asked to return early Monday, when a total of 1,700 single-game tickets per game would be made available for $66 each, the average of the lowest ticket price of all 32 NFL clubs.
Wristband No. 1 belonged to Ron Marchand, the first fan to purchase single-game tickets Monday morning. Marchand nabbed seats to Seattle's home opener against the Miami Dolphins after traveling five hours from Omak, Washington this past Thursday. He said he staked his claim on a spot at the front of the line after Kenny Chesney's CenturyLink Field concert concluded Saturday night.
"We kind of rotated, I came with my friends," Marchand said of how he survived all the hours in line. "So we got chances to go to the bathroom or go to Jack-in-the-Box, so that's all good."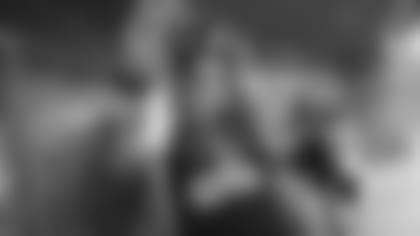 Monday wasn't Marchand's first rodeo. He was the 12th fan in line at the stadium's single-game ticket on-sale event last year. This year, however, that honor went to Puyallup's Sharnay Fininen, who like Marchand started lining up after Chesney's concert was over.
"We hung out with all the 12s family who's over there," Fininen said, shouting out those who braved the long hours in line with her. "We just hung out, we ate, we ordered some pizza, and we really didn't sleep at all!"
The lack of shut eye was worth it for Fininen in the end, as she secured tickets to the Seahawks' Week 3 game against the San Francisco 49ers. She plans to take her significant other, even though he'll be rooting for Seattle's division rival.
"My husband's a Niner fan," Fininen said reluctantly before adding, "Go Hawks! He's never been to CenturyLink Field, so I wanted to take him."
As Marchand and Fininen walked away with their precious cargo in tow, hundreds more 12s could be seen lining up outside of the north plaza's fence. The queue, made up of fans hoping to acquire whatever tickets were leftover after the initial 2,000 wristbands had been accounted for, stretched down Occidental Avenue South toward neighboring Safeco Field.
As of this writing, a limited number of $66 Seahawks single-game tickets remain available at CenturyLink Field's NW Box Office.
Thousands of Seahawks fans came out to Seattle's CenturyLink Field on Monday, July 25 for the team's single-game ticket on-sale event.