It's Tuesday, it's football season, so it must be time to answer questions from you the fans. As always, thanks to everyone who asked questions this week (even my friends who are just trolling me), and apologies if I couldn't get to your question this time around.
@kevinmc10 asks, "What kind of run defense will the Seahawks play against a vaunted running back next week?" And on a related note, @tisdale57 asks, "Will anyone be tasked with shadowing Arizona's David Johnson in the passing game? The passing game is where he could hurt Seattle."
A: One of the things Seahawks coach Pete Carroll has repeatedly pointed to when praising his defense this season is the way it has played against the run. Through five games, the Seahawks rank third in the NFL in rushing yards allowed at 74.6 per game, and they'd be even a little bit better in that category if not for a late-game letdown in a lopsided win over San Francisco.
"The consistency of play upfront," Carroll said last week when asked what he liked best about his defense's play. "I'll go back to the lousy fourth quarter in the 49er game, that was really the only outlier out of all of the quarters we have played. That starts right up front, right in the middle with (Ahtyba) Rubin and moving on through with our guys. We've played really good, solid, consistent football and most of the running game looks like it's one game to the next to the next. That's really hard to do and it takes tremendous dedication and discipline by our guys to keep playing like that play after play after play."
The Seahawks continued their strong run defense against a very good Falcons running game on Sunday, holding Atlanta to 52 yards on 18 carries, so while they will indeed face a very good rushing attack Sunday in Arizona, led by second-year back David Johnson, the Seahawks feel like they are well equipped to face that challenge.
Johnson has been one of the league's top running backs this season with 568 rushing yards and eight touchdowns on 113 carries, but as @tisdale57 notes, he has also been a big part of Arizona's passing game with 265 receiving yards, which ranks second among NFL running backs. And to that question, I don't see the Seahawks specifically putting one player on Johnson, not with the faith they have in their linebackers and safeties to cover running backs. Facing a Falcons offense that likes to throw to both of their running backs—Tevin Coleman's 320 receiving yards are the most by a running back this season—the Seahawks held Coleman and Devonta Freeman to a combined 17 yards on four catches. So while the Seahawks will certainly respect Johnson's ability both as a runner and a pass-catcher, they probably don't feel like they need to change the way they play in order to defend him.
@BethnyR__ asks, "I was sorry to see Luke Willson get hurt on Sunday. How do you think Nick Vannett will do coming off of his own injury?" And @RidwanRF10 asks "How was Nick Vannett's debut, and will he get more snaps next week?"
A:Nick Vannett, a third-round pick out of Ohio State, did indeed make his debut on Sunday, though he was limited to just three snaps. Vannett, who missed Seattle's first four games after suffering an ankle injury in the preseason, likely would have seen his role increase going forward regardless of extenuating circumstances, but with Luke Willson injuring his knee on Sunday and having surgery Tuesday, there should be even more opportunities for Vannett to play in Arizona on Sunday. And while Willson will be missed for however long he's out, the Seahawks are excited about what Vannett showed them prior to his injury, both as a blocker and a pass-catcher.
"We're really excited to get him back, so we'd like him to play," Carroll said of Vannett last week. "We're hoping to get him in there in a number of situations. He's been working so hard to fit in, he's been very smart about his stuff. We don't have any reservation or limitation on him playing."
@AGarrett90 asks, "Who has a more intense stare, Mike Singletary in his day, or Earl Thomas now?"
But seriously, Thomas is one intense dude.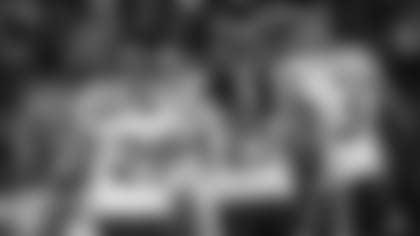 @AgentJaspor asks, "Earl Thomas looked incredible against Atlanta. Did something change with Kam Chancellor out, or did they just happen to throw to his area more?"
But while Thomas did acknowledge he was hitting extra hard without "the enforcer" in the game, his game was less the result of anything schematic and more just about Thomas being himself after not always being at his best early in the season.
"I'm very confident," Thomas said after the game. "It's crazy over the years, the more and more I play football—especially how the season started off, I was missing open-field tackles—you kind of take stuff for granted. I'm used to, if something breaks, I'm going to stop the bleeding. But when they're breaking and I'm wobbling and it's not going my way, you've got to take a deep look at yourself in the mirror, you've got to keep pushing, you can't be complacent. When you work hard, you always pray and hope and believe in yourself that it's going to turn out the way it did today.
"I know what I'm capable of. It's so hard to show your skills week in and week out, because we have so many great players, but when you get a chance to stand up, you definitely want to do it."
@Hawleyw00d asks, "How different would the game against Atlanta have been if Kam Chancellor had played?"
A: The Seahawks played three very good quarters against the Falcons and one pretty awful one, and one of the big reasons why the Falcons moved the ball so well that quarter were the communication miscues that led to blown coverages on two of Atlanta's three touchdowns.
And while Carroll didn't blame Chancellor's replacement, Kelcie McCray, for those miscues, he did note that having Chancellor's experience on the field makes a difference for everyone.
"What was clear to me is that Kam is a big factor," Carroll said Monday. "We don't see that stuff (when Chancellor plays). He has such a connection and skills at communicating and all that that Kelcie couldn't have; he hasn't played enough with our guys. He's been there, but it's not the same. We have to adapt to that. Kelcie played really well, he did a nice job in the game, but still the communication is not as good, otherwise it wouldn't matter if we played together for five years. It matters and there's something to that. I thought it was evident that that happened."
https://twitter.com/Noy3s/status/788442518237147136
@Noy3s asks, "What is the status of Kam Chancellor and Frank Clark?"
As for those two players, Carroll said Chancellor "feels a lot better" after missing Sunday's game with a groin injury, but his status won't be decided until late in the week.
Clark, who has a hamstring injury, ran well in pregame warmups and should be ready to go this week so long as there are no setbacks during the week.
Pantless author and red-headed punter's wife @sarahcolonna asks, "What is your favorite daytime soap opera?"
A: Does the 2016 election count?
Otherwise, I can't really come up with anything, because my daytime television viewing consists almost entirely of sports.
@HigbeeJerry asks, "What's the deal with cut blocks in the NFL? Why aren't they illegal yet?
A:Assuming this question was about the play on which Michael Bennett was injured, Carroll noted that the play was a clean cut block, saying, "It wasn't a dirty play or anything like that, it wasn't illegal, (Bennett) just didn't like it."
Of course the bigger-picture issue is whether or not cut blocks should be legal. The Seahawks are one of many teams that cut blocks frequently on offense—it's a very effective technique, but one that also comes with some risk. As the NFL continues to emphasize player safety, Carroll noted cut blocks could be a topic of discussion going forward.
"I think it's going to continue to be a discussion point," Carroll said. "It has been with the chop blocks and things again this year. I think we need to continue to talk about it, we have to keep working to do it the best way possible. If there's more insights here that can help us, then we need to pursue that. I think the discussion will naturally continue."
@Krylez asks, "Did Blitz get a fine?"
A:Why would Blitz get fined? It looked like he was the victim to me.
@FreshRynO asks, from Germany, "Which places in Seattle do you like most? I'm planning my USA trip next year?"
A:There are so many good options depending on A. how long you'll be here, and B. what time of year you're coming. Cliché or not, checking out the Pike Place Market is a must (and if you want to avoid sounding like a tourist, don't say "Pike's" Place). Head to Ballard and check out the locks, some great restaurants and local breweries, or try Capitol Hill for more good eats and night life. If the weather is good, or even if it isn't, drive or take the water taxi, to Alki for Seattle's version of beach life.
If you want a day trip that doesn't take too long, take a ferry to Bainbridge or Vashon Island, or head east to the mountains and hike or ski depending on the time of year. Or if you like wine, Woodinville is another good day trip.
Oh, and if you're here during football season, check out a Seahawks game. I hear those are fun.
@MarioD_Luna asks, "On the blocked extra point, Seattle kicked from the right hash; is that normal PAT placement?"
A: Kickers have the option of kicking from either hash or from the middle of the field, and now that the league has moved the PAT back, we've started seeing more kickers change where they kick rather than just defaulting to the middle of the field. To be honest, I don't pay enough attention to every PAT to know if Steven Hauschka has always kicked from that spot or if he moves it around depending on circumstances (wind, field condition, etc.), but regardless, that was not the cause of the block. Carroll noted that kick was a bit low, leading to the block, so where the ball was spotted probably didn't matter.
@jimisadawg asks, "Did you party with Duff after the game?"
A:Guns N' Roses bassist Duff McKagan, a Seattle native, raised the 12 Flag prior to Sunday's game, but despite the fact that McKagan and I both attended Seattle University's Albers School of Business and Economics, we did not party together after the game. Unless, of course, "party with Duff" is a euphemism for "worked in the press box until 9 p.m., then went home and watched a little TV before going to bed." If that's the case, then yes, I definitely partied with Duff after the game.
Bass guitarist for Guns N Roses, Duff McKagan raised the 12 flag during Week 6 at CenturyLink Field vs the Falcons.