RENTON, Wash. — It's a Tuesday in late June, the beginning of the longest stretch of down time on the NFL calendar. Most Seahawks players, like their colleagues around the league, are scattered around the country, either on vacations or on trips back to their home towns.
But inside the Virginia Mason Athletic Center, two Seahawks remain hard at work, battling to get back from serious injuries sustained during the 2016 season. Above the team's weight room, cornerback DeShawn Shead pedals furiously on a stationary bicycle, his face straining as he powers through an intense high-cadence workout.
Just down a flight of stairs from Shead, receiver Tyler Lockett stands on his surgically-repaired right leg, throwing a 10-pound medicine ball off a wall. Between throws, Lockett looks upstairs and shouts encouragement to his teammate and partner in injury rehabilitation.
"Come on, Shead!" Lockett yells. "There you go."
In a sport where serious injuries are inevitable, we're used to seeing NFL players leave games with significant and sometimes season-ending injuries. From there, the question inevitably becomes, "When will he be back?" And, depending on when the injury occurs, there are decisions to be made about injured reserve or the physically unable to perform list; there are discussions about who steps up to replace that injured player; and there is eventually a return to action.
What often gets lost between that moment when the cart comes onto the field and the game when that player returns to action months later is the long, mentally-taxing and sometimes physically-painful process a player goes through to get back. For anyone in any walk of life, coming back from a major surgery is a difficult process; for an athlete whose body is his livelihood, the difference between a successful comeback and one that is less than complete can be the difference between future millions and a career that comes to an unexpectedly abrupt ending. So while these months between injury and return can be easily overlooked by fans and media, this time can and often does mean the world to an athlete.
"I can't imagine all the potential things that are going through their heads when something like that happens," said team physical therapist Michael Tankovich, who has worked closely with Shead and Lockett on their rehab. "You're thinking about your career, you're thinking about your family, you're thinking about, 'Am I ever going to be the same player I was before?' You even rehearse in your head, 'What if I would have moved a little differently on that play, what if I had broken away and had a little better get-off and the defensive back would have never caught me?' We all do that, but it's a whole different level when this is your career. You kind of go through that first phase of shock that this happened, then you come in and it's our job to get you ready to get back."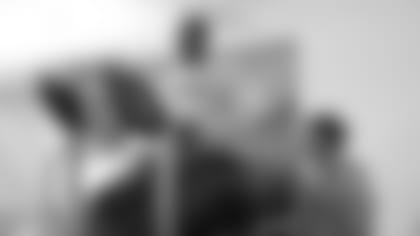 "One Of The Toughest Parts Is Just To Wake Up And See That It Isn't Normal."
Over the course of his NFL career, which began with him signing as an undrafted free agent out of Portland State, Shead has gone from practice squad member to special teams standout to fulltime starter. After taking over a starting job in 2015, Shead opened last season as the starting right cornerback and held down that job all season, but in Seattle's final game, a Divisional Round loss to Atlanta, he went down on the Georgia Dome turf after a subtle push-off from Falcons receiver Taylor Gabriel. Shead tore his ACL and meniscus on that seemingly routine play, an injury that, given the timing, makes a return for the start of the 2017 season seem unlikely, though neither Shead nor Seahawks coach Pete Carroll have been willing to completely rule out that possibility.
While Shead is almost certain to open training camp on the physically unable to perform list, his progress has been encouraging. Only four months after surgery, he was running on the team's AlterG (anti-gravity) treadmill, gradually building up to supporting 100 percent of his body weight. Recently, he began running on the field, an important step on his long road back.
"He's making great progress," Carroll said during his team's June minicamp. "He is one of the all-time best healers. He applies himself as well as a person can do in terms of getting back. He's got all the grit and the perseverance about making it through this as quickly as you possibly can, so he's doing great."
Shead, who had surgery to repair his ACL and meniscus in late January, quickly got over any feelings of "why me?" and turned his focus on to getting back as quickly as possible from the first major injury of his football career at any level.
"There were a couple frustrating moments right when it happened," he said. "You start to think about all the things in a season—if there's anything you could have done to avoid that, if there was a play here or there that would have given us home-field advantage, and then would it have been different on our turf? But at the end of the day, I snapped right out of that and was like, 'If that's what this is, let's get the surgery done and I'll be back as soon as possible.' There's no point in dwelling on the negatives and all that. Yeah, it's frustrating sometimes, it could have been a contract year, things could have been great for me, but it is what it is right now and I've got to get back as soon as possible, because I'm just getting started."
Shead and Lockett both had reputations of being hard workers, even by NFL standards, before their injuries, so it comes as no surprise that Tankovich, head athletic trainer Donald Rich and the rest of Seattle's training staff have had little trouble keeping those two motivated.
With Shead, it took a while for the team's sports science department to stop worrying about the workloads he took on in practice early in his career. A former college decathlete, Shead spent most of his first two seasons putting in work on both sides of the ball on the practice squad, and now Tankovich sees that paying off in rehab, as has Shead's multi-sport background.
"For Shead in particular, he's someone who has always had to work a little harder than most people to get where he has gotten to," Tankovich said. "He was a college decathlete while also playing football. Having that base of a lot of general movement ability and being able to pick up new skills quickly, then just a high work capacity playing football and doing probably the most difficult thing to do in track, that's helping him now.
"He's a guy that when we first started working with the GPS, our sports science guys were scared—'He's doing way too much.' He was doing practice squad offense and defense, just huge body loads and training volume and blowing everyone else on the team away. Then we got to the point where we just stopped worrying. That's Shead, he has built that capacity up over years and years and years. And I think that carries over when you're in a situation like his. He gets up at 5 a.m., he helps with his kids, then he was getting here at 5:45 to go through his own daily warmup. He will roll throughout the whole day, schedule massages around family time. He's got a fulltime job on top of a fulltime job, and he just crushes it. Unless he tells you, you can't tell when he's had a bad night's sleep. He just puts his head down and goes to work. I think you see that more with athletes who have had to do that to get where they are. Sometimes guys who are really talented struggle a little bit more (with rehab). Sometimes with those guys it's a little bit more difficult."
While Lockett took a more traditional road to the NFL—standout at a bigtime college program, third-round pick, immediate impact player—he too is known for putting in the extra work, and Tankovich has seen that in rehab over the past few months. 
"Tyler's in the same boat too," Tankovich said. "From high school to Kansas State, he has had a high, high work capacity. K-State had really long practices, their offseason conditioning was really long, then he did a lot of extra stuff on his own. That kind of stuff helps, because as we're able to progress further, each new thing, one workout may be tough because it's new, then the next one they crush it and move on. Not everyone does that."
Putting in the physical work isn't the issue for players like Shead and Lockett; instead it can sometimes just be the mental toll this whole process takes on them. The Seahawks work their players extremely hard in practice, but there's also fun involved. These workouts, however, can be more tedious. Instead of focusing on covering a receiver, Shead runs on the AlterG treadmill while Tankovich studies him closely to see his knee flexion—the higher his heel gets off the ground, the better. Rather than focus on route-running, Lockett's concern is making sure he's pushing off of the ball of his foot the right way. Then there's the patience this process requires. Once an athlete breaks through one barrier, he's eager to go after the next one and the one after that.
"All I know is hard work, so I love that part about it," Shead said. "But like everybody will tell you, it's more the mental game. Wanting to hurry up and get back out there, battling with myself to not do too much. Not do too much, just take it slow even though I want to get out there and sprint. Just the patient game. Every day, we go through the workout, then it gets stiff again, then I've got to loosen it back up to get my extension back. That's one of the toughest parts is just to wake up and see that it isn't normal. It's an injury where you wake up and it's stiff and you have to do the work to loosen it up to work out, to run. But the progression has been great, but just being patient is the hardest part."
"There Are D-Ends Who Are Faster Than Me Right Now."
Sometime in the near future, perhaps as soon as Sunday when the Seahawks open training camp, Lockett will be back on the practice field. On Christmas Eve, however, Lockett was down in the south end zone at CenturyLink Field with a fractured tibia and fibula, one of the more gruesome injuries you can have the misfortune of witnessing on a football field.
Broken legs can come with complications, from nerve damage to compartment syndrome, a complication that played a role in derailing the promising young career of Seattle Sounders FC winger Steve Zakuani. Fortunately for Lockett, his injury was cleaner than that, so while there is and will continue to be titanium helping to hold his surgically repaired right leg together, he was already running at something close to a sprint less than six months after the injury.
"It could have been way worse than it was," Lockett said. "It was clean. As soon as I got to the hospital, they told me it was clean. They tried to get me to look at it, I said, 'You can take a picture of it. If I look at it I'm going to pass out.' … I didn't feel anything until after the surgery. The worst part is the first two or three weeks. It's frustrating when you first start off, but after those first couple weeks, it's go time from there."
And despite the concern of friends and family who saw Lockett's injury on TV, he remained calm in the moment and throughout the process.
"When I got hurt, I was good, I wasn't tripping or anything like that," he said. "I still had faith in God and I knew that even though I got hurt, that wasn't going to mess up my faith… The way I looked at it was, I got hurt, but I've overcome other injuries, and through that I've learned that everything does work out for the best. I look at the end result and I see the bigger picture. For me, it's just going to be a daily grind that takes time, but I have to just continue to have the right mindset. It helps to be around someone like Shead, who you rarely hear complain about anything."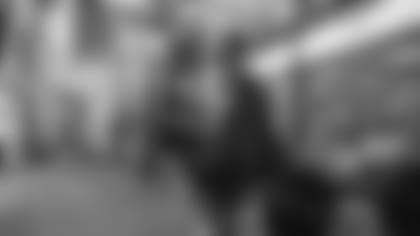 As Lockett points out, having a partner in misery, so to speak, has been beneficial for Lockett and Shead through this process. Sometimes they encourage one another, while other times there's a little bit of playful smack talk, with Lockett bragging that he kicked Shead's butt on a particular exercise a day earlier.
"If you didn't have people there to talk to in treatment, it would be boring," Lockett said. "When you have people in there you enjoy being around, it makes it easier to come in there and do your treatment. At the end of the day, that's what you need. Everyone gets an offseason, but we're stuck here. Everybody gets to go enjoy their lives, do whatever they want, and we're stuck here. You can get tired of it, it can get to you mentally, but when you have the right people around you, when you're cool with everybody in the training room and the equipment room, with everybody on the third floor, it makes it a lot easier to be here."
And the fact that Lockett and Shead are at different stages in their recovery and coming back from different leg injuries can actually be beneficial as they watch each other work. 
"It can be nice to have guys at the same point, but sometimes it's nice to have someone who's a little bit ahead," Tankovich said. "Then the other guy sees it and says, 'When do I get to do that? Oh, he's on the field now, how many weeks is it going to be until I'm on the field?' It gives them something to reach for. If you have enough stagger, everyone's chasing the guy in front of them and competing to get there."
Back in June when Lockett was just starting to build up to full speed, he ran at something resembling a sprint, and after a few trips down the length of the field and back, Tankovich told him, "You might be getting in shape."
"I'm always in shape," Lockett replied confidently before Tankovich reminded the receiver that, not long ago, he was not in fact in shape having been off his feet following surgery. 
Eventually Lockett conceded that he still had a ways to go, pointing out that he recently ran a 4.8-second 40-yard dash.
"There's D-ends who are faster than me," he said with a laugh, knowing that wouldn't be the case for long.
"I'd Love To Be Home Helping More."
Another easily overlooked element of this process is that we're not just talking about football players trying to get back to football, they're also human beings with lives that are altered by their injuries, surgeries and subsequent long rehabs.
For Shead, the timing of his injury couldn't have been much worse not just professionally—he had just established himself as a starter and was likely setting himself up for a multi-year second contract in the near future—but also in his life at home. Shead and his wife, Jessica, welcomed their second child, son Carson, a month after Shead's surgery and three weeks before the due date. That left Jessica to care for not just an infant and a toddler, 2-year-old daughter Savannah, but also a husband who couldn't walk.
"In my head, I'm thinking the season is winding down and I'm about to get my husband back to help out," Jessica said. "Savvy was almost two, and that's a lot in itself, so being 9 months pregnant with a toddler is difficult. So then when the injury happened, it was just a little shocking and jarring. I had to quickly wrap my head around the fact that he wasn't going to be able to help out as much. It was one of those moments where you kind of realize you can't control life and things happen and you have to just keep moving forward.
"I was 9 months pregnant, taking the trash out, helping DeShawn get ice for his knee because he can't move, running around with Savannah. It was one of those moments in life where you just help your partner out and do the best you can."
Jessica can laugh about the chaos now, but it was tough on the family at the time, and DeShawn is very grateful for the efforts of his wife during that time. 
"My wife is amazing," Shead said. "She's definitely Wonder Woman to take care of two kids and me at the same time. The baby was born and I can't really walk, so she's taking care of a newborn, a toddler and me. I give her a lot of credit and I appreciate her for helping."
Jessica, who is from the area, had help from her parents and younger sister, as well as the wives and girlfriends of some players and coaches, for which she is very appreciative. And Shead's always-positive attitude also helped the family get through that tough stretch of time before he was mobile enough to be a more involved parent.
"He's so positive and that alone is contagious," Jessica said. "That's one of the things I admire about him. Even in those moments when things were going sideways, he was so positive. We had so many friends and family texting and calling us—the baby was coming, he's on crutches, Savvy's running around, and people are reaching out left and right, 'Do you guys need help? We're thinking of you.' All these text messages are coming in, and I'll never forget when DeShawn one day turned to me and was like, 'Are we going through a hard time?' I just started laughing and said, 'Yeah, it's a little challenging right now, but we're OK.' But that's DeShawn, he's just so positive, he's like, 'We're fine, we'll get through this. We'll keep on moving and we'll be good.'"
Shead has been an involved father throughout the process, particularly helping with Savannah while Jessica tends to the newborn, but he can't be home as much as he would be had he been healthy this summer. 
"It has been tough because I'm rehabbing, and I'd love to be at home helping more, but this is the situation right now," he said. "It's tough to get home and balance life with this injury, but we do know it's for a short amount of time for the rest of our lives… It was rough in the beginning, but we kind of caught our groove and found a balance."
And while having two young kids at home might complicate his life a bit, it also serves as motivation for Shead as he battles back from his injury.
"There's four of us, I've got a son, I've got a daughter, and I want to show them that you never give up, you keep battling," he said. "Regardless of the circumstances, regardless of the negative situations, you keep thinking positive and keep grinding, you never give up. And I want to be able to take care of my family, at the end of the day, I'd love for it to show contract wise."
And if chaos at home and a lack of sleep has affected Shead, he hasn't been showing it when he comes to work. 
"It's pretty cool to see how hard he has worked," Tankovich said. "He's a guy who just had a child, and he would come in, we'd do a three-hour workout, and he'd kill it, then after he'd tell me he only got two hours of sleep the night before. He just comes in and he works hard. He has been the first one in every day, last one out. It's, 'what more can I do, what can I do to get better?'"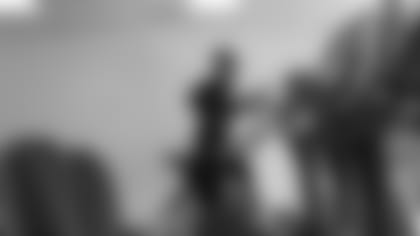 "We Try To Create Some Ownership Of Their Rehab."
When Lockett takes the field at training camp, and when Shead comes back a little later, it will be the culmination of months of hard work and determination from those two, but also the product of the efforts of the sport science, training and medical departments that work closely together to keep players healthy and help them get back as quickly and safely as possible when injuries do occur.
"Man, we've got the best trainers in the business," Lockett said in the midst of one workout, going on to list the entire staff of Rich, Tankovich, David Stricklin, C.J. Neumann, as well as Sam Ramsden, the team's director of player health and performance.
When it comes to bringing a player back from a serious injury, doctors and athletic trainers put the plan in place for the athlete, but there is also some back-and-forth in the process. While there are certain elements of the rehab that have to take place and certain benchmarks that must be met, if a player has specific ways he likes to do things, the team's athletic trainers will listen.
"We try to create some ownership of their rehab," Tankovich said. "It's not a dictatorship, we're willing to listen and modify."
[wysifield-embeddedpoll|eid="506966"|type="embeddedpoll"|view_mode="full"]
One of the more interesting aspects of any modern athlete's rehab is how much things have changed in recent years with developments in technology. In the past, players who could not yet run on the ground would run in a pool until it was decided they were ready to progress to regular running. Now thanks to an AlterG treadmill, players can slowly work their way from running on only 40 percent of their body weight all the way up to 100 percent, in 1-percent increments. Another game-changer has been the GPS devices players can—but aren't required to—wear in practice. By tracking what Shead and Lockett do in rehab and comparing it to practice data before their injuries, athletic trainers can then see how close they are to mimicking those workloads in their rehab as they get closer to returning to the field.
That technology doesn't necessarily speed up a player's comeback, but it does allow athletic trainers to be more confident that a player is ready to return to action before sending them back onto the field. 
"We now work a little bit less in the realm of the unknown," Tankovich said. "The first time you get back into live football, not a practice, but you're in a game, that first time you get tackled, that first hit, you've probably been thinking about that for months, and it's kind of scary and you don't know what it's going to be like. That in and of itself is one of the really difficult things to mentally get back to. So the way I see our job is, let's take care of everything else, let's make you as prepared as possible so that's your only focus. You're not thinking, 'Man, my leg's sore, man, my knee's sore, I'm so tired and fatigued.' You're just focused on playing football.
"Having objective numbers really helps, things the athletes can see. They're very physically talented and skilled, so they get back to activities of daily living in a few days that most patients would go to rehab for—playing with their kids, carrying the groceries… So when we can give them small objective wins, 'Hey, three weeks ago you could have never done this' Then giving them short-term goals in between—do this many sessions on the AlterG, then you run on field—so they now have this short-term goal. It's these small, short-term wins over time."
Eventually those small, short-term wins will add up to the ultimate goal for Lockett and Shead—a return to the field on Sundays. But whether it's those two players or Earl Thomas, who is also coming back from a broken leg, or any other injured athlete, when you celebrate that player's return to action, it's worth also remembering how much went into going from lying on the field injured a few months earlier to back in the lineup on a glorious fall afternoon.
"Everything I've been doing is leading up to August, so when August starts I'm ready, ready to run," Lockett said. "All of that work this winter and spring wasn't working toward July 5 or July 12, I'm working toward when we come back on July 29."
Photos of receiver Tyler Lockett and cornerback DeShawn Shead working their way back from the injuries that ended their 2016 seasons early.