The Seahawks and Cardinals will face off for the second time in less than a month when they play in Arizona on Sunday. To learn more about this week's opponent, we once again reached out to azcardinals.com senior reporter Darren Urban with five questions about the Cardinals.
As you wrote on Sunday, the upcoming stretch of NFC West game, starting with Sunday's again the Seahawks, is something of a "last stand" for the 3-5 Cardinals as they try to get back into playoff contention. How is the team responding/bouncing back after a frustrating loss in Minnesota?
Urban: The Cardinals are, not surprisingly, saying the right things. And to be fair, they did play OK in Minnesota. What lost them the game was something that, despite other issues, had not bothered them all season – turnovers. Kyler Murray threw two interceptions in the second half and Greg Dortch muffed and lost a punt, and that led directly to 14 points against as well as the possessions lost. They have talked about and acknowledged this stretch (home against Seahawks, at Rams, vs. Niners in Mexico City), so now it's about playing the games and seeing what they can do.
Looking back at the previous matchup between these teams, a 19-9 Seahawks win, what do the Cardinals need to do better/differently if they're going to come out on top this time around?
Urban: The offense just seemed absolutely listless that day, and while the Seahawks – starting with that game – have since proven their defense is better than how it started this season, there is little question the Cardinals should be better in that regard. There is a difference this time around because DeAndre Hopkins is available, but they absolutely need to have more of an effective run game. Rondale Moore is becoming more of a factor at wide receiver, and that also should help.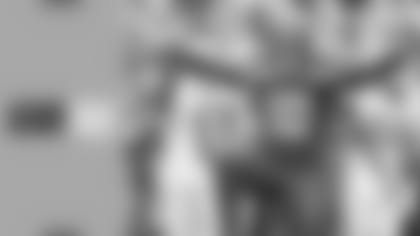 Listen To The Hawk Talk Podcast
Every week, Michael Bumpus and Nasser Kyobe release two podcasts analyzing the Seahawks previous game and previewing the next Seahawks opponent. Available on Spotify, Apple Podcasts, and wherever else you get your podcasts.
This question comes to you from Captain Obvious in Seattle, but what has the return of DeAndre Hopkins, who was suspended for the previous meeting, done for Arizona's offense?
Urban: What hasn't he done? The man has been so productive in two games that, even after being suspended for six games, he is still on pace early for 100 catches and more than 1,000 yards this season. He is Kyler's security blanket, and the man is still a top-five wideout in the league IMO. They have made the effort to move him around more, but mostly Hop just being Hop changes the equation. They would be even better if Hollywood Brown hadn't gotten hurt on the trip to Seattle, but make no mistake, this offense is playing better than it was three weeks ago, and Hop is the biggest reason why.
The Cardinals made it tough on Geno Smith and the Seattle offense last month, in two games since they've given up a lot of points and yards. How much concern—if there is any—is there about how things are going on that side of the ball?
Urban: The defensive issues since the Seahawks game have been strange. They did lose nose tackle Rashard Lawrence, but it shouldn't have been that dramatic of a loss. There is a concern from the standpoint that they cannot give up so much early and count on any comebacks, not with the inconsistencies on offense. I will be curious to see how the Seahawks offense is able to perform Sunday. Obviously, Geno Smith, DK Metcalf, Tyler Lockett and Kenneth Walker III have proven to be much better together than anyone had expected. But yeah, the Cardinals felt like they did a good job last time.
What matchup or matchups are you most looking forward to in Sunday's game, and why is it Tariq Woolen covering DeAndre Hopkins when those two line up across from each other?
Urban: That's exactly where I would go. Woolen has been impressive, but Hop is Hop. The Cardinals need him to produce big and that has happened in each of his two games. I suppose another one will be Arizona's banged up offensive line against Poona Ford and his crew. The Cardinals did not run the ball well in Minnesota and injuries have impacted the line (and we don't know the status of James Conner either.) The Cardinals need more on the ground. Maybe Kyler adds to that some.