The Seahawks were back in action Wednesday following a day off, and head coach Pete Carroll liked what he saw out of his team as it began preparation for Saturday's preseason game at the Los Angeles Chargers, noting "guys really battled."
That and other observations from the penultimate day of practice open to the public:
1. The team was "really practicing hard today."
With a game approaching, this was a "Competition Wednesday" practice, and there certainly appeared to be a bit of an edge to the way players on both sides of the ball approached the day. Not that anything dirty or dangerous or even flag-worthy occurred; there was just a level of intensity we haven't necessarily seen in earlier practices, which is exactly what Carroll wants with a game approaching.
"This is the first day of the week, really, getting ready for a ballgame coming up," Carroll said. "We're still in camp mode, of course, but this was a Competition Wednesday for us. The guys really battled today, so it was a really fun practice. I don't know if you guys could tell or not, but that's the kind of work we like seeing out here. Kind of right at that pitch of almost over the top, but they hung in there really nice, did a nice job of staying poised and really practicing hard today. Good day's work."
2. The defense in particular had a good day.
While the offense certainly made its share of nice plays during Wednesday's practice, the day belonged to the defense. The defensive backs were aggressive, linebackers made big plays, and the defensive linemen were disruptive, and that wasn't just the first-team unit but the defense as a whole.
Linebacker K.J. Wright and safety Lorenzo Jerome both came up with interceptions, and during one particularly dominant stretch, the line forced two fumbles in the span of five plays. In between those fumbles, one caused by Branden Jackson and the other by Nazair Jones, the defense recorded a pair of "sacks," and Bobby Wagner shot the gap to stuff a running play at the line of scrimmage.
"The last couple of days, they've really been hitting it pretty good," Carroll said of the defense, "They're getting a real good feel for what (defensive coordinator Ken Norton Jr.) is looking for and then the intensity and all that. They've really been able to step up and put some days back to back and it's nice to see."
Especially enjoyable this camp has been watching Shaquill Griffin when the cornerback makes a play. In his second season, Griffin seems to be playing with a little extra swagger than he showed as a rookie, whether it was dancing long after a pass breakup in 1-on-1 drills, or strutting down the sideline after making a play in the team portion of practice. Griffin has played well throughout this camp, and he hasn't been afraid to enjoy himself in the process.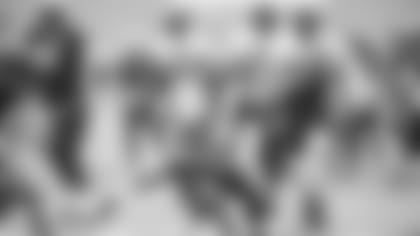 3. Phew, Tyler Lockett is OK.
Seahawks receiver Tyler Lockett gave teammates and fans a brief scare during Wednesday's practice, going to the ground holding his leg after a leaping attempt at a catch on a deep ball in 7-on-7 drills. Lockett's teammates quickly surrounded him, but after briefly being attended to by athletic trainers, Lockett was back on his feet, and he eventually returned to practice and had a couple receptions in the final session of 11-on-11 drills.
"He got kicked in the back of the calf," Carroll said. "He got kicked in the calf and he just wasn't sure what happened."
4. David Moore is "way farther ahead than he was"
While the defense had a big day, it was the offense that made a big play to end practice, with second-year receiver David Moore leaping to haul in a contested deep ball on the sideline. It was just the latest big play for the former seventh-round pick, who has taken a noticeable step forward in his second season.
"He has shown us that he really has special catching ability," Carroll said. "He's got really good ability at the point of attack. Whether it's going up, during the game already, but he's done it here on the practice field, you got to see another one today. At the point of attack, he's really strong. He doesn't look as studly as he is, he's about 216, 218 (pounds), and he plays to that strength and it works for him. And he's really good when the ball's contested. So, that's the thing that we like the most about and we know he can make things happen, so we really want to keep working to fit him in. He came from a program that was not at the same level that we're at, so he's been in the catch-up mode for some time. But, he's way farther ahead than he was last year at this time, and we clearly have an appreciation for what he can do with the ball. He can catch the kicks too and punts, he's ready to do all that stuff when we want him too. He's really just become a bigger factor, and now we got to see how we can use him and see if we can get him in the right spots to utilize his talent."
5. Frank Clark vs. Duane Brown is an entertaining battle.
With Frank Clark returning to full health, we've been treated to more matchups between Clark, the team's most accomplished pass-rusher, and Duane Brown, a four-time Pro-Bowl left tackle. And while pass-blocking may not be the most thrilling element of the game, it's fun to watch two pros on top of their games go at it repeatedly in practice, whether in one-on-one pass-rush drills or in team drills. Clark has tremendous speed and quickness, not to mention a growing repertoire of moves, and got by Brown on at least one occasion, but the veteran tackle also more than held his own at other times, showing his own impressive strength, quick feet and technique to stay with a pass rusher who is nearly eight years younger than him.
6. K.J. Wright hasn't lost his "Spidey Sense."
Back when he was Seattle's linebackers coach, Ken Norton Jr. gave Wright the nickname "Spider Man" because of how often the linebacker's instincts allowed him to come up with a big play. And on Wednesday Wright showed that knack once again, reading what usually would be a pretty easy check-down pass to J.D. McKissic, then reaching down to catch a low pass for the defense's second interception during team drills.
Photos from Day 13 of 2018 Seahawks training camp, presented by Safeway at Virginia Mason Athletic Center.