SEATTLE, Wash.— As if Seahawks fans needed another reason to be at their loudest for this weekend's Wild Card playoff game against the Detroit Lions, CenturyLink Field has been outfitted with six seismometers built to monitor ground vibrations generated by the 12s during Saturday night's game.
Seismologists from the Pacific Northwest Seismic Network (PNSN) installed portable sensors around the building on Thursday to help test instruments, telemetry, analysis, and disseminate seismic information to the public and authorities in the event of a real earthquake. 
PNSN has visited the home of the Seahawks before, first noticing vibrations at the stadium following Marshawn Lynch's legendary 'Beast Quake' run during Seattle's Wild Card win over the New Orleans Saints in the 2010 season. Instruments set up near CenturyLink Field picked up on the ground's movement that came as a result of fan reaction, prompting PNSN to move inside the stadium for ensuing playoff runs.  
"It's a small earthquake, we could definitely see the ground shaking," John Vidale, PNSN's Network Director, recalled of Lynch's 67-yard touchdown run. "Of course it wasn't Marshawn running, it was the stands reverberating and it was the biggest signal we saw from the stadium all year because it was such a big game and because he had such a long way to run to make the touchdown, he did the flip, so the fans just went wild."
For Saturday's game against the Lions, seismographs were installed on the stadium's 300 and field levels. The higher up in the building you go, Vidale said, the more movement the seismometers will pick up. 
"Up high we can see how the structure's responding," he said. "This is a very good structure, so we're not worried about the structure. But if we want to see the building sway, up high is where it moves the most. Then we can compare it to the motion on the ground to tell just which elements are moving how far."
While Vidale acknowledged the exercise is mostly done for fun, it has practical implications as well. In past games at CenturyLink Field, PNSN has used its technology to alert the public where the ground is moving in just a couple of seconds. 
"What we're developing that's new is the ability to see the motion on the internet within a second or two," Vidale said. "Even last time we were out here, I think it was two years ago, it took three or four seconds to get the signal onto the internet, and that's important because we're trying to develop an earthquake early-warning system, so that when we see an earthquake we can tell people before the shaking gets there.
"Sometimes we only have a few seconds because we'd like to open elevator doors and shut down heavy machinery, and warn drivers if possible. With just a few seconds we can do a lot of things and every second counts when you're trying to warn people about earthquakes. That system probably won't be out to the public until probably a couple of years, but we're kind of half way into building it."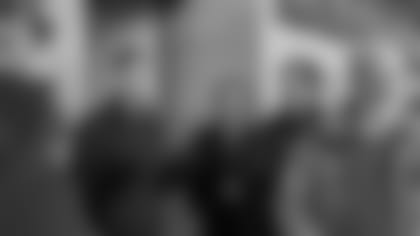 Alerted of PNSN's efforts during his Thursday afternoon press conference at Renton's Virginia Mason Athletic Center, Seattle head coach Pete Carroll called the seismometer installation a "fitting" addition to Wild Card weekend.
"I don't know about the seismologists, what impact they can have," Carroll said with a smile of how the sensors might affect Saturday's game against the Lions. "But the 12s can. They're incredible. I know that they're cranked to turn it out. I'm sure they're feeling just like we are. I know all over the state there's things going on and people are having fun with it. We need every bit of it. I hope we play to really arouse them and get them all jacked up."
As for what type of plays generate the most ground movement and fan reaction, Vidale said it's all about plays that take "a long time to develop."
"If they can see what's happening and there's the suspense — are they going to make it? — and they get a chance to stand up and start shouting, that's what gets the biggest response every time," he said. "If it's just a 1-yard touchdown, even if it's critical, the applause comes and they don't build up as much as they do as something that's running 50 yards down the field."