Seahawks linebackers coach Michael Barrow was talking about his team's competition at strongside linebacker when suddenly he was talking about a comic book team of super heroes.
"They're all different, that's what makes it so hard, and that's why it's so open," Barrow said. "They all do something different, they've all got their own special qualities. They're like the Avengers, you know? They've all got their strengths, but they're all so different, just like the Avengers. They're working hard and competing, so it's going to make choosing really tough, but it's good. It's good to have tough choices."
What makes Barrow compare a group of linebackers to the Avengers? Well, as he sees it, the group of Mike Morgan, Cassius Marsh, Eric Pinkins and Kevin Pierre-Louis, all of whom are competing for one starting spot in the base defense, all have their own special traits, kind of like super heroes… Or something like that.
There's Morgan, the veteran linebacker who knows the defense inside and out having played for the Seahawks since 2011, and for Pete Carroll since 2006, his freshman year at USC. Carroll jokes this is his and Morgan's 15th season together, though it's actually "only" their 10th, with Morgan playing for Carroll every year since his freshman season aside from his redshirt senior year at USC in 2010 when Carroll was already in Seattle. Then there's Pinkins, a former defensive back still learning how to play linebacker, but someone who has serious athletic upside if he were to win the job. Marsh, meanwhile, is a former defensive end making the transition to linebacker, which is the same thing Seattle did with Bruce Irvin, the previous starter at strongside linebacker who left in free agency this offseason. Pierre-Louis, a very fast and athletic linebacker who has played on the weakside up to this point, is also in the mix for the strongside spot.
"At this point we're looking at all combinations, trying to have an opportunity to get our best three guys on the field," Barrow said.
When training camp opened Saturday, Morgan was in with the first-team defense, but it's likely the Seahawks will rotate players through that spot throughout camp and the preseason before settling on a starter.
"They are unique," Carroll said. "Mike has been around so long, and we love Mike Morgan. He is the guy we can count on, and we know what he is going to do, he understands the system. He is as rock-solid as we could hope for in every situation. He is the first guy up right now, but it is wide open. I am excited to see what Cassius (Marsh) does, I'm really excited to see what Pink does. It's just going to take some time though. They've got to accumulate a lot of snaps to get that information."
Morgan, who first signed with Seattle as an undrafted rookie free agent in 2011, has flown somewhat under the radar during his Seahawks career, but has been a valuable special teams contributor and more-than-capable backup for five seasons. Last year Morgan played well enough in two starts in place of an injured Irvin that he stayed in the rotation after Irvin returned to action.
"We understand his value," Barrow said. "He showed his value being an excellent special teams player for years, and he earned a right to have a shot at the starting job… Bruce went down, Mikey Mo, he filled in and played well. We called it the Mikey Mo show, he was putting on a show to the point that when Bruce came back, he and Bruce were splitting reps on base defense. He earned the right to get a fair shot, and I'm glad we were able to sign him back, and now he's got an opportunity where he's competing for a starting spot."
After five years of mostly backup work, Morgan feels like now is his time to take on a bigger role, but he knows he'll have his work cut out for him to win the job.
"Shoot, I'm ready," he said. "I'm just going out here every day, practicing hard, running around, enjoying it. I'm not going to change anything up, I'll just continue to do what I've been doing and just go for it.
"I've just got to be myself. I've just got to go out there and show who I am every day—running around, hitting people, just being physical, being fast, just enjoying the game. I like the competition. It should be fun… They all have their unique, special talents. It'll be fun to see it play out."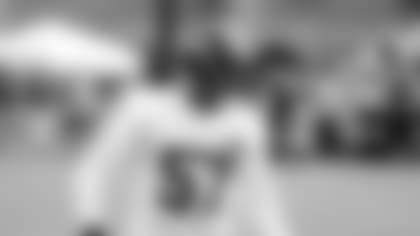 The "hitting people" part of that equation will have to wait until the pads come on, and that is undoubtedly an important part of the competition at a position that ask for a lot of physical play at the line of scrimmage, particularly when comes to defending the run.
"We're kind of still in that same OTA mode right now where everybody looks good without pads on," middle linebacker Bobby Wagner said. "So I think people are really going to separate themselves when they put those pads on. But Mike Mo has been here for a very long time, and we've actually seen Mike Mo in games and he's done an amazing job in games, so I'm looking to see him kind of take charge and take that spot."
Marsh, like Morgan, is looking forward to this competition and the possibility of earning more playing time after spending his first two seasons as a situational pass-rusher and special teams contributor.
"I love that it's an opportunity for me to get out there and compete for a starting job," said Marsh. "That's all anybody can ever ask for. It's another opportunity for me to use my athleticism and for me to use other tools and talents I possess. I'm enjoying myself being in the linebacker room and learning every day, learning more about the game. So yeah, I'm definitely enjoying this so far."
[wysifield-embeddedpoll|eid="407611"|type="embeddedpoll"|view_mode="full"]
Action photos from the first day of practice at the Virginia Mason Athletic Center.