INDIANAPOLIS—Matt Berry, the Seahawks' director of college scouting, and co-directors of player personnel Trent Kirchner and Scott Fitterer sat in the first row of the bleachers at Lucas Oil Stadium, stopwatches in hand.
On Friday of the 2019 NFL Scouting Combine, Berry, Kirchner and Fitterer were all in their usual seats—even if it took them a short conversation to remember who sits where each year—timing running backs running the 40-yard dash. It's important work, but it's also monotonous, which is why they make games out of the process, placing friendly wagers on who from each group will run the fastest or slowest; and the only thing more predictable than the beeping of stopwatches is the constant banter and busting of chops between runs.
When all three recorded the same time, down to the hundredth of a second, for one running back, Fitterer said to Kirchner, "Trent, I think you and I missed; we got the same time as Matt." The implication being, of course, that Berry's time was wrong, ergo theirs must be as well.
As the running backs transitioned to on-field drills, Fitterer, Kirchner and Berry moved up 10 or so rows where they sat with Colts assistant general manager Ed Dodds, who before going to Indianapolis served as Seattle's senior personnel executive. The banter continued, this time with Dodds admonishing Berry to "get your (expletive) life together" after the latter dropped his stopwatch—apparently this was gang-up-on-Matt-Berry-day at the combine.
Whether it's sitting in bleachers, or in the team's suite where head coach Pete Carroll, general manager John Schneider and a collection of assistant coaches and scouts were watching the same drills, this is an important part of the combine. But what might be more valuable to the Seahawks is what was going on at the same time at the broad jump, where area scout Josh Graff was measuring offensive linemen's jumps, or at the 3-cone drill, where NFL scout Ryan Florence timed what is the final on-field event of the day for prospects. At the same time, area scout Todd Brunner was one of the two scouts at the finish of the 40-yard dash recording times, while area scouts Aaron Hineline and Tyler Ramsey were somewhere in downtown Indianapolis serving as group leaders who makes sure groups of prospects are where they're supposed to be, when they're supposed to be there, during what is a very busy week for everyone involved.
When it comes to the inexact science of scouting football players, Schneider says, "we're constantly trying to figure out who the person is, what the makeup is."
And in the never-ending battle to figure out the person, there's real value in having five scouts either on the field or leading position groups during the combine—plus offensive line coach Mike Solari who helps lead O-line drills—giving them extra access and insight into players the Seahawks could decide to draft next month.
"It's very valuable," Schneider said. "We've done it for a number of years, trying to get guys in with different groups. It's awesome. They get to experience—is a guy late, does he have to wake him up, is he on time, complaining, does he have a great attitude? So, yeah, it's a big deal."
As much as the combine is about medical evaluations and physical measurements, it's also something of a stress test for athletes who are put through long, grueling days that can start at a hospital before sunrise for a drug test or an MRI, and end in a hotel room at the Crowne Plaza late at night for a formal interview, or in the empty hallways of the convention center where they practice drills they'll do on the field the next morning.
"It's an event to see how guys are handling themselves," Berry said.
Player interviews—both the formal 15-minute sessions at the Crowne Plaza, as well as informal interviews, many of which take place at the ballroom in that same hotel that is known as the train station—help teams see how players handle themselves, but those sessions can only tell so much. After all, most draft prospects are very well prepared for the interview process these days, so extra exposure to players gives scouts a little extra insight into what they are really like.
"It's very helpful in the sense that, when the 15-minute interviews happen and the train station interviews happens, they're fairly prepared and rehearsed in what they say and what they're prepared for by their agents," said Ramsey, who led a group of linebackers this year. "So this is kind of an opportunity to get to know how they handle themselves on a day-to-day basis—whether they can be on time, whether they can follow directions, how they interact with their fellow group members, how they approach people who maybe they're not trying to impress. It gives us an inside look at what kind of person you're going to be getting on a day-to-day basis in terms of being a professional, so it's kind of a unique look, which is cool."
A group leader like Ramsey or Hineline will spend a significant amount of time with their group during the combine, from the day those players arrive, to making sure they get to their medical evaluations and measurements one day, then to their psychological testing, NFLPA meetings, media obligations and bench press the next day, then finally to their on-field work on their third full day in Indy. And while coming across well over the span of four days at the combine is no guarantee of NFL success, how a player carries himself can be telling. For example, Ramsey noted that one player who stood out most in his four years of leading groups was Leighton Vander Esch, the linebacker out of Boise State who wound up being a first-round pick in 2018 and a Pro Bowler as a rookie with the Cowboys.
"Leighton Vander Esch is one who jumped out, he was a dude who just had presence about him and was confident," Ramsey said. "… He didn't have any time for anyone who was not taking it as seriously as he was. You could just tell that he was ready to go, dialed into this and was focused on being a pro the minute he stepped into Indy."
Hineline, who was with quarterbacks and receivers this year, saw similar traits out of Patrick Mahomes and Deshaun Watson, a pair of 2017 first-round picks who have emerged as two of the league's best young quarterbacks.
"We all have questions about guys," Hineline said. "You always want to keep asking questions and keep going and going until that final stretch. As many questions as you can have answered about the guy is positive at the end of the day. So going through that process, being around them and seeing how they interact on a day-to-day basis, when it's time to compete, get locked in, how are they on testing day? Then it's just, is he responsive, is he accountable, does he fit in well with the other guys."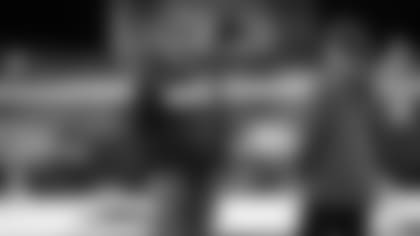 While scouts on the field recording times and measurements don't get as much time around prospects as group leaders, it can still be valuable to see how a player handles himself under the stress of those drills.
"There's only so much you can get when you're sitting there measuring stuff, but some of those guys get into it, get super competitive with it, they're cheering on the other guys," said Graff, who has been measuring the broad jump for six years. "Or there's some guys you hear about who have juice to them, then you get on the field and there's nothing there because they're not in their element… You have a chance to talk to them, and it's not the crazy setting of the train station or in the Crowne Plaza. It's just a different element of interacting with them. Some guys get pissed because they can't finish their second jump, they get irritated and walk away, other guys are encouraging dudes, other guys just go about their own business."
Brunner doesn't interact with players as much despite being on the field, in part because he is instructed not to, lest he deal with a constant stream of prospects hoping to quickly learn their 40 time, but there's still value in "seeing how guys run… From that close, you can tell who's breathing, who's tense, who's holding his breath," he said. In a time when pre-combine training has become big business, not all 4.4-second 40 times are created equally—there are natural runners, and then there are "coached" fast times, and Brunner's vantage point can help differentiate between the two.
Florence's spot timing the 3-cone drill, meanwhile, gives him insight into one of the characteristics the Seahawks value most: grit. Not only is the 3-cone drill a player's last drill on a grueling day, it's also one where players can be asked to try over and over again until they get it right.
"One of the biggest things is just seeing how guys interact," Florence said. "Obviously these guys are putting a lot of pressure on themselves in terms of really wanting to not mess up. And the short shuttle and 3-cone are the last events of the day. Everyone does the 40s and the on-field drills, and you see these kids mentally and physically exhausted. So it's kind of like, are they going to say, 'Hey, I'm feeling tight, I'm going to shut it down,' or are they going to try to compete until the very end? So it's cool to see the guys who are fighting to finish strong. Who's got that presence about him to push himself?"
Florence recalled one receiver from a previous year who, because of either missing a line or touching a cone, took 16 tries to get a time that counted.
"I was just waiting for him to unravel, but he finally got it done," Florence said. "It was pretty cool to see how he bounced back. Once you mess up once, it can get inside your head, it can be hard to keep going."
Ultimately a good attitude in the 3-cone drill or leadership amongst a group of draft prospects isn't going to get a player drafted by itself—college game tape still matters more than anything—but all of those little things can be pieces of the puzzle in the process of, as Schneider said, "constantly trying to figure out who the person is." And with five scouts either on the field or leading groups at this year's combine, the Seahawks hope that little bit of extra insight will pay off in April's draft.
RELATED
Photos from Day 4 at the 2019 NFL Scouting Combine in Indianapolis, Ind., where Seattle Seahawks coaches and personnel staff are evaluating more than 300 of college football's top professional prospects ahead of this year's draft.