While traveling the world with his wife, Ciara, Seahawks quarterback Russell Wilson has seen the impact that the game of football can have on kids.
From China to Brazil to the United Kingdom and beyond, the Seahawks quarterback has seen children around the world embrace the sport he loves, and now Wilson will try to help grow the game in an official role as the Co-Owner and Chairman in NFL FLAG, an NFL licensed property of more than 1,600 locally operated leagues and over 500,000 youth athletes across all 50 states.
Wilson's work will be focused on strengthening NFL FLAG domestically and expanding the league internationally. Wilson will work closely with former NFL safety Izell Reese, the president of Reigning Champs Experiences, to support league development and growth worldwide for both boys and girls. Reigning Champs Experiences is the official operating partner of NFL FLAG and produces some of the country's premier youth sports events.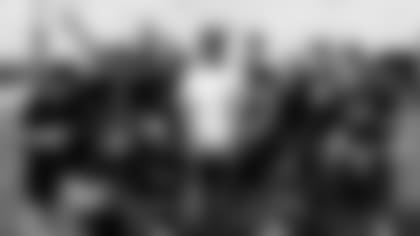 "Russell is a living example of the positive impact sports can have on young athletes," Reese said in a press release. "He exhibits the qualities we want to instill in our youth on and off the field and shares NFL FLAG's commitment to making sports accessible to all athletes."
Added Troy Vincent, the executive vice president of NFL Football operations, "Russell's demonstrated character, leadership, and international experience will guide NFL FLAG as a global sport in which everyone can participate—Football for All. Russell's ability to bring people together and inspire the values of football will be transformational in growth and acceptance of American football around the world."
Wilson will attend the NFL FLAG Summit in Nevada during the NFL Draft, where he'll speak to NFL FLAG leagues from across the U.S. about new initiatives aimed to better support teams and expand NFL FLAG's global footprint.
"I'm fired up, I get to be a part of the amazing, amazing NFL FLAG League, and we're going to go global with this thing," Wilson said in a video he posted on Twitter Friday. "… I make this prediction, NFL FLAG, this sport is going to grow so fast that we're going to go international to every major country in the world, and we can't wait, because the game of football, American football, is going to be a global game, and it's changing kids' lives everywhere. So I'm excited. I've already been to China, I've already been to Brazil, I've already been to the UK—some of the greatest fans in the world—Mexico and Canada. I can't wait. Flag football, anybody can play it anywhere. So we're really excited about the game growing."
As a part of the Pro Bowl Community Huddle day, Pro Bowlers Shaquill Griffin, Russell Wilson, and Pro Bowl cheerleader Kelsey G spent time with youth flag football teams from around the globe, met with athletes from the Wounded Warrior Project and spent some time giving back to the Orlando community.