Years ago, Mo Kelly heard a piece of advice that has stuck with him ever since.
Begin with the end in mind.
Now the Seahawks' Vice President of Player Engagement, one of Kelly's goals is to make sure that current players are prepared for life after football, so it gave the former NFL defensive back great joy to watch five Seahawks—Kevin Pierre-Louis, Garry Gilliam, Mike Morgan, Julius Warmsley and Marcus Burley—spend this week juggling OTA practices, workouts, team meetings and the Starbucks job shadow program, which is now in its second year of having Seahawks players learning about various corporate jobs at one of Seattle's biggest companies.
"The here and the now, everything is great for these guys," Kelly said after players addressed a crowd of Starbucks employees. "I like to try to plan for the future, and seeing these guys, this says so much about them as individuals that they're preparing themselves for life after football… Life is good for you right now, you make a lot of money, you're on a team that's been to two Super Bowls, why do this? That speaks to their character and what they're thinking about for the future."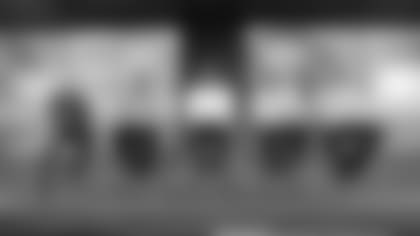 While some players enjoy decade-long careers and make tens of millions of dollars, the vast majority do not, which is why these Seahawks players were eager to do some learning outside of their usual football environment. Even if the goal is to play in the NFL for a long time and be financially set for life, these young players want to prepare for a life after football.
"Being a student athlete, I wasn't able to take advantage to opportunities to take on an internship just due to scheduling and summer workouts, so this is a chance to get into the work field while I have a little downtime," Pierre-Louis said after his week working with Starbucks' real estate department. "You don't know how long the NFL will last. Even if it was to last for a long time, let's say 10 years, I'll be done playing football, but then it's, 'what else can I bring to a company?' I can't just say, 'hey, I played football for this amount of time.' Now I can say I shadowed someone at Starbucks or I networked with this person. It helps grow your brand and bring more to the table. The more you can do."
For Gilliam, the player best known to Seahawks fans as one of the unlikely heroes in last season's NFC championship game, learning how things work in the business world isn't Plan B; it's all part of his bigger life goals that include more than football. Gilliam hopes to be the CEO of his own company someday, and one of the things he took away from this week was the way Howard Schultz was receptive to worker feedback. Gilliam, who earned three degrees at Penn State, has never viewed football as the end goal in his life.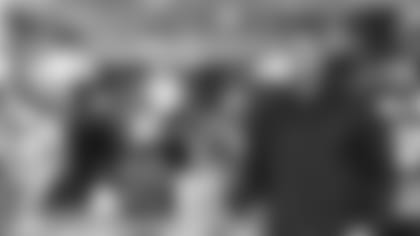 "Everyone always asks you, 'What's your backup plan if football doesn't work out?'" Gilliam said. "For me it was never a backup plan; it was concurrent. I did everything together with the hopes that I would be successful in everything. Football obviously worked out, so now being in Seattle where there are so many successful companies, having the opportunity to come out to Starbucks and hopefully other companies to see how they do their things and meet people and network is very valuable."
After sharing experiences from their job shadows, players took questions from Starbucks employees, talking about both football and business, and even offering advice to one employee on handling the pressure of a big game because she had an important roller derby contest this weekend.
Warmsley told the crowd about the wakeup call in his life when he was coasting along at Tulane and earned a 1.6 grade point average the first semester of his sophomore year, leading to a stern talking to from his mom. From that point on, with his mother and brothers hounding him about planning for his future, Warmsley took school seriously. So when Kelly approached Warmsley about the job shadow program, he was quick to say yes.
"Football isn't forever, so you want to make sure you have opportunities outside of that," he said.