Germain Ifedi has logged plenty of playing time on *MLB The Show. *But when staring down the 60 feet and six inches from the pitcher's mound to home plate at Safeco Field on Saturday, all those hours on the sticks were of little help to the Seahawks offensive lineman as he readied to throw out the ceremonial first pitch for the Seattle Mariners.
"I didn't even know the mound and home plate were so far apart," Ifedi said. "The video game makes it seem so easy, but in real life, it's not that easy."
However, when Seattle's 2016 first-round pick learned that one of baseball's all-time greats threw out his ceremonial first pitch from the grass just in front of the bump, it helped put Ifedi's mind at ease, and he knew right then and there that was the approach he'd take with his.
Saturday night's game against the Minnesota Twins marked the Texas A&M product's first visit to the Mariners' ballpark. Joining Ifedi were fellow rookies C.J. Prosise, Nick Vannett, Joey Hunt, Tanner McEvoy, and Alex Collins, who provided moral support and a few first-pitch tips.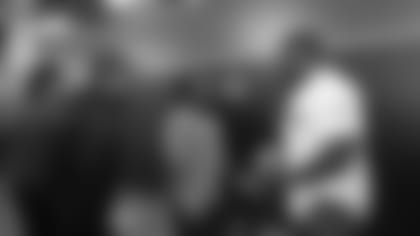 "The form looks rough, man!" Collins chirped as Ifedi tossed practice throws Hunt's direction. "Gotta pick that knee up!"
Ifedi's mindset? "Just have fun with it, and don't screw it up."
"Alex Collins, he's giving me some good tips," Ifedi said. "Telling me some aiming points. He's helping me out a little bit. So this whole first pitch, if it goes well it's on him. But if it goes bad, it's also on him."
Luckily for Collins, Ifedi's first pitch went off without a hitch. The 6-foot-5, 325-pounder began his windup from the grass in front of the mound - just like Griffey - and lofted the ball down the middle of the plate to cap a successful first public appearance in front of Seattle sports fans.
"Just being in Seattle, the time I have been here, it's been amazing," Ifedi said. "To get out there in front of the fans for kind of the first time was really special for me."
Rookie offensive lineman Germain Ifedi delivered the Seattle Mariners ceremonial first pitch before Saturday's game against the Minnesota Twins.