The Seahawks are 1-0 after a wild Monday night win over the Denver Broncos, and now they have a quick turnaround before their Week 2 game in Santa Clara. And with players enjoying a much-deserved day off on Tuesday, now is the time to open up the mailbag and answer questions from you, the fans. As always, thanks to everyone who asked questions this week, and apologies if I couldn't get to yours this time around. And remember, if you aren't the Twitter-using type (or if you are just avoiding me on Twitter), you can also submit questions online at Seahawks.com/mailbag.
@hollberry03 asks, "What or who surprised you the most in last night's game?"
A: What surprised me most? Like just about everyone else, I'll go with Denver's decision to attempt a 64-yard field goal late in the game rather than go for it on fourth-and-5. The stage seemed to be set for Russell Wilson to potentially pull of his specialty—a fourth quarter comeback—for his new team while facing his former team, but with more than a minute still on the clock, the Broncos let the clock run down, called time out, then attempted what would have been tied for the second longest field goal in NFL history, at sea level, outdoors and into the end of Lumen Field known for late-game chaos.
As for who surprised me, I would point to Geno Smith, not because I didn't think he would play well, but against a really good Broncos defense, there's no way to expect a quarterback starting the game 12 for 12 and going 17 for 18 in the first half. Having watched Smith practice for three-plus years, I'm not surprised that, given his chance, he is playing well, but I'd be lying if I said I saw that kind of first half coming.
Uchenna Nwosu is another player who enjoyed a strong camp and preseason, but like Smith's game, it would have been difficult to predict Nwosu having that big of an impact in his Seahawks debut, recording a sack, seven tackles, a pass defensed, and most notably, a forced fumble at the goal line.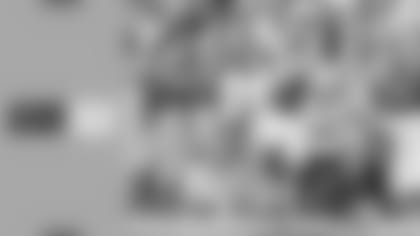 Listen To The Hawk Talk Podcast
Every week, Michael Bumpus and Nasser Kyobe release two podcasts analyzing the Seahawks previous game and previewing the next Seahawks opponent. Available on Spotify, Apple Podcasts, and wherever else you might get your podcasts.
Debbie from Spokane says, "The fans were out of line booing Russell Wilson. That was a show of poor sportsmanship."
A: I've seen a lot of questions/comments like this, and honestly, I just don't get it. It's sports, which are meant to be entertainment, and if it's fun/cathartic for fans to boo an opponent, a pretty harmless act, and possibly help their team in the process, then why do we care? When did a football game become the place for proper decorum? Was that Wimbledon or an NFL stadium? Russell Wilson is more than capable of handling a few thousand booing fans, and as far as I know, nobody was yelling anything vile or harassing his family or throwing things on the field—any of those things are out of line and shouldn't happen. Wilson did a lot of great things for the Seahawks and the Seattle area, on and off the field, and someday he will almost certainly go in the Ring of Honor, or raise the 12 Flag, or have his number retired, or some other honor. And when one of those moments happen, I have zero doubt that fans will give him a very warm ovation he deserves. But am I going to fault fans for booing only six months after Wilson left Seattle after the NFL scheduled that game for Week 1, and after fans have spent months hearing from just about every direction how bad their team is going to be because Wilson left? Absolutely not.
If you were at the game and chose to take the high road and cheer for Wilson, that's fine, but I really don't see the issue with fans booing, something that happens at sporting events around the world every day.
@thetweetpotatos asks, "Why do we abandon the run so often when that is a cornerstone of Pete Carroll's philosophy?"
A: The Seahawks had 19 runs out of 49 plays. One of those was a Smith scramble, three were kneel downs at the end of the game, but I still wouldn't go so far to say they abandoned the run. That being said, Carroll would be the first to tell you that he would have liked to see the Seahawks run the ball a little more often and more successfully. But an important thing to remember about Carroll's offensive philosophy is that the goal is balance more than it is to just run the ball all the time, and for Carroll balance isn't about having a certain number of runs or passes in a given game, but to have a balanced attack capable of moving the ball successfully by whatever means necessary. And especially early on when the Seahawks offense was clicking, Smith was finding receivers and tight ends open to make plays in the passing game, while the Broncos were playing stout run defense. Somewhere down the road the Seahawks will have a game where they run the ball a ton, but Carroll's philosophy is not to force that just for the sake of getting more carries.
@eastone17 asks, "How will our secondary overcome the loss of Adams?"
A: Adams suffered what Carroll called a serious knee injury last night, and that is no doubt a blow to Seattle's defense, which had high hopes for what Adams would be able to do in Seattle's new scheme. The good news is the Seahawks like their safety depth in Josh Jones, who was one of the bright spots of training camp, and Ryan Neal, who has played well in a starting role each of the past two seasons when Adams missed time due to injury. To me, one of the more interesting questions going forward is whether or not the Seahawks still use the three-safety looks we saw in training camp with Jones joining Adams and Quandre Diggs on the field. That seemed to be a sub-package the Seahawks really liked, but will it be something they pursue without Adams?
@cheech_fn asks, "Can we expect to see more of Noah Fant as a pass catcher going forward after he had only three receptions for 16 yards?"
A: I do think Fant will have bigger receiving games going forward—as mentioned earlier, the Seahawks ran only 49 total plays so there weren't as many overall opportunities for everyone—but it will be hard to guess from week to week what his numbers might look like. And that's not a commentary on Fant's talent or consistency, but rather a reflection on the talent the Seahawks have at tight end with Fant, Will Dissly and Colby Parkinson. That was readily evident in Monday's game with Dissly and Parkinson both hauling in long touchdown catches, but in future games those opportunities could just as easily go to Fant.
The Seahawks host the Broncos for Monday Night Football at Lumen Field on September 12, 2022. Game action photos are presented by Washington's Lottery.