The Seahawks kicked off their 2020 season with an impressive road win over the Atlanta Falcons, Seattle's first season-opening road win since kicking off the 2013 season with a win in Carolina. Next up for the Seahawks is a tough test against the New England Patriots, but before we turn our attention Week 2, it's time once again to answer questions from you, the fans. As always, thanks to everyone who asked questions this week, and apologies if I wasn't able to get to yours this time around.
Robert Brown from Tacoma asks, "Why do you keep dividing fans with your support of anti-American antics?"
What players are doing, using their platform to fight injustice and, in an election year, encouraging people to vote, is anything but anti-American. I would argue that exercising the right to protest, fighting against racism, voting, and challenging the country to live up to the ideals it was founded upon are quintessentially American actions.
And I feel like I'm not changing anyone's mind at this point, but I'll say it anyway, the protests are not about disrespecting the flag, they're not anti-America or anti-military; they're about athletes using their platform to demand that this country tries to get a little closer to having those self-evident truths that "all men are created equal, that they are endowed by their Creator with certain unalienable rights, that among these are Life, Liberty and the Pursuit of happiness" actually apply to all men and women. And if this was really about the flag and not about people being uncomfortable with Black men fighting for equality, then why were people booing last Thursday during a moment of silence dedicated to equality that took place before the anthem?
As folks wiser than me have pointed out already, equating the act of protesting systemic racism with being anti-American only shows how ingrained racism is in the fabric of America. And if you consider it "bringing politics into sports" to be anti-racist, against police brutality or in favor of people voting, I'd ask what it is that your political beliefs stand for?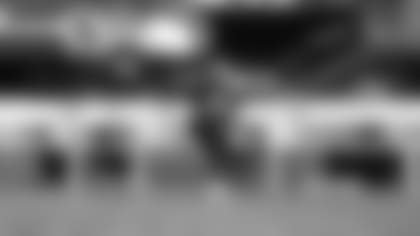 William Henderson from North Pole, Idaho asks, "Is the main difference in a personnel in a 3-4 defense and a 4-3 defense that a 3-4 has one nose tackle instead of two defensive tackles, and more linebackers/defensive ends on the roster?"
A: Traditionally, yes, a team running a 4-3 (four defensive linemen, three linebackers) would have two defensive tackles compared to a nose tackle between two ends in a 3-4 (three linemen, four linebackers). And often in a 3-4 those ends, or at least one of them, is more of a defensive tackle with a pass-rushing linebacker lined up outside of him. But while there are always some differences between the two, the lines can be blurred quite a bit given how similar some 3-4 outside linebackers are the 4-3 ends.
In Seattle, Pete Carroll has a 4-3 defense, but as he has long said, he runs a 4-3 scheme with 3-4 personnel, a defense that dates all the way back to his days working with Monte Kiffin at Arkansas in 1977, and one that is designed to allow the front seven to still be stout against the run while also being able to rush the passer (for a really good breakdown on this, read this 2016 ESPN piece from Sheil Kapadia).
So again, there's a lot of overlap. Cliff Avril, for example, was the prototypical "Leo" defensive end for Seattle, but were he on a 3-4 team, he'd be an outside linebacker. Brandon Mebane, meanwhile, was a three-technique defensive tackle with the Seahawks, but a nose-tackle with the Chargers when they ran a 3-4. The lines are blurred even more these days with the amount of sub packages teams use, creating situations where ends move to the interior line in pass-rush situations, or stand-up rushers move all around the line to create matchup problems.
@MatthewMatson5 asks, "What are your impressions of how the offensive line performed Week 1?"
A: Russell Wilson was sacked three times early, but that wasn't all on the line. As Carroll noted Monday, the sack on Seattle's first play wasn't on the line, and another sack saw Wilson have good initial protection only to take a sack after holding the ball longer than is reasonable to expect linemen to block. That being said, the line would always like to keep Wilson cleaner, and there were more penalties that the Seahawks would like to see from that group, including two holds. But overall, considering the Seahawks had three new starters on their line, including a rookie, and no preseason games, I would say that was an encouraging start. After all, the Seahawks did move the ball really well and score 38 points, and as good as Wilson was, that doesn't happen without the line doing its part.
@imbrandt81 asks, "Do you think the Seahawks will play more base defense this week against the Patriots' ground attack, and will Jordyn Brooks get on the field more?"
A: The Seahawks played a lot of nickel and even some dime last week against the pass-heavy Falcons, especially after building a big lead, as was evident in nickel back Marquise Blair playing 70 percent of the defensive snaps. Obviously if the Patriots are as run-heavy as they were last week, then yes, I think there's a good chance we see a little more base defense, but I do think the emergence of Blair means the Seahawks will get back to playing more nickel, as they had in past years, than being so base-heavy like they were in 2019.
As for Brooks, he spelled K.J. Wright on a couple of series, and while I don't see him suddenly taking on a huge role this week, I do think the Seahawks will continue to work him in and find ways to get him involved. And to the original question, there could be more chances to do that if the Seahawk have three linebackers on the field more often this weekend.
@chuchitorv asks, "How is Rashaad Penny? Is going to come back this season?"
A: The last time Carroll was asked about Penny, the updates were positive, and Penny has been posting videos of himself running on social media. Opening the year on the physically unable to perform list means Penny has to miss at least six weeks, but I would expect that he's back with the team sometime after that time is up.
@Seahawks_Brandon asks, "Do you think we'll see DeeJay Dallas or Alton Robinson this week?"
A: Dallas and Robinson, two rookies who enjoyed strong training camps, were both inactive for Sunday's opener, which was somewhat of a surprise to a lot of folks, and Carroll said both were really close to being active. Early in the season when pretty much everyone is healthy, there's always some tough calls to make with inactives, and in the case of Dallas, he just got caught up in the numbers game at running back, particularly because Travis Homer has such a big role on special teams, including returning kickoffs and serving as the up back on the punt team. I'd expect that Robinson works his way into the D-line rotation soon, possibly this week. One thing to monitor will be the healthy of Rasheem Green, who is dealing with a shoulder injury. If that's still an issue by this weekend, then I'd think there's a really good shot that Robinson plays.
Go behind the scenes with team photographer Rod Mar as he shares moments from the Seattle Seahawks' season-opening win over the Atlanta Falcons at Mercedes-Benz Stadium. Eye on the Hawks is presented by Western Washington Toyota Dealers.