The Seahawks are 2-2 after a wild, high-scoring victory in Detroit, and next up is another road game, this one in New Orleans. But before we turn our attention to Week 5 and the Saints, it's time once again to open up the mailbag and answer some questions from you, the fans. As always, thanks to everyone who asked questions this week, and apologies if I couldn't get to your question this time around. And remember, in addition to asking questions on Twitter, you can also submit them online at Seahawks.com/mailbag.
@tompage asks, "Does Tariq Woolen have a chance to win defensive rookie of the year?"
A: There will be plenty of good candidates for this award, including Jacksonville linebacker Devin Lloyd, a first-round pick who won rookie of the month honors for September, but if Woolen keeps playing like he is, particularly when it comes to getting interceptions, then yes, he'll be in the conversation.
According to Pro Football Focus, opposing quarterbacks have a passer rating of just 40.4 when targeting Woolen, completing nine passes on 17 targets with two interceptions. If Woolen can keep up that level of play and keep adding to the interception total, then yeah, he should be a legit candidate for that honor.
@CelestialMosh asks, "Which one of the rookie tackles are performing better, Charles Cross or Abraham Lucas?"
A: This is a tough question to answer, because both are playing well as rookie starters. It's not a perfect measure of how a player is performing, but for what it's worth, Lucas has a slightly higher grade than Cross on Pro Football Focus. Then again, Cross is playing what is generally considered the more demanding and important position since the left tackle is protecting the blind side for right-handed quarterbacks.
That the Seahawks are starting two rookies at tackle, and we can't definitively say which one looks better right now is a pretty great sign for the future, regardless of which player you prefer four games into the season.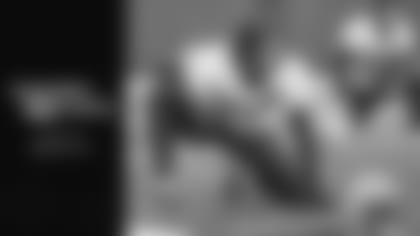 Listen To The Seahawks Insiders Podcast
Hosted by sideline reporter Jen Mueller and Seahawks Senior Digital Media Reporter John Boyle, the Seahawks Insiders podcast takes an in-depth look at each week's Seahawks game and analyzes the previous week's matchup. Available on Spotify, Apple Podcasts, and wherever else you get your podcasts.
Rob Hettinga of Hermiston, Oregon asks, "How many scorigamis do the Seahawks have? Who has the most?"
A: First off, to catch anyone up who's not familiar with the term, scorigami is a term coined by SB Nation's Jon Bois to describe a final score that has never before happened in NFL history, and we're talking about scorigamis because Seattle's 48-45 win over the Lions was indeed a unique score.
To learn a ton more about scorigami, check out the video below. But to your question, I don't know how many the Seahawks have all time, but they do have 10 under Pete Carroll, all of them wins. From 2010 to 2018, the Seahawks had one per season, including a Super Bowl scorigami in their 43-8 win over the Broncos.
I don't have a list of every teams scorigamis, so I can't tell you if the Seahawks have the most, but it's a safe bet that they do since Carroll took over. As of 2017, Bois reported that Carroll's eight unique scores were the most of any coach, ahead of Bill Belichick, who has been coaching the Patriots for a decade longer than Carroll has been in Seattle. In fact, in the video below, Bois dubs Carroll, "the wizard of modern scorigami" and that was three scorigamis ago.
Does any of this matter? Not really, but's quirky and funs, why not celebrate this weird feat?
@onlyusethelaces asks, "Who starts at cornerback opposite Tariq Woolen this week?"
A: Mike Jackson has started all four games at left cornerback and is listed as the starter on this week's depth chart, so there's no reason to believe it will be anyone else when the defense takes the field for the first time on Sunday. That being said, this is a valid question this week seeing as we saw Sidney Jones IV get action in that position in place of Jackson for a couple of series in last weekend's game. Carroll said last week that with Jones and Artie Burns getting back to full health, the competition is on at cornerback, so it wouldn't surprise me if we see one or both of those players getting some reps again this week.
@antdellafave asks, "Should we expect to see more of Ryan Neal?"
A: Neal saw his most significant playing time of the season in Sunday's win, playing 36 of 74 defensive snaps, and on Monday Carroll said they hope to get Neal involved more. So the short answer is yes, but the part we still need to wait to figure out is how that playing time comes about. Do the Seahawks do more three-safety packages—either by replacing the nickel corner with a safety, or by replacing a linebacker with a safety—or do they play more dime, putting a sixth defensive back on the field, against pass-happy teams? Or could Neal eventually push Josh Jones for a starting job? We don't yet know the answers to those questions, but made it clear he wants to keep finding ways to get Neal on the field.
"I really think that he's going to continue," Carroll said. "I talked to him just before this game about this week coming up. We had prepared him to play against Detroit, but I had told him that I wanted to try to expand his play time and give him more opportunities to do stuff. I just liked the guy on the field. He's an aggressive, fiery, feisty dude and he hits people and seems to make things happen. So, I'm anxious to see if we can continue to grow his opportunities."
Mitch Stinson from Kelowna, BC asks, "Statistically speaking, the Seahawks defense is the second worst in the league right now. Do the players pay attention to those numbers?"
A: Yes and no. What's generally most important to the players is that A. the team is winning games, and B. they're helping the team win by limiting the opponent's point totals. So if, for example, the Seahawks were giving up a lot of yards but ranked pretty high in scoring defense, they probably wouldn't care too much. But when lot of yards correlate with a lot of points, as is the case so far this year—the Seahawks currently rank 31st in both yards and points allowed—then yes, players are aware of that and most certainly want to clean that up. Several defensive players, including co-captains Quandre Diggs and Al Woods, have been blunt in assessing a defense that in their own words is not playing well enough right now.
The biggest culprit, as players and Carroll have both acknowledged on a few occasions, has been the number of big plays the Seahawks have allowed. If the Seahawks can get those out of their game, they have confidence the defense will start to perform a lot better and improve those numbers.
"We have to get better at our stuff, we have to get more consistent because what's happening is that the explosive plays are affecting drives as they always do," Carroll said Monday. "If you have an explosive play, the odds of scoring goes way up. That's the big concern right now. We came out OK on our third-down numbers—we didn't do well on fourth down, we did OK on third down—but the explosive plays are giving them all kind of opportunities that we can't give up. Those are one thing or another, it's not any one thing. It's not the coverage that we are playing, or the style of stuff, or any of that. We just have to execute better and not give up the yardage that we are giving up."
@michaelpherman asks, "Are their favorite road trip locations among the players? Media?"
A: For the most part, I don't think players care much about the location of road games other that if the weather will be particularly hot or cold on gameday, or if it's a road game close to home/where they went to college, etc. These are work trips for players so they're not getting out much to explore all that a particular city has to offer.
For media, on the other hand, there are definitely a few favorites, and this week's trip to New Orleans is one of them. If a city is known for good food, there's a pretty strong chance media will like going there. Good weather is also always a big draw, particulary late in the season when it's dark and wet in Seattle.
And finally, Ross Shafer, one of the founders of "Almost Live!" writes not with a question, but to share a video of a sketch from the Seattle-based sketch comedy show called Ballard Vice. Shafter shares this particular episode because it includes Seahawks Legends Jim Zorn and Michael Jackson, as well as legendary hydroplane drive Chip Hanauer.
Go behind the scenes with team photographer Rod Mar as he shares moments from Week 4 vs. the Detroit Lions on October 2, 2022 at Ford Field. Eye On The Hawks is presented by Western Washington Toyota Dealers.