Hi everybody and welcome to our Week 4 Seahawks mailbag. As always, thanks to everyone who asked questions this week, and apologies if I wasn't able to get to your question this time around. And remember, in addition to asking questions via Twitter, you can also submit them online at Seahawks.com/mailbag.
@Dissolveo asks, "Are there any plans to start Drew Lock at any point this season?" And several others asked about Lock potentially taking over at QB.
A: I received a surprising number of questions about Lock playing, and quite frankly I just don't get it. And don't get me wrong, I've got nothing against Lock, and like the rest of you I'm intrigued by the upside and playmaking he showed at times in the preseason and in camp, but the amount of people asking about a quarterback change seems to suggest that a lot of you think quarterback play has been the reason for Seattle's 1-2 start, and that's just not the case.
Are there things Smith can and will do better as the season goes along? Of course. But for the most part he has played very well, made good decisions and helped put the Seahawks in position to win their opener and to have a good chance at winning last week despite Seattle's defensive struggles, and the numbers back that up.
Based off traditional passer rating, Smith's 100.8 mark ranks seventh in the NFL, while ESPN's QBR has him 10th at 62.2, and by both measures he currently ranks ahead of quarterbacks like Aaron Rodgers, Tom Brady and Russell Wilson. And no, I'm not suggesting Smith is better than those quarterbacks, but his play right now is a positive for Seattle, not a problem.
One criticism I've seen is that, while Smith played well, he isn't clutch because he didn't finish the potential game-winning drive, but was it his fault Damien Lewis got flagged for holding, taking away a completion that would have set up first-and-goal from just inside the 10-yard line? Nothing is guaranteed there, but in that scenario it's a lot more likely that Seattle sored the go-ahead touchdown, and a lot less likely that Smith throws an interception, which is how the comeback attempt ended when he had to force a throw into traffic on fourth-and-18. And, for that matter, it's also less likely Smith gets sacked on first-and-10 with more than two timeouts and more than two minutes remaining than on second-and-14 after the penalty when the Falcons knew Seattle had to throw.
I'm not trying to argue that Smith is playing at an All-Pro level or anything, but it just seems like way too many people are happy to write him off without actually watching him play because they heard or read that he was bad based off his performance as a rookie and as a second-year quarterback on some bad Jets teams nearly a decade ago.
Good arguments can and have been made that Smith should have gotten a second chance to be a starter well before this season, and now that he finally is, I find it curious how many people are so quick to dismiss him as a viable option when his performance backs up Pete Carroll's decision to make him the starter.
@Wittkinator asks, "How is Tyler Lockett doing after the hits he took against the Falcons?"
A: Carroll said after the game that Lockett had "a little bit of a shoulder stinger kind of thing," but added that Lockett was fine after the game. Lockett was likely sore on Monday after taking the big hit that briefly knocked him out of the game, but ultimately it's a good sign that he quickly returned to the game, seemed to play with no issues and finished with a game-high nine catches.
@kapaa6000 asks, "How can the Seahawks generate a better pass rush—more blitzing, different personnel, change of scheme?"
A: The Seahawks pass rush hasn't produced big numbers so far—their six sacks are tied for 22nd in the NFL—but they have been able to disrupt quarterbacks more than that sack total might indicate, recording 21 quarterback hits through three games. Losing Jamal Adams early in the opener definitely has been a factor in the pass rush, but overall, I don't think the Seahawks view the pass rush as the biggest issue with the defense right now, but rather a run defense that has struggled to force teams into obvious passing situations in which the pass rush can really get going.
After holding opposing rushing attacks to just 3.8 yards per carry last season, the Seahawks are giving up 4.9 yards per rush early this season. And if teams feel like they can keep running the ball, it becomes a lot more difficult to rush the passer than if a defense is stopping the run and forcing teams into second-and-long or third-and-long situations.
That doesn't mean the Seahawks won't keep searching for ways to improve the pass rush, be it scheme adjustments or personnel changes—Carroll did mention wanting to get more playing time for outside linebackers Boye Mafe and Darryl Johnson—but more than anything stopping the run consistently will help lead to more favorable pass-rush conditions than any other changes could.
@SettingTheEdge asks, "Are Pete's coordinators given the capacity to make in-drive or drive-to-drive adjustments?"
A: Absolutely. Look, I'm not going to pretend to know everything that goes on between Carroll and his assistants as a game unfolds, but he hires his coordinators to make important in-game decisions, both in terms of play calling and making necessary adjustments as the game goes on. Might Carroll have some feedback/suggestions along the way? Of course, but he's not micromanaging every decision his coordinators make.
As defensive coordinator Clint Hurtt explained this offseason on Seattle Sports 710AM, the notion that Carroll, as a defensive coach, doesn't let his defensive coordinators run the defense is "way overblown."
"How you run things and how you call it, any head coach when that side of the ball is his expertise, he's going to talk you through some things because he's been through it before," Hurtt said. "Obviously he's the architect of the defense that was here that went to two Super Bowls and won a ton of games and played great defense for a long time.
"He's given me full autonomy. Obviously when you're a coordinator and you have a head coach … you have somebody you have to answer to when there's things that come up. That's part of it, and that's no issue for me. And I want to also lean on him for his expertise."
Like with every team, the head coach will have the final say if there's a disagreement about a particular play or strategic decision, but overall the coaching environment Carroll wants to build is a collaborative one in which all the assistants, coordinators included, help bring the best out of players.
Corbin Schnell from Atlanta asks, "What was the wording on Pete Carroll's shirt under the 'Seattle Seahawks?' Even with a 75-inch screen, it's too small to see."
A: Well Corbin, for you I did a little detective work, and fortunately, team photographer Rod Mar is a pro's pro who takes crystal clear pics. So with one of those pictures, I was able to make like Dr. Gil Grissom or Horatio Caine and enhance, enhance, enhance… until:
City: Seattle
State: Washington
Conference: NFC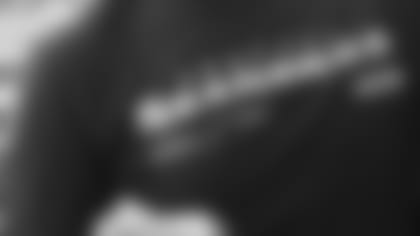 Go behind the scenes with team photographer Rod Mar as he shares moments from Week 3 vs. the Atlanta Falcons on September 25, 2022 at Lumen Field. Eye On The Hawks is presented by Western Washington Toyota Dealers.