And as we turn our attention from the 2022 season to the offseason, it's a great time to open up the mailbag and answer questions from you, the fans. As always, thanks to everyone who asked questions this week, and apologies if I wasn't able to get to yours this time around. And remember, you can submit questions for the mailbag online whenever you want at seahawks.com/mailbag.
@JacsonBevens asks, "Can you rank the following positions in terms of priority for the team?" with a list of several position groups.
A: I like Jacson, I read his stuff regularly, and have been on his Cigar Thoughts podcast, but respectfully, I'm not going to answer this one by ranking position groups of need, and here's why: there's too much we don't know about in the offseason, including who re-signs before free agency and the draft, and who might be let go in salary-cap related moves. As general manager John Schneider says every offseason, there are a lot of hard decisions to make, some of which involve releasing players, but it doesn't feel right for the team website to speculate on those types of moves before they happen, and if we're not taking that into consideration, or knowing who might re-sign between now and March, then it's hard to rank all those position groups.
Now, all of that being said, we can go back only as far as last week's press conference with Pete Carroll to identify what very well might be the biggest need this offseason, and that's adding game-changing talent to their defensive front.
When asked about closing the gap on the 49ers, who beat the Seahawks three times, including the postseason, Carroll pointed first to the talent in San Francisco's front seven. Now, to be fair, one reason the 49ers are so loaded up front is that they had some down years over the last decade, something the Seahawks haven't been through under Carroll and Schneider, which is the best way to get a true game-wrecker like Nick Bosa, the No. 2 overall pick in 2019, or DeForest Buckner, a seventh-overall pick who was very productive for the 49ers before they eventually flipped him for a first-round pick they turned into Javon Kinlaw, the No. 14 pick in 2020 who is a current starter on that loaded front.
The good news for the Seahawks is that, thanks to the trade that sent Russell Wilson to Denver, they have the No. 5 picks in this year's draft, as well as their own pick at No. 20, the type of draft capital that could be used to get a game changer up front, be it an elite edge rusher or a disruptive interior lineman.
"We are going to have to become more dynamic up front, we have to," Carroll said last week.
It's important to note that Carroll isn't just talking about new talent when it comes to getting more dynamic. He put it on himself and the rest of the coaching staff to help players get better, and players can work in the offseason to make themselves better, but certainly between the draft and free agency, the Seahawks will no doubt want to get more talented and competitive up front.
"We need guys to be an issue for opponents, so schematically, we help them, but physically, they have to do their thing too," Carroll said. "We are competing to get better."
And speaking of the front seven, inside linebacker is a position the Seahawks will need to address one way or another, whether that's retaining their own players or adding to the group or both.
Jordyn Brooks has been great the past two seasons and is a big part of Seattle's future, but with a late-season ACL injury leading to surgery just last week, the Seahawks don't know for sure if they'll have their middle linebacker back for the start of the season. Cody Barton, meanwhile, came on strong late in the season and can definitely help the defense in 2023, but he is set to become a free agent when the new league year begins.
@LockettUp2021 asks, "If Brock Purdy is legit, can the Seahawks compete with the 'Niners if we pay Geno Smith while they have Purdy on a rookie deal?"
A: As this year showed, competing with the 49ers isn't easy, but I don't think spending more at quarterback automatically puts the Seahawks behind in the competition. After all, the Seahawks are going to save a lot of money, relative to the 49ers, at tackle having nailed those two spots in last year's draft, while the 49ers have, in Trent Williams, one of the game's highest paid tackles (and he deserves to be; he's without a doubt one of the best players in the game at his position). And the Seahawks are also getting a real bargain at cornerback with Tariq Woolen, Coby Bryant and, if he were able to push for a starting job next year, Tre Brown all on rookie deals. The 49ers are also going to have to pay Nick Bosa, who is heading into the final year of his contract, a ton of money sooner than later. As the Seahawks know, paying some of the best players in the game what they're worth is a good thing because it means you acquired those good players in the first place, but it does present challenges.
If the Seahawks can take advantage of all the draft capital they have compared to the 49ers, who don't have a pick until the end of the third round, having traded their first and second-round picks away, and if they can take advantage of their cap space, be it by adding talent or retaining players, then they have a real chance to close the gap this offseason. That's not to say the 49ers are going to take a big step back this offseason—there's too much talent there and Kyle Shanahan is too good of a coach to expect that—but a Seahawks team that was pretty darn good in 2022, and that was leading the 49ers at halftime of a playoff game, has a chance to get a lot better in 2023.
Josh Gordon from Bothell asks, "Looking back, what rounds should the Seahawks rookies have been drafted in?"
A: Every draft features plenty of players who were drafted early that don't pan out, and late-round picks who play like first-rounders, and this year's was no different, but what bodes well for the Seahawks is that in addition to getting a really good player with their first round pick in Charles Cross, they also added multiple players in the later rounds who out-performed a lot of players drafted ahead of them.
One illustration of that is this Pro Football Focus articled "redrafting" the 2022 draft. In this piece, PFF has four Seahawks drafted in the first round, with Cross moving up from No. 9 to No. 6 overall, and with Tariq Woolen jumping all the way from a fifth-round pick to 15th overall. Abraham Lucas, Seattle's starting right tackle who was a third-round pick out of Washington State, goes 19th overall in PFF's redraft, while Kenneth Walker III, a second-round pick, goes 30th overall.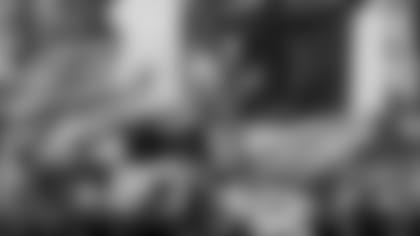 @kmasterman, who clearly doesn't want me to get any work done today, says, "Please rank your favorite Pearl Jam songs."
A: Seriously, this question wasted way too much of my day. First I was just going to pick a few of my obvious favorites like "Yellow Ledbetter," "Black" and "State of Love And Trust," but if you know me even a little, my Pearl Jam fandom is not going to allow me to take the easy way out here. So instead I went over the track listings of every Pearl Jam album and noted a few of my favorites from each. They're not necessarily the most popular songs on each album, though some are, but in no particular order other than the album they appeared on, here are some of my favorites, with the caveat that I'll probably change my mind on this list by tomorrow.
Ten/B sides/singles from that era
Black
Porch
Release
Yellow Ledbetter
State Of Love And Trust
Rearview Mirror
Dissident
Daughter
Elderly Woman Behind The Counter In A Small Town
Corduroy
Better Man
Immortality
Red Mosquito
Present Tense
Off He Goes
In My Tree
Smile
I Am Mine
Thumbing My Way
Just Breathe
Amongst The Waves
Unthought Known
The End
Sirens
Future Days
Pendulum
Seven O'Clock
Comes Then Goes
Retrograde
River Cross
Baba O'Riley (The Who)
Chloe Dancer/Crown Of Thorns (Mother Love Bone)
Masters Of War (Bob Dylan)
Comfortable Numb (Pink Floyd)
@WoodieWyatt asks, "Any idea when they're going to unveil the new throwback uniforms?" While Kirk Perraque from Queen Anne asks what era the throwbacks will specifically be modeled after, and if there will be home and away throwbacks.
A: All I know so far is what was put out in the fall, which is that throwbacks are coming in 2023 and that more details are coming this offseason. When in the offseason? That much I don't know, but if you fill out the form at Seahawks.com/throwbacks, you'll not only be entered to win a throwback jersey when they become available, you'll also get more details as we learn them.
And as Kirk's questions points out, while Seahawks uniforms stayed pretty much the same from the team's inaugural season until they moved to the NFC West in 2002, there were some subtle changes made over the years, things like facemask color or styling of the numbers on the jersey or the stripes on the arm. When the news of throwbacks was teased during the season, it was announced that they would be 90s era uniforms, so while we'll have to wait a bit longer for all the details, think of Cortez Kennedy recording a sack and you'll probably have a pretty good idea of what they'll look like. No word yet on if they'll be both home and away throwbacks or just home, so stay tuned for that as well.