The Seahawks are back in town following a dominant win over the Texans, and are looking to make it three straight wins when they visit the Los Angeles Rams on Sunday. But before we turn our attention to that game, it's time to open up the mailbag and answer questions from you, the fans. As always, thanks to everyone who asked questions this week, and apologies if I wasn't able to get to yours this time around.
Robert Fredrique from Tusla, Oklahoma asks, "I read that Odell Beckham Jr. and Jalen Ramsey are on the COVID-list, can they play in the upcoming game against the Seahawks?"
A: The Rams have indeed had several players go on the Reserve/COVID-19 list in the last couple of days, with Ramsey missing Monday's win over Arizona, and then nine more players, Beckham included, going on the list Monday. 
As for if those players are eligible to play against the Seahawks, that depends on a couple of things. First off, for anyone who went on the COVID-19 list this week to have a shot at playing he'd have to be vaccinated, because unvaccinated players are out a minimum of 10 days. Rams coach Sean McVay told the media before the season that 52 on the initial 53-man roster were vaccinated, so while there has been some turnover on their roster between then and now, odds are high that most if not all of the players on the COVID-19 list are vaccinated, and that gives them a shot to get back this weekend, but it's not guaranteed. For a vaccinated player to return, he needs to test negative two days in a row, and as Pete Carroll has explained after there was some confusion over Gerald Everett's status earlier this year, those tests have to occur before game day, so players would have to test negative on Friday and Saturday, at the latest.
Aiden Sanchez from Seattle asks, "Are there any trades, moves or cuts that might happen in the offseason we should know about?"
A: Will there be moves? Absolutely. There's a lot of turnover on an NFL roster every offseason, regardless of how the previous season went. Do I know what those moves are now to tell you about them? Absolutely not. If you're curious when moves can happen, if there are cuts to be made for financial reasons, aka, cap casualties, those tend to come early in the offseason, mostly having to do with contract language that encourages teams to make those decisions early on—if you're getting cut, you want to be a free agent early on in the process rather than later when teams have already spent money. Trades are kind of all over the map so that's tough to predict, then free agency gets going in mid-March, with the new league year kicking off on March 16.
@DanCohen17 asks, "Best recommendations for someone coming into town for the Lions game with a wife who's never been to Seattle?"
A: Depending on how long you're here, as well as the weather, I would definitely recommend getting out in nature a little if it's not too wet, whether that's taking a ferry to a nearby island, finding a hike (Discovery Park is a good in-city option) or even get into the mountains if you're into skiing or snowboarding or just want to play in the snow a little. Even if you don't want to get too adventurous, a ferry ride to Bainbridge and exploring Winslow, just a short walk from the ferry terminal, makes for a nice afternoon. 
If you're into beer, there are a ton of great breweries to try in just about any neighborhood you might be visiting, though the best place to try multiple breweries in one area is either Ballard or Georgetown. Since your wife has never been, definitely do the Pike Place Market. Yes, it's an obvious tourist spot, but it's popular for a reason and worth checking out. The Kraken are also in town the day before the Seahawks-Lions game if you want to take in a hockey game and see the new Climate Pledge Arena. If either of you are aviation fans, the Museum of Flight is worth a visit, or if you like music/pop culture, MoPOP is one of the more uniquely Seattle museum experiences. 
I'd recommend good places to dine out, but A. I don't know what you like, and B. I have three little kids so I'm out of touch with what's popular these days. My dining out priorities are to find something close to home with covered outdoor seating and food will my 4 and 6-year-old will actually eat (shout out to Super Six for checking all those boxes).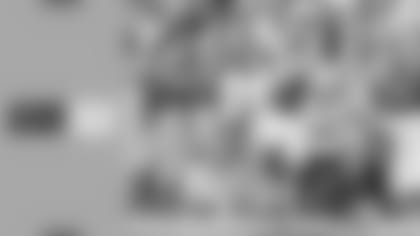 Listen To The Hawk Talk Podcast
Every week, Michael Bumpus and Nasser Kyobe release two podcasts analyzing the Seahawks previous game and previewing the next Seahawks opponent. Available on Spotify, Apple Podcasts, and wherever else you might get your podcasts.
@adamdnathan asks, "Most exciting person you've met at Lumen Field this season?"
A: Adam Nathan, a Seahawks fan from London who also co-hosts the excellent Pedestrian Podcast is setting me up to answer that the most exciting person was Adam Nathan, who was in town for the 49ers game. But while your green and blue checkered golf pants (with matching hat) were definitely the most interesting I've seen in the stadium in a while, I'm not going to indulge you, Adam. Instead, I'll go with the three people you were at the game with. You can be fourth most exciting. Sorry.
@Bob Dennis from Seattle asks, "The Seahawks faced a lot of criticism two years ago when they drafted Jordyn Brooks over Patrick Queen. Now that Brooks is becoming a tackling machine, if we had a redraft, would we still take Brooks over Queen?"
A: I'd say yes, the Seahawks would still take Brooks, but that's no knock on Queen, who looks like he's going to be a heck of a player for a long time. Both are good players, but the Seahawks just liked Brooks a little bit better and made that pick instead, and I doubt their evaluation of him has changed based on what they've seen through two seasons. And yes, Queen had the more productive rookie season, but that was in part due to Brooks having a limited role early in the season due to injuries and the depth ahead of him at linebacker. Brooks can still improve, but he's showing this season that, given a big role, he can be a playmaker, as is evident in his 134 tackles, which rank third in the NFL, and his six tackles for loss, which lead the team.