SEATTLE - Thursday night at the Paul Allen-owned EMP Museum, Seahawks left tackle Russell Okung held the public launch of his Greater Foundation, which aims to provide underprivileged youth increased access to the technology community.
Co-founded by Okung and Andrew McGee, Okung's former teammate at Oklahoma State, Greater represents more than a year of collaboration between Okung, McGee, and local nonprofits dedicated to serving at-risk and disadvantaged individuals, ultimately hoping to help them excel in an evolving economy.
"I've been saying that I think Seattle is one of the best places in the world," Okung said. "I think there's a huge space for this innovation, as well as technology. But what I didn't like, as I would go into the south end and into the central district as well, too, is these kids had no exposure, no access to technology either. They couldn't partake in that dream, so I wanted to be able to share that with them."
Greater has partnered with Code Fellows, Technology Access Foundation (TAF), Seattle Urban Academy, Urban Impact, and City Year to bring things like coding workshops and entrepreneurial guidance to under-served populations.
"We're very grassroots oriented," Okung said. "We're down with the people, and we're down with getting our hands dirty, and we work with individuals that don't mind that."
Spotted on site for the foundation's launch were Okung's Seattle teammates Richard Sherman, Justin Britt, Jordan Hill, and Mark Glowinski, as well as former Seahawks Jordan Babineaux and Ray Roberts. Okung's mother, Dorothy, was also in attendance, as was DJ Maseo, one-third of the hip-hop trio De La Soul who last year spoke alongside legendary Seattle rapper Sir Mix-a-Lot at Seattle Interactive, a technology conference that Okung and McGee attended.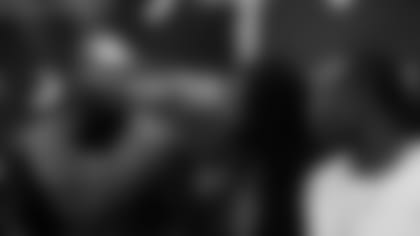 The evening included speeches and discussions from a variety of industry leaders, including TAF director and award-winning science, technology, engineering, and mathematics (STEM) educator Zithri Ahmed Saleem, Rutgers Business School associate professor of management and entrepreneurship Dr. Jeffrey Robinson, REFLX Labs CEO Jose Torres, social impact tech writer Sherrell Dorsey, and Urban Research Strategies & Logistics founder and managing partner Antwuan Wallace. The group highlighted the challenges and impact of using technology as a tool for empowering youth.
"I've always thought the technology sector could look more like America," Okung said. "America is very diverse. There's different people from all sorts of backgrounds, all sorts of dreams and aspirations, and I think the technology sector has kind of missed on that.
"But there are some great people, great people out here in Seattle that believe that it can be better. So as I've been creating those relationships I find out there are a lot of people who believe in the same thing. I'm a huge advocate of STEM, I'm a huge advocate of kids getting the best resources they can possibly get, so just kind of working with everybody now and trying to make it happen."
Okung, who's engaged in obtaining his Executive MBA this offseason at the University of Miami, will hit free agency this March, meaning that after six seasons with the Seahawks, the former first-round pick will be open to sign with another NFL team.
Okung said he has had "some conversations" with the Seahawks since the year ended and said it's "very possible" he stays in Seattle, adding, "We may figure something out, we may not. It's kind of up in the air right now for us to come to terms."
But while his future as a football player in the Pacific Northwest remains uncertain, Okung said his work with the Greater Foundation will continue in the area no matter where his on-the-field endeavors take him.
"I'm a fixture here in Seattle," he said. "It's a place I live. I have a house out here and this is where I want to be for the rest of my life. So regardless of whatever happens in football, this is where I'm going to be. I'm committed to Seattle and so far it's been very committed to me. There's a lot of great work I get to do out here and I see it as a privilege to be here."