All season long, the honor of raising the 12 Flag has gone to people and organizations who have been significant positive influences in their communities during the COVID-19 pandemic. Few other people fit that bill better than the actual frontline healthcare workers who have made great sacrifices to care for COVID patients and administer tests and vaccines.
This week, we are honoring our own COVID testers as our honorary 12 Flag raisers for the hard work they've put in every single day of the season to keep the Seahawks players and staff safe and healthy.
Once it was known that the 2020 NFL season would go on as planned, it became clear that COVID-19 testing was going to be a key component in successfully having games played. Since July, Seahawks players and staff have been tested numerous times a week in line with the league's health and safety protocols. The "Seahawks Swab Team" has been part of the organization the entire time, working to make sure that players are tested, results are back in a timely manner, and everyone around the team stays safe.
"It's been us trying to make sure the Seahawks get the results on time and ensure that everyone who was exposed or at risk is excluded fast and to reconfirm the results before they get into contact with anyone else," said Victor Omballa, site manager of the trailer testing site. Omballa oversees the daily operations at the trailer and ensures that testing runs smoothly and guidelines are followed. That includes making sure everyone wears proper personal protective equipment (PPE) including gloves, face masks, face shields, and gowns.
"What stands out in terms of masking and washing your hands is that we're trying to reduce the incidence of COVID-19, at least among this population," Omballa said. "If you look at our results, and we've been going through this every week, all our people since we started this back in July of 2020, we've all continued to test negative. This offers evidence of the team here sticking to the COVID protocols whether they're within the trailer or outside the trailer with family and friends."
Not only has the Swab Team stayed COVID-free, but the Seahawks were the only team in the NFL to not have a player placed on the COVID-19/reserve list up until early December. "It's something we're extremely proud of, because we review these results each and every day when they're uploaded within the system," Omballa said.
Lauren Arreola normally works at Seattle Cancer Care Alliance, where she cares for a completely different demographic than she does with the Seahawks. Still, she says, the commitment to staying COVID-free is apparent within the organization.
"It's amazing going from one really sick population to a healthy one," Arreola said. "It's great how under control everything is here. And it's good to see everybody on board to keep everything clean, to keep their distance. Seeing how a healthy population handles it, especially a tight-knit one here, it's amazing how good it is."
Like a lot of healthcare workers, the Swab Team's hours can vary quite a bit, leading to some long shifts. Vicki Balatbat, a nurse who's been working at the trailer, says that the team didn't know what their schedule would be like in the beginning — or if there would even be a season.
"As days went by, and now that we've gotten into a normal routine, we come here about 4:30 to 5:00 a.m., and we could get done as early as 12:00 or some days as late as 6:00 or 7:00 p.m," Balatbat said. "We're also not only here in the trailer, but we go to different testing sites. For example, testing referees before games, the team hotel, helping out other teams that are visiting. Our hours really vary for the most part."
"It definitely takes a toll, you don't have much of a life outside work these days," said Emily Ellsworth, another member of the Swab Team. "It's kind of a good routine we've got going here — we swab all of them, they come through — sometimes they trickle through, sometimes they all come in at the end of the day so it can get really swamped and we've got a line of people."
Even with the long, busy hours, the gravity of the moment and importance of the work make the experience worthwhile for Ellsworth. "I think what makes it really worth it is this is like a part of history," she said. "This is something that's never happened before. This isn't the first pandemic, but to be able to continue playing a sport when you're supposed to have a quarantine — it's a great opportunity."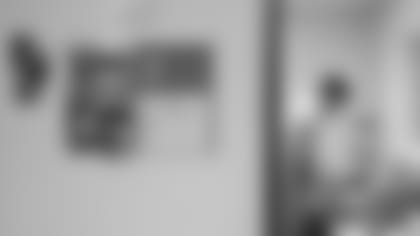 Laura Bixby came to the Seahawks after working at a temporary hospital in the Billie Jean King National Tennis Center in New York. "Not knowing what to expect, not knowing if I myself would catch COVID — you're fighting an invisible war, basically."
For Bixby and the rest of the Seahawks Swab Team, the relationships and bonds built with the team have made the past several months special, however challenging they may have been. "It was an incredible experience," Bixby said. "I'm so grateful that I've been here and had the opportunity to meet the team that I love so much.
"They're all such good players. Damontre Moore, Tyler Lockett, I could go on about every single one. [DK] Metcalf, they're all absolutely incredible, and I need to name all of them, but you guys have the list."
Swab Team member Lesa Henningsen came into the experience not knowing much at all about football, but she's leaving as a Seahawks fan who has forged a special bond with the team.
"I had never been a football fan," Henningsen said. "So to interact with these guys and learn from them about what position they play, how they do their tackles on the field and so forth, has been fun. I think some of them have kind of laughed at me when I ask, 'Is it offense or defense?' But you get to know these people, they open up little by little. I think that they have responded to us well. It's a little bit like a family."
It's a similar story for Omballa. Before this assignment, the only football he knew about is the kind that is actually played with your feet.
"I did not know anything about football when I walked into this trailer," Omballa said. "I did not know any of the players, I did not know any of the coaches. This was very interesting because I just reported to do a job — well, I've become a 12s fan, a Seahawks fan. It's been very interesting interacting with the team here, the players, the coaches. Everyone is very welcoming. I've learned a lot about American football … It's been tremendous and it's been very exciting working here."
In reflecting on the relationship the Swab Team has built with the Seahawks, Omballa talked about how the culture of competition has rubbed off on them as healthcare workers.
"It's been a great experience in terms of competition … to make sure that our reference is shining out here," Omballa said. "Competition to ensure that we are delivering at a high level in terms of sample processing, ensuring that results are tracked, ensuring that everyone stays safe and everyone knows their results on time. So we've been very consistent in ensuring that and very competitive in terms of knowing our clients are happy."
The NFL season will end in February — the COVID-19 pandemic will not. The healthcare workers on the Seahawks Swab Team will continue to fight the pandemic in other ways, in different places. Laura Bixby is heading to California after this assignment to help administer vaccines.
"We have a connection with the players, we want them to feel comfortable everyday, keep the energy up," she said. "So I feel we earned our five stars, and just wanted to let everybody know in the public that it's been incredible and we're keeping your Seahawks safe and healthy."
"The takeaway for me mainly is the work ethic, it's impressive," Omballa said. "It's the work ethic I admire, and having this experience has exposed me to a lot of things in terms of developing my own work ethic and ensuring that things run smoothly."