While Seahawks practice will for the most part look the same between now and Week 1 of the regular season, Tuesday's practice marked the official end of camp. Most notably for the players, that means they can now stay at their own homes instead of the team hotel, otherwise not much changes over the next couple of weeks.
Tuesday was also family day at practice, which meant I wasn't paying attention to most of practice because my girls, ages 4 and 23 months, were there with my parents, so forgive today's not-so-thorough observations.
1. The running backs remain very involved in the passing game.
It was evident early in camp that the Seahawks have confidence throwing to their running backs, and that was on display again Tuesday, with Chris Carson and Rashaad Penny both recording receiving touchdowns during practice. Penny's touchdown came on the final play when Russell Wilson recognized a blitz coming and got off a quick throw to Penny, who was covered by a linebacker and was able to get open for the score.  
"I don't know if you guys saw the last play of the scrimmage," offensive coordinator Brian Schottenheimer said. "Rashaad split out wide, Russ saw an all-out blitz, kind of used the signal to get him involved. What's cool to see, again this is not us coaching, but we worked on that individually. They hit it, but it was cool to see things like that that they work on come to fruition where it's like, wow. When it really counts in a situation like that, they're able to make that play. Chris has been unbelievable; Rashaad made a great play. We know that C.J. (Prosise) and J.D. (McKissic) and those guys, what they can do. They'll help us a bunch."
2. Paxton Lynch is building off of a strong performance in the first preseason game.
While the backup quarterback competition is a long ways from settled, Lynch has had a good couple of practices to build off of his strong performance in last week's preseason opener. Lynch is getting extra reps this week with Geno Smith recovering from having a cyst removed from his knee, and with just-signed quarterback J.T. Barrett still catching up, and Lynch isn't wasting that opportunity.
"He followed that game up, I think it was yesterday or the first practice, he had another great practice," Schottenheimer said. "He's stacking pieces together. Really good game, comes back after a day-and-a-half off, has another really good practice, that's good for anybody's confidence."
3. Camp ended with a physical practice.
While there have been multiple practices in pads leading up to Tuesday's, the Seahawks closed out camp with what might have been their most physical practice, particularly towards the end when the No. 1 offense and No. 1 defense were battling in the red zone. Fortunately while there was some solid hitting and a bit of jawing back and forth between offensive and defensive players, nothing escalated to the point of a skirmish breaking out.
"It was really a fun practice," Schottenheimer said. "It got pretty competitive out there which is always fun to see, a lot of jawing. At the end of the day, it was a great workday. We got them some they got us some. Good way to end camp."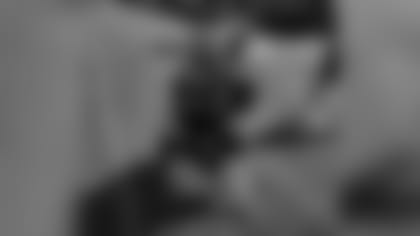 4. Four-year-olds really love Blitz. Toddlers not so much…
When my older daughter, Coco, arrived at practice, she saw me and Blitz at about the same time. Dad did not get the first hug. In fact, if you look closely enough, you'll see that she couldn't even be bothered to let grandma rub the sunscreen in her face before running to Blitz.
Not pictured, the terrified almost 2-year-old, Ruby, who was hiding behind grandpa's leg.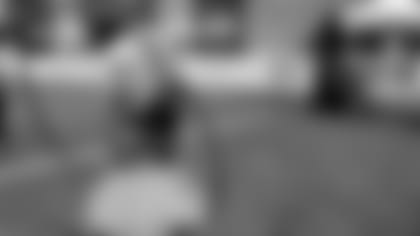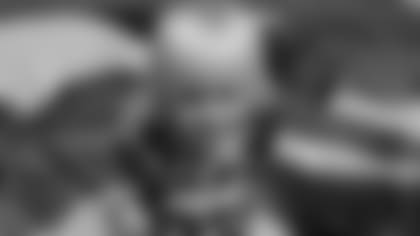 5… But parachutes, hula hoops and Turf the dog are cool.
Fortunately there was plenty of stuff to keep kids of all ages occupied, including one of those giant parachutes, hula hoops, and the cookie that Ruby wouldn't give up while trying to play with a hula hoop.
Not pictured, Ruby getting really excited about Turf, who ran off before a picture could be taken.
6. Coco lives in a bouncy house now.
She'll be missed at home, but she'll be happy in her new, inflatable house.