When the Seattle Seahawks hosted the Green Bay Packers in the 2014 season opener, two men on opposite sidelines saw each other and shared a knowing look.
"One of the kickoffs, I was literally standing directly across from him, and I think we were doing the exact same thing on that play," said Brian Eayrs, the research analyst for the Seahawks. "It was kind of this moment of, 'I know what you're doing over there,' and he knew what I was doing. It was just funny to see him over there with his stop watch, 'I got you, I know what you're up to.'"
There's a decent chance that most football fans wouldn't have recognized either Brian or Mike Eayrs in that moment or know what they were timing with those stopwatches, let alone known they were father and son, holding similar jobs for rival NFC teams, but to people within the organizations, the work Mike Eayrs did in a long career with the Packers and Vikings before retiring last year, and what Brian Eayrs does now for the Seahawks is vital to the teams' success.
"I would be really uncomfortable without him," Seahawks coach Pete Carroll said of the younger Eayrs, who joined the team prior to the 2013 season. "Knowing I have him there to look up some harebrained thing I think I see, then he can figure out a way to research it and kind of quantify it, he is extremely valuable to us."
Mike Eayrs spent more than 30 years in the NFL living in relative anonymity, as his son does now with the Seahawks, in large part because that is the nature of the business they chose. Like his father did with the Vikings and Packers, Brian Eayrs spends his days looking for numbers and trends that can help lead to more on-field success. While a coach is breaking down film, Eayrs might be sorting the success of plays run out of certain personnel groupings, or he might be searching for tendencies shown either by the Seahawks or opponents. Excel pivot tables are his all-22 footage.  
"We search for league-wide trends that might help us win," Brian Eayrs said. "That's really what it all comes down to. We try to stay away from scatterbrained ideas and bring it always back to the central question, how is this going to help us win?... That's the goal, how many people can we make better at what they do."
But while coaches and players deservedly receive credit for the team's on-field success, behind-the-scenes people like Eayrs usually don't, and in his case, that's by design. If Eayrs' research unearths something new that can help the Seahawks, the last thing they want to do is share that information with the world. 
"It's not a job you go into to be famous," Eayrs said. "That's the biggest thing I learned from my dad—some of the most valuable work you do, only the people in your building will know about."
Mike Eayrs worked in the NFL for three decades and won a Super Bowl with Green Bay, where held the title director of research, yet as Brian notes, it was for the most part only his co-workers who realized his value: "There's an inner ring of people who worked him, and they think he's had some interesting ideas. That's his legacy."
Carroll, dating back to his early coaching days in Minnesota, was once part of that inner circle that worked with the elder Eayrs.
"The interest in analytics was born of necessity."
When Mike Eayrs was an assistant coach at Division II Mankato State University (now Minnesota State University), he was part of a first-year coaching staff that, as he put it, had "diverse opinions on how to do things." Looking for a way to help get everyone on the same page, Eayrs remembered something he learned while teaching.
"Facts are always the best common ground to build an organization culture and move forward," Eayrs said in a phone interview from Green Bay, where he still lives with his wife Mary Jo, who is now a huge Seahawks fan despite her husband's longtime employment with the Packers. "So I thought, let's apply research methodology to the game of football and see what kind of facts we can come up with."
What Mike Eayrs came up with was material that would eventually be used by numerous NFL teams, but first he had to get people to listen. Eayrs started out doing regression analysis studies of teams in their conference, then later moved onto other college conferences and the NFL.
"The dependent variable was always the same—who won the game or who won the most games in a season?" he said. "Then we looked at things, examined the data to find significant things that related to success. I developed what I called the original critical variables profile. What it was was a series of things that, if you could do them well, the probability indicated you would win more games. It was all on linear regression lines, so you could predict that if we could improve in this area X amount, probability dictates we'll get another win."
Eayrs started mailing his research to Big Ten Conference and NFL teams, and initially "was really surprised when teams called back. I was a Division II coach, and probably 70 percent of what I sent out fell into an abyss."
One of the teams that called was the Minnesota Vikings. At first, Eayrs did year-end evaluations for the Vikings,  and when he presented his work to the 1985 coaching staff, a new defensive backs coach named Pete Carroll liked what he saw from Eayrs.
"Where I first met Pete was I did a year-end evaluation following the '84 season with goals projecting into '85," Mike Eayrs said. "And when I went in and made that presentation to members of the coaching staff, Pete was in that room. He was very enthusiastic, he was very creative, very intelligent. He saw it, everything made sense."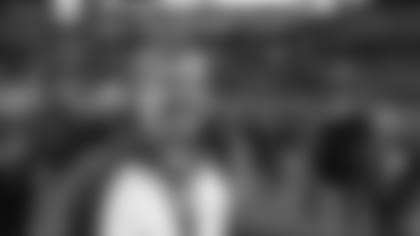 Later Carroll and fellow Vikings assistant Marc Trestman sat down with Eayrs, and came away convinced not just that his information was useful, but the Vikings ought to give him a full-time job.
"He sat us down and told us all of this statistical stuff he had been working on," Carroll said. "He had figured out trends and tendencies and impact plays and all kinds of things that we hadn't really heard about at the time. After sitting with him, I thought he had some amazing stuff, so I recommended we had all the coaches listed to him too. Shoot, this guy had all kinds of stuff we could use. From there, we eventually hired him."
Mike Eayrs' "original critical variables profile" included two things that to this day remain huge areas of emphasis for Carroll—turnover differential and explosive plays. Studying NFL games back to 1967, Eayrs found that the team that won the turnover battle also won the game more than three-fourths of the time. And when Eayrs looked at what it took to increase the chances of scoring or preventing a score on any given possession, he found that the magic number was 12 yards for a running play and 16 yards for a passing play, numbers the Seahawks and many other teams still use to define explosive plays.
"Basically I was doing a varied regression formula, and what we were looking at was the amount of yards necessary on a single play to significantly raise the scoring probability," Eayrs explained. "Essentially what it came out to was that for a run, it was 12-and-change, for a pass, it was about 15.9… If we take the field and we allow our opponent no pass play greater than 15 yards and no run play greater than 11, essentially probability dictates, looking at the NFL historically, you'll probably give up 11 or 12 points in that game, simply because that 12-to-15-play drive on average only occurs once per game."  
That big plays and turnovers make a difference in football games is hardly groundbreaking as an idea, but what Eayrs was able to do was provide data teams could use to shape the way they emphasize certain elements of their game.
"The longer I've worked in research, applying the scientific method to the game of football and sports and general, my greatest conclusion is that what research does more than anything else is simply validate common sense," Mike Eayrs said. "Common sense dictates—the average football game has 12 possessions—if I can end one of your possessions without a score and at the same time probably radically change the field position (with a turnover), that's going to increase our chances of winning. It makes commons sense, as well as bearing out the research."
Seahawks fans recognize Mike Eayrs' work even if they don't know who he is, because it comes through in what Carroll preaches to his team. The Seahawks have a day of practice—Turnover Thursday—dedicated to winning the turnover battle, and Carroll has said on many occasions that a defense isn't any good if it is allowing big plays.  
"He was the guy who first figured that out, that if you have a 16-yard pass or a 12-yard run, you have a legitimately better chance of scoring on that drive," Carroll said. "Everyone still uses those numbers to this day, pretty much. That's all Mike's stuff from way back when. He has always been somewhat of a real standout figure in football who went about it in a different way. A lot of people still rely on his research that he brought to the game."
Carroll even admits there's something of a chicken-or-the-egg scenario at play when it comes to turnovers and explosive plays. Did Eayrs help validate what Carroll already thought about football 30 years ago, or did he help shape a young coach's thoughts on what is most important in the game?
"I can't remember what came first," Carroll said. "Did we already have the thought of it, or did he initiate it? Certainly he was able to statically validate everything and support sometimes our own thoughts and sometimes his thoughts, and he helped it become the philosophy and approach that it is today."
"I always fancied myself as a person who thought about the game more than as a person who played the game."
When Carroll wanted to hire a research analyst in 2013, his first call was to Mike Eayrs. Still working for the Packers, Mike Eayrs wasn't available for a reunion with Carroll, which whom he had kept in touch over the years, but he did have a suggestion, albeit a rather biased one.
"I told him, 'frankly, this is a very biased opinion, but the guy I have the greatest confidence in is our son, Brian,'" Mike Eayrs said.
Brian Eayrs, who like his father had a small-college coaching background, had recently moved to Chicago to start a job with STATS, LLC, but despite having a new job that he loved, he also couldn't say no when Carroll offered him a job.
Before Brian Eayrs ever played football, he learned how to study the game on a level foreign to most. Mike Eayrs instilled in his son not just a love for football, but a love for seeking the "why" of the sport. So it was only fitting that Brian Eayrs would not just follow in his father's footsteps one day, but do so working for the same coach who helped his dad land an NFL job 30 years earlier.
"I always fancied myself as a person who thought about the game more than as a person who played the game," Brian Eayrs said. "Growing up, my friends were probably thinking, 'I'm going to be the quarterback for the Vikings someday.' And I always thought, 'Maybe I'll have an idea that will help them win games someday.'"
Thanks to massive advancements in technology, Brian Eayrs is able to do things in his job his father never could have imagined early in his career, while also having to sort through far more data than was available back then. But in the end, the essence of the job is the same now as it was three decades ago when Mike Eayrs met a young defensive backs coach who would help him land a dream job—use research and data to help the team win.
"That was (Carroll's) first conversation with me," Brian Eayrs said. "We're bouncing stats around and ideas about football, and I don't know that he was agreeing with me right away, but then he said, 'We're in a relentless pursuit of a competitive edge, so there is no such thing as a bad idea.'"
There's a good chance you won't notice Eayrs on the sideline on Sunday, and if something he noticed about the Packers or a future opponent helps the Seahawks win a game, you won't read about that, but make no mistake, just as his father once was for the Vikings and Packers, Brian Eayrs is a big part of what makes the Seahawks who they are.
"On a regular basis, we reference Brian's work, his ability to take a deeper look at different situations and variables we throw together when we think there might be something to it," Carroll said. "Then he has his way of researching it and really kind of extrapolating all the stuff. He throws a lot of stuff by us that we can't use, and there's a lot of stuff that we can use. He has been instrumental."