The key for Reggie Hodges to block everything else out, and then put into motion the tools of the trade ... catch, drop, swing, kick.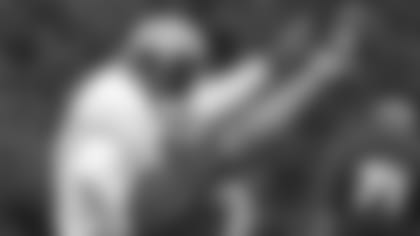 He can't be concerned about when incumbent punter Ryan Plackemeier will begin participating in training camp for the Seattle Seahawks when his torn pectoral muscle is sufficiently healed. It doesn't matter that the Seahawks drafted Plackemeier in 2006 and he's a record-breaking NCAA punter.
That's not the issue for Hodges ... catch, drop, swing, kick.
"I'm working hard at it," Hodges said. "I don't get into anything that's going on outside of punting the football. Right now, all I'm focused on is striking the ball. If I do what I do the right away, the doors will open."
The doors have been opening and closing for Hodges since he was the sixth round draft choice of the St. Louis Rams in 2005 out of Ball State. He punted in five games for the Rams in 2005, and then was released. The Eagles picked him up and he kicked three more games for them before they let him go as well. He had another shot in Philly in training camp the following season, but he was gone after the first week of August.
The Indianapolis Colts signed him in 2006 and 2007, but he was unable to dislodge Hunter Smith as the Colts either year, so he had to find a job and continue to work on his punting in the process. But things did change after the 2007 preseason when he was contacted by Paul Assad; better know as the "Kick Doctor," around football types. He specializes in punting, kicking and long-snapping.
On his Web Site, Assad says in part, "I know that a few tenths of a second, a little more consistency and being able to problem solve can often mean the difference of a College Scholarship worth upwards to 180 thousand dollars or an NFL success that translates into multimillions in earnings."
Assad was working with another kicker on the Colts and had watched Hodges. Once he was released, Assad gave him a call and they worked together during the 2007 season and beyond.
"I met him at the (2005) Combine, he's been around," Assad said. "He called and wanted to clean me up. He saw some things that he thought he could clean up, so he called me and we worked together on it. I'm coachable, I listened and it helped. (last year)
"I'm much more consistent now. He cleaned up my swing at the ball, he helped me get rid of some things technically that I was doing wrong. I'm not extending so much energy going after the ball as I used to, so I'm able to kick the ball much more easily. I'm a lot more under control now."
That was more than slightly apparent on Sunday morning, chasing Nate Burleson, Doug Baldwin and Seneca Wallace backward with towering, deep spirals during special teams drills. His performance clearly created a buzz among everyone present. And this came a couple days after coach Mike Holmgren noted that Hodges is proving to be a fine punter in Plackemeier's absence.
"In fact, Hodges is a good punter," Holmgren said. "So he's going to be doing all the punting for right now."
Hodges appreciates all the accolades, but also knows better. There was minicamp and we're just three days into training camp. It's a situation he's experienced before, and there's a long way to go with the specter of Plackemeier's return in the coming weeks.
"The key is to do all the mechanic work before you get here," Hodges said. "Once you get here, you don't worry about that and you just let your talent take over. I got into a nice rhythm and it was a good day today. But I know it's just one day."
No time to lose focus now ... catch, drop, swing, kick, everything else is irrelevant.
With starting center Chris Spencer still not quite ready to play while recovering from shoulder surgery and veteran Chris Gray leaving the field after straining his back at the outset of practice Saturday afternoon, that left 2007 draft choices Steve Vallos and Mansfield Wrotto snapping the ball with the first and second team offensive lines Sunday morning in the first full pads practice.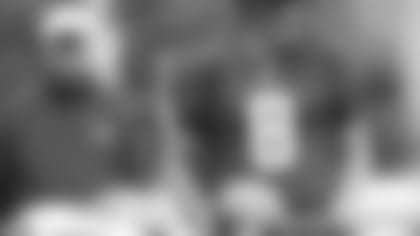 Coincidentally, both players have been moving along the offensive line anyway, with Wrotto, the fourth round pick from Georgia Tech, moving from the defensive line to offensive tackle in college, and then guard as a rookie in Seattle. Vallos, the seventh round selection, was a tackle at Wake Forest drafted as a guard and moved to center last season with an eye on the future.
It's been a rather rapid rise for Vallos, who essentially fell into the position during a preseason game last year due to injuries. But after a year on the practice squad, plus a spring of minicamps under the tutelage of new line coach Mike Solari, and assistant Mike DeBord, the learning curve has been rapid.
"Whew ... this went quick," Vallos said. "A few days of training camp and I went third to first team, so this is different. It's so much different than last year for me. I just have to take it one practice at a time, one day at time. There's just a lot of information to absorb. We went through all of it in minicamp and now we're just fine-tuning it."
He worked solely at center in minicamp, playing with the second team at minicamp with Gray holding the first team slot while Spencer recovers from shoulder surgery. Evidently, it helped both Vallos and Solari.
"I learned a lot at the minicamps this offseason," Vallos said. "Coach Solari went through every scenario with me and that helped me a lot. It's just getting reps with the first unit is going to help me the most. Just getting different looks on different plays against the first team defense pushes me. It's a lot different. There are a lot higher expectations because everyone is counting on me. We've got two great players in the training room right now and it's my job to get it done until they get back."
It benefited Solari because it provided him with a read on Vallos. Now Solari is able to push him to see what kind of ceiling he has at least until Gray gets back or Spencer begins work. But since it was a pads practice in the morning and will continue to be so moving forward, neither will be rushed back.
No. 1 it's a great opportunity for Steve Vallos ... he's working with the 1's," Solari said. "Any time you have a chance to work next to Mike Wahle and Rob Sims – what a great opportunity. He sets the tempo and the blocking scheme. He's got to have the leadership ability. Plus, he's the core of calling the line signals from inside out. It's critical that he knows he's stuff inside and out.
"It will help him because all of a sudden he gets more reps and he's working at a high intensity level against the No. 1 defense. It will help him and us because now we get an even better evaluation of him. We get to see if he can perform at a championship level. Steve is doing a nice job right now. Just like anything else, it will make him play at a higher level because he's now accountable to the first group and he doesn't want to be the weak link."
Mo Morris on the first day of hitting:
"It felt good to get some of the kinks out and get your body prepared to get a lot of blows and give a lot of blows, so it felt good. No doubt, it's a different game with the pads on. Everybody had to bring their A-game today because we knew we were going to get hit. It got everybody's adrenaline-level higher and everybody played better."
Once again, second-year receiver Logan Payne made a special play. This time quarterback Matt Hasselbeck launched a pass deep down the right sideline. Payne went up with Pro Bowl cornerback Richard Sherman – both players had their hands on the ball – and Payne came down with it. ... One of the great drills of the day had the defensive linemen hitting and driving the one-man sled in a big circle. Rookie Red Bryant was impressive in his handling of the sled, but the overwhelming winner of the drill had to be Larry Tripplett, who at 6-2, 296, is two inches shorter and 20 pounds lighter than Bryant. The drill was a perfect example of strength and leverage. ... Defensive end Darryl Tapp showed his quickness and versatility early in the practice knocking down a pass in coverage over the middle intended for tight end Jeb Putzier. ... Wide receiver Deion Branch, battling back from knee surgery, was running hard on the field Sunday under the supervision of assistant strength and conditioning coach Darren Krein ... Multi-purpose defensive back Jordan Babineaux never ceases to make superb plays in practice. The nickel back that plays safety on the second team, nearly swallowed a Seneca Wallace pass while blitzing during team drill. ... The Seahawks have 6-6, 317-pound offensive tackle Samuel Gutekunst from Karlsruhe, Germany through the NFL's International Practice Squad Program. Because of the program, he can be the 81st player despite the 80-player roster limit and the ninth man on the eight-man practice squad.