When Pete Carroll shared Allen Stone's *Unaware *as his 'Song of the Day' on March 2, 2012, the R&B artist Stone was - for lack of a better term - unaware that the Seahawks head coach even knew of his existence.
"It's so flattering," Stone recalled of Carroll's tweet. "It's like the little childhood boy in me, the little eight-year-old kid who had the [Steve] Largent jersey, got butterflies in my stomach."
Carroll's 'Song of the Day' signified the start of an unconventional relationship between the Seattle coach and Chewelah, Wash. native soul-singer. One, an accomplished coach in the college ranks who was in the midst of building a Super Bowl contender in the Pacific Northwest. The other, an up-and-coming, curly-blonde-haired, glasses-wearing, hippie-dressed musician who grew up the son of a minister east of the Cascades.
Later that year, Stone invited Carroll to one of his shows at Seattle's Paramount Theatre. In a move that left Stone surprised, Carroll actually showed up, accompanied by his wife, Glena.
"It's Pete Carroll," Stone emphasized. "The dude is busier than the president."
In the weeks that followed, Stone found himself performing for the largest crowd he's ever entertained to date, singing a goosebumps-generating rendition of the national anthem at CenturyLink Field.
The act came in front of 67,000-plus 12s, who packed the stadium for the Seahawks' matchup against the NFC West rival San Francisco 49ers, a game Seattle won 42-13 on Sunday Night Football.
"It was pretty nerve-wracking, for sure," said Stone. "The entire time I was like, 'Dude, I'm going to say something wrong.'"
But Stone didn't say anything wrong. Carroll called the anthem "awesome" in a tweet the next day and judging by the replies to the coach's social media post, fans in the stands agreed.
Since then, Carroll and Stone have done their best to stay in touch as they navigate their demanding schedules. The two were fortunate enough to cross paths this past April at The Crocodile - one of five iconic Seattle venues Stone sold out as part of a week-long project entitled, 'Evolution of an Artist.'
"He killed it at The Crocodile," Carroll said of a night that also saw Seahawks D-lineman Greg Scruggs in attendance. "I think it's cool to support him because he's from here and love's it here. I just like rooting for him."
Stone isn't the only Seattle-area entertainer the Seahawks head coach roots for.
Under Carroll's direction, the Seahawks have become harmoniously-oriented. The club blasts tunes at every practice and bumps beats prior to every team meeting. Music, Carroll said, has become "a very significant part of what we do."
"It's part of the vibe of this place," Carroll added. "It's very positive and it's always received really well. It's part of the fabric and the culture here."
Carroll believes the community of music he's established at team headquarters has gone a long way in preparing his players for gameday.
"The ability to focus is to be immersed in what you're doing regardless of what's going on around you," Carroll said. "I think it's part of playing with the beat and the vibe at practice in that there's a beat and a vibe that takes place at the stadium, too. I want [the players] to feel comfortable."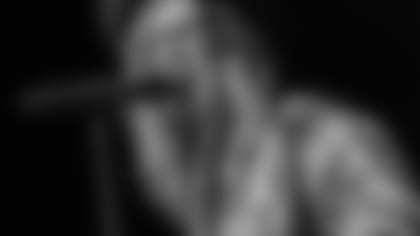 For Stone, his 'Evolution of an Artist' concert series - one that held consecutive shows at The Triple Door, Nectar Lounge, The Crocodile, Neumos, and Paramount Theatre - was about reconnecting with a music community that helped get him to where he is now: On the verge of dropping a new album, Radius, set for a May 26 release.
"Seattle has been such a champion for me throughout my career," said Stone, who plays more than 150 shows per year. "I always want to bring it back home and do things that are special for the Seattle fan."
"He just sings with soul," Scruggs said of Stone. "It's natural. It's real."
A performer in his high school marching band, Scruggs said he's developed a deeper appreciation for live music, just like the type that Stone and his band are known for.
"I think it's hard to come across because like any other business a lot of what people do is for trends," Scruggs said. "It's for what's going to make them money, or what's going to be popular, as opposed to making music for what's deep down inside of you.
"Allen Stone, the music that they make is something from deep down inside of you."
Scruggs says he's a Stone-enthusiast because he's managed to stay true to himself despite his increasing success as an artist. It's a trait Scruggs relates to making gains at the NFL level.
"A lot of people get here and you only get here if you stay true to you, which is working hard, which is staying humble, that's what gets us all here," said Scruggs. "To be able to see somebody like that, I'm pulling for him big."
Stone, a self-anointed "backwoods, country-kid raised on meat and potatoes," said he's working to redefine the rhythm and blues genre. From Stone's standpoint, it's a category of music that's been diluted recently by songs that lack substance.
"I don't want to be that," he said. "I don't want to fit in that box."
What Stone does want to do, is be soulful. He wants to perform live music and he wants to entertain crowds. He's one who takes his craft seriously, but not himself.
"I take the music and the art very serious, but I'm a clown," said Stone. "I'm just a dude who loves to sing, be a dork, and I think people enjoy that. I think people like to come to a place where they feel comfortable with the performer and with the artist, and they feel maybe a connection through the vulnerability of just being myself."
Like many Seahawks players, Stone claims he grew up with a chip on his shoulder.
As a child, he had aspirations to do "something incredible" with his love for music that, coming from a small-town, people told him he couldn't do. Those doubters helped fuel Stone's fire.
"That always kind of inspired me," he said. "Still to this day I haven't really achieved what I want to achieve. I haven't fulfilled the entirety of my dream yet.
"I still have that chip on my shoulder."
Stone said knowing he has the support of Carroll, the players, and the 12s has made his musical journey all the more astonishing.
"I don't expect any of this stuff," said Stone. "I don't expect people to show up to the shows even. It's still kind of unbelievable that I show up and people are in the audience, they know my songs, and they like the music.
"To have Pete and a good amount of the Seahawks' support, it's so flattering."
https://open.spotify.com/album/1oDdtF1VkJOy3WUGW4V7xa