When the Seahawks made a move to add A.J. Francis to their active roster earlier this week, they not only picked up a 6-foot-5, 321-pounder who Seattle coach Pete Carroll said the club has had its eye on for "some time," but they also added an individual with a very unique background by NFL standards.
An undrafted free agent signee out of the University of Maryland by the Miami Dolphins in 2013, Francis worked as an Uber driver this past offseason. From the middle of April until August he drove his white Dodge Charger around the Miami area three to four days a week, working three to eight hours per day taking strangers to their desired destinations.
"It was cool," Francis, who will wear No. 99 in Seattle, said Friday from his locker at Renton's Virginia Mason Athletic Center. "When I was in the offseason I had a workout bonus, so I didn't get paid until August all offseason, so I wanted to make some extra cash, so I started driving for Uber during OTAs and it got way more publicity than I ever thought it would. I'd never thought it'd be that big of a deal, but it literally went crazy. I was a punchline on Jimmy Fallon, it was insane. I never expected like that. I didn't think that many people cared what I did in my free time."
Francis, who's in the middle of obtaining his master's degree in international security and economic policy at Maryland, says he hopes to work in broadcast television once his football career comes to a close. Those on-screen aspirations coupled with the media attention his Uber operation received led Francis to create, produce, and edit his own 'Taxicab Confessions' type show, one he titled, 'Have Drive' that saw Francis conduct and record interviews with his passengers.
"When it became that big of a deal, and I never expected it to be that big of a deal, I was like, 'Well, obviously if it's this big of a deal people are clearly probably interested in it.'" Francis said. "So I decided to give myself an opportunity to branch out, and as they always say, 'expand your brand,' so that's what I tried to do."
Francis' line of questioning would vary from passenger to passenger, but included softball inquiries like, 'What hobbies or interests do you have?', 'What advice would you give to your younger siblings?', and 'Do you think you could beat me in a foot race?' However, each driving session always ended with the same prompt.
"I would ask them, 'Do you know who I am?' and everybody would always say no, because once again, if you guys didn't look up at my name plate right now, I guarantee you couldn't tell me my name," Francis said with a laugh. "So because of that they wouldn't know me either when they get in my car, so I would ask them and then at the end I'd be like, 'Actually I play football. I play for the Dolphins.' And people would be like, 'No way!'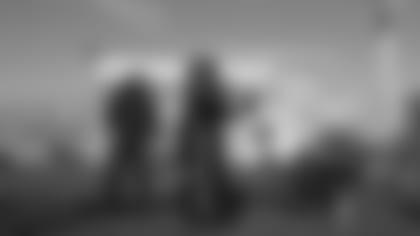 From a football standpoint, Francis became available to Seattle after he was waived by the Dolphins earlier this week. He says he knew he "did a lot of good things on tape in preseason" when he recorded seven tackles and a sack. It was enough to earn a spot on Miami's 53-man roster, and enough that Seattle put in a claim once he was available, but Francis didn't emerge as a regular in the Dolphins' rotation, recording just one tackle during the regular season.
"I don't know," Francis said of why he didn't receive more playing time in Miami. "I can't tell you. I don't put myself in the game, I don't put myself on the active roster. I just know I did enough to make the team and after that it really wasn't up to me. That's above my pay grade."
Francis, who missed last season with a knee injury, a time that made him "work even harder" to get back to where he was, says he can play "pretty much anywhere" on the defensive line. Carroll noted earlier this week that the Seahawks will use him at the three-technique defensive tackle spot to start, meaning Francis will line up on the outside shoulder of the opposing team's offensive guard and primarily be responsible for stopping the run.
"I think he's going to fit in," Carroll said. "He's a big man. He gives us another real big guy inside. Our in play has been good, we've had a lot of activity and good roles for those guys to play. We'd like to make sure we can keep the flexibility of moving the big guys inside, and he's a big dude and we're happy to get him."
Whether or not Francis will be active for Sunday's game against the San Francisco 49ers remains to be seen, but Carroll said the third-year pro had a "good, solid" first week of practice in a defense that Francis has admired from the opposite coast the past couple years.
"I mean they're obviously elite," Francis said of the Seahawks defense. "It's a top tier defense, one of the best defenses in the League, year-in and year-out. That's why they went to the Super Bowl the last two years, that's why they won the Super Bowl two years ago.
"To be a part of this defense is a privilege. There's a lot of guys that wish they could be on this defense and a lot of guys that wish they could contribute to a defense as good as this, and I'm grateful for the opportunity."