Count Neiko Thorpe as one Seahawks player who welcomes the expansion of the NFL's annual Crucial Catch campaign to raise awareness for multiple cancers this year after nearly a decade-long focus on breast cancer alone.
"Let them know we definitely appreciate that," the Seattle cornerback said from his locker this week at Renton's Virginia Mason Athletic Center. 
Thorpe has witnessed first hand the impact that a cancer diagnosis can have on family and friends. His aunt Cheryl passed away last year from breast cancer, his grandmother was also lost to the disease, and while growing up he watched the mothers of his close friends fight — and in some cases lose — a battle with the illness.
"Cancer sucks, bro," Thorpe lamented. "Cancer sucks."
As part of the League's expanded Crucial Catch: Intercept Cancer campaign this season, NFL players are allowed to wear a variety of different colored gear during Crucial Catch games to raise awareness for different types of cancer.
During last weekend's win over the New York Giants, Thorpe wore pink gear in support of his aunt who was lost to breast cancer and blue gear in support of 'Mama Clark,' the mother of Thorpe's childhood friend Desmond Clark who passed away from colon cancer just as the two friends had finished high school.
"It was crazy because we're like brothers, so his mom is like my mom and my mom is like his mom," Thorpe said. "Then she got sick and I was actually there. I was with him at the hospital the day she died."
When Desmond was made aware of Thorpe's decision to wear blue in support of Mama Clark — something Thorpe said he'll continue to do during this week's Crucial Catch game against the Houston Texans at CenturyLink Field — Thorpe said "it made his day."
"He was just telling me how happy he was, how much he appreciated it, and that she's looking over us, which I already knew," Thorpe said. "I told my mom, she was happy because it did affect our family. It was big."
Thorpe hopes his decision to raise awareness for multiple cancers this week will encourage the public to learn more about the steps they can take to learn more about cancer preventative measures. Breast, lung, colon, cervical, skin, and prostate cancers can be detected early by specific screenings, and the NFL is offering an online assessment tool that can help reduce cancer risk. For those currently engaged in a battle with cancer, or for those who know someone who is, Thorpe's advice is "just stay positive and always pray. Keep God first."
"We look at this League like a brotherhood, so it's pretty cool to let people in on the other side, the vulnerable side," he said. "Everybody goes through certain things. Hopefully, somebody sees me with some pink on, or some blue for the colon cancer, they can holler at me if they need something, want to talk to somebody, or if they have some advice they want to give me that can help me get through. That's why I wear the colors, just to let it be known."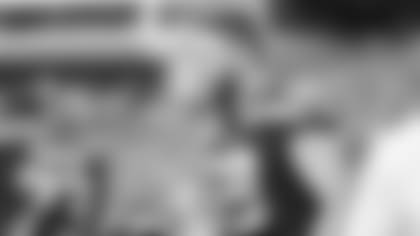 "I Was Her Miracle Baby"
Beyond Thorpe, stories of cancer's impact extend to multiple players around Seahawks headquarters, and perhaps none have a more unique story to tell than long snapper Tyler Ott.
Before he was born, Ott's mother was diagnosed with cervical cancer and when it comes to childbirth Ott said the disease "obviously made things difficult." Eventually the cancer went into remission, and Ott was born.
"I was kind of a miracle child," Ott explained. "I'm an only child from my mom and because of that I was her miracle baby considering everything that was going on. So pretty crazy.
"She's been healthy ever since. Luckily that's the case, I know that's not always the case for a lot of people."
Ott, whose grandfathers and aunt have also endured battles with cancer, chose to wear lavender-colored gear to support all cancers during this past weekend's game against the Giants. He said he'll continue to do so this weekend against the Texans, hoping his story and the awareness he brings can shed light on a disease that touches so many.
"If you haven't been impacted by it, someone in your family or close to you, as morbid as it might be it's probably just a matter of time that at some level you'll be affected, whether it's close family or a friend," he said. "All you can do is support, keep raising awareness, and hopefully one day we find a cure for every cancer."
RELATED
As part of the team's Crucial Catch campaign, the Seahawks hosted cancer survivors at practice on Thursday at Virginia Mason Athletic Center, where players and coaches met with the individuals and their families following the club's afternoon workout.