They'll wear them for loved ones who they've lost and for family still fighting tough battles; they'll wear them for strangers whose stories moved them to act; they'll wear them for causes near and dear to their hearts.
On Sunday, Seahawks players and players around the NFL will wear customized cleats as part of the league's 'My Cause, My Cleats' initiative. Mike Davis will support his father who is battling prostate cancer, while Frank Clark will honor his grandmother Valerie who died of bladder cancer. Tre Flowers wants to raise awareness for Alzheimer's and dementia, which have affected both of his grandparents, while Bradley McDougald chose Make-A-Wish because that organization granted a wish to his brother when he was battling cancer as a child. Rashaad Penny chose autism awareness because he wants to show support for his autistic cousin, while Rasheem Green is representing SKIP (Save Kids of Incarcerated Parents) because he grew up for the first 12 years of his life with his father in prison.
"They do have the serious causes that they're fighting for and all that," Seahawks coach Pete Carroll said. "It's a good opportunity to make a statement that's followed up—it's not just the game, it's kind of the involvement with the groups and things that they are supporting. It's really good."
Thirty-six players, Seahawks president Chuck Arnold, general manager John Schneider and Legend Walter Jones will wear customized shoes when the Seahawks host the 49ers this week, and all of them have a story behind their cause. These are three of those stories: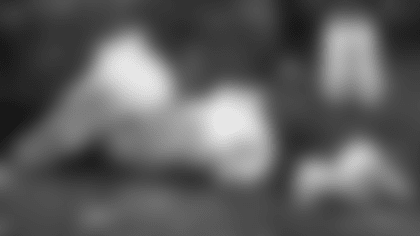 Tedric Thompson, Youth Justice Coalition
Love is commuting 90-plus minutes each way, only to spend the work day driving a bus for eight hours, all to make sure your kids are safe and can go to good schools.
For the better part of a decade, Flossie Bradford made that brutal commute down Interstate 405 in Southern California, driving from homes in Palmdale and later Santa Clarita and to her job as a bus driver in Culver City, doing so to make sure her sons Cedric and Tedric Thompson and daughter Cedrinae Thompson would have the safest upbringing they could.
For the first 12 years of his life, Tedric Thompson, now the starting free safety for the Seahawks, lived in Inglewood, Compton and Gardena and other Los Angeles neighborhoods where he saw friends fall in with gangs, where one cousin was killed at the age of 16, and where another, who Thompson says is like a big brother to him, ended up in prison on a long sentence related to gang violence.
Flossie Bradford knew her two sons and daughter were good kids, but she also knew that as her boys approached their teenage years, a move away from that gang violence was necessary.
"That's why I moved from Inglewood to Palmdale, to go somewhere where there wasn't the gang violence like we have out here," said Bradford, who has since moved back to L.A. with her daughter. "… When you have boys living here, you have to really protect them."
Thompson knows his mom sacrificed a lot for her three kids and says that brutal commute "is not even the half the story. She's my everything." But he also would like to someday see a world where moms in certain parts of Los Angeles didn't have to make choices like the one Bradford made for her kids' safety. That's why when players wear custom cleats on Sunday for the NFL's 'My Cause, My Cleats' initiative, Thompson's shoes will be supporting the Youth Justice Coalition, a Los Angeles-based organization "working to build a youth, family and formerly and currently incarcerated people's movement to challenge America's addiction to incarceration and race, gender and class discrimination in Los Angeles County's, California's and the nation's juvenile and criminal justice systems."
On one of Thompson's cleats is a prison, while the other has a school with a pipe connecting the two to symbolize the "school-to-prison pipeline," which is described by the ACLU as the "disturbing trend wherein children are funneled out of public schools and into the juvenile and criminal justice systems" due to zero-tolerance policies that criminalize minor infractions of school rules and the presence of police in schools that lead to students being criminalized for behavior that should be handled within the schools.
"I'm from Los Angeles, so I grew up around a lot of gangs," Thompson said. "A lot of my friends are in gangs right now, so my cleats, one will be red, one will be blue to symbolize Bloods and Crips, then there's a peace sign between both of them to try to put awareness towards gang violence and try to stop it. I'm also talking about prison reform—there's a lot of stuff that goes on inside of prisons we don't really know about. Every time you hear about a prisoner, you automatically think it's a bad person, but that's not the case. So I'm talking about how to improve the living conditions in prison, and about harsh sentencing for non-violent offenders. Also, gang culture, it starts young, so on the other side (of the shoe) there's going to be a school to symbolize that you need to be teaching kids in school what they need for adulthood, stuff like taxes that they don't really teach you about. Being in the inner city, when you get to adult life you kind of get sidetracked by it."
Thompson credits his mom and a "solid background" with keeping him on the right path both before he and his family left L.A. and when he lived there for the first 12 years of his life.
"My mom was always there, she always kept me in some type of after-school program so I wouldn't be around that type of environment, and a lot of my friends didn't have that," Thompson said. "I had my mom, and I fortunately had my dad for a little bit of time while I was growing up. Even my cousins and homeboys who were in the gangs, I was the one, when I was with them, they wasn't really on it because they knew I was in the car. If something was about to happen, they'd steer me the other way. Or if I thought about joining a gang, they were always in my corner like, 'No, you've got something else to do. You can't focus on this, go focus on that.' So I think I just had a strong background."
Thompson managed to stay out of trouble, but he was all too aware of how real the danger around him was as a kid.
"One of my cousins died when he was 16, I was young, I think I was 12," Thompson said. "He died to gang violence. I've got a cousin now who's like an older brother to me who has been in prison going on seven years now. He's a big reason why I'm doing this, he's a big motivation in my life. He's really like an older brother to me, like a father figure. I've also got another cousin who is in a gang, and he's about to face five years due to gang violence.
"And these aren't bad people we're talking about, it's people who got caught up in bad situations because they didn't have the resources, so they had to figure out how to make something out of nothing. Some stuff is really hard to get out of because you're around that culture. When kids grow up and all they know is Compton, or all they know is Inglewood, it's bred in them so they don't see a way out of that."
Thompson is a starting safety in the NFL because of his athletic ability, but also because he had a mother and a support system that kept him from the same gang violence that led to the death or incarceration of so many others around him, so now he feels like it's his turn to provide some of the same support to kids in Los Angeles.
"I'm very proud of him," Bradford said. "Tedric's trying to make a difference for his family, but also for kids down here. He's trying to help kids to understand not to go down the wrong path. He's trying to get kids on the right path, that's why I'm so proud of them."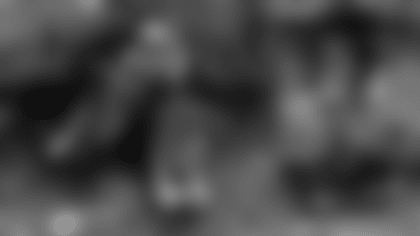 Sebastian Janikowski, Crohn's & Colitis Foundation
Sebastian Janikowski's job comes with a lot of stress. In the world of NFL kickers, a bad couple of weeks or even a really bad game can cost a player his job, so every missed kick has the potential to eat at a kicker long after a game has ended.
But if Janikowski ever lets an off day get to him, he quickly remembers that his wife, Lori, deals with bigger problems on a daily basis and reminds himself that there are worse things in life than a missed field goal or extra point. When Sebastian and Lori were dating more than a decade ago, she started getting sick and didn't know why. It took about a year for Lori to finally get a diagnosis of Crohn's disease, a chronic inflammatory condition of the gastrointestinal tract.
"It was tough for her, she couldn't eat," Janikowski said. "We went through a lot. It's so tough. It's like, if I had a bad game kicking, I feel bad, but what she's going through is 100 times worse."
Fortunately for Lori, regular treatment with a drug called Remicade has helped keep her symptoms manageable, but she knows a lot of people have it worse than she does, which is why this year she and Sebastian decided to support the Crohn's & Colitis Foundation on Janikowski's cleats Sunday when Seahawks players take part in the league's 'My Cause, My Cleats' initiative.
"When Sebastian got this opportunity, I was like, 'Let's do it on this,' because so many people don't want to talk about it, and so many people don't know anything about it," Lori said. "A lot of times I'll talk to a person and tell them I have Crohn's disease, and they're like, 'Crohn's disease, what's that?' So just the awareness is great."
Awareness is particularly important with Crohn's because the symptoms, ranging from diarrhea to blood in the stool to severe abdominal pain and cramping can be uncomfortable or embarrassing to talk about. Making people more aware of Crohn's disease makes it less difficult to live with, particularly for children battling the disease.
"This is important to me and to her for people to understand more about Crohn's," Sebastian said. "Because a lot of people keep it to themselves, they don't talk about it because they're embarrassed to talk about it, they don't want people to know. I think it's a great cause, and that's why we're supporting it."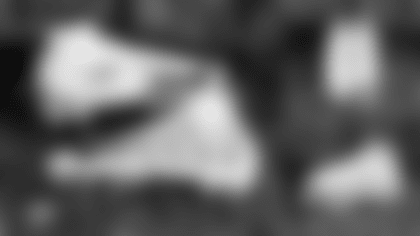 Quinton Jefferson, Jordan McNair Foundation & Gun Violence Prevention
Quinton Jefferson never met Jordan McNair, the two missing each other at the University of Maryland by a year. But when McNair, an offensive lineman preparing for his sophomore year, died in June due to complications of heatstroke, it still felt personal for Jefferson.
"He's a Terp, so that's family," the Seahawks' defensive tackle said.
On Sunday, Jefferson will honor McNair with a custom-made shoe as players around the league take part in the NFL's 'My Cause, My Cleats' campaign. Jordan's right shoe features the Maryland flag, as well as the letters JMF, short for Jordan McNair Foundation, a non-profit started by McNair's family following his death.
Jefferson's other cause is gun violence prevention, and his left shoe has the initials of people he knows in his hometown of Pittsburgh who have been affected by gun violence.
"We're extremely proud and grateful that a fellow Maryland Terp would step up and honor Jordan's name like that," Martin McNair, Jordan's father, said in a phone interview. "That's extremely monumental to us and respectful to the work that we're doing."
It has been a tough year for the McNair family, but finding out that an NFL player who did not know Jordan plans to do something so public to honor him provided a positive note during a trying time.
"It's been tough," Martin McNair said. "This first Thanksgiving without Jordan, it was an extremely somber week. We know we have more of those ahead of us, but he's way more known now than he would have been on somebody's offensive line, so we want to use that to save some lives in his honor.
"What we do at the Jordan McNair foundation, our main goal is to bring awareness, education and prevention to exertional heat stroke. That's our primary concern, because it's a 100 percent preventable injury that happens so much. This is not the first time that this has happened, it's like the 30th time this has happened. However with the national recognition his story has gained, we want to take this opportunity to prevent this from happening to someone else's child."
In addition to honoring McNair and raising awareness for the Jordan McNair Foundation, Jefferson is also remembering people from his hometown who have fallen victim to this country's gun violence epidemic.
"My second cause is about gun violence, especially in the African American community," Jefferson said. "I'm going to have a list of all the people I know personally who have been killed by gun violence. It's just eye-opening, because it's like 30 people on there, people I personally know who have been killed. It's eye-opening, so I just want to bring awareness, this has to stop."
Jefferson considers himself fortunate to have steered clear of the problems that affected so many people in his life, and wants to use his platform as an NFL player to honor those who weren't as lucky, and to try to help change things for future generations.
"I was blessed to have my mother and my father in my life, they kept me out of trouble, made sure I was always involved in sports and just kept me on the right path," Jefferson said. "I was blessed to be surrounded by good people, like my grandfather, who was one of the biggest influences in my life. He made sure my head was on straight. He'd give me gems, words of wisdom, always talking to me and making sure my head was right. I was just blessed to have a good foundation."
Jefferson calls the gun violence that plagues his hometown, and America in general, "Very frustrating. I just don't know how you can take another person's life and not value another person's life. I just can't fathom it. Something needs to be done. There needs to be stricter gun laws; it shouldn't be that easy to get a weapon. It's crazy."
Being a parent of four young children makes Jefferson even more passionate about this cause.
"You kind of feel like you're not safe anywhere, not at school, not at the movies, not at your house," Jefferson said. "You want your kids to come into a better world, but as a parent you're scared. I shouldn't have to worry about, 'If I let my kids go to school, will they come back to me?' But that's the world we live in right now. So I'm just trying to bring more awareness so maybe people will see it."
Seattle players will wear customized cleats designed by local artists during Week 13 of the 2018 NFL season recognizing causes that are personal to each player. Check out the Seahawks' kicks and learn more about the causes they have chosen to represent.