It was the weekly chat with Seahawks coach Mike Holmgren, and the preparation for Sunday's game with the Philadelphia Eagles immediately went right to the status of quarterback of Matt Hasselbeck, who visited his doctor in Los Angeles to discuss the status of the bulging disk in his back.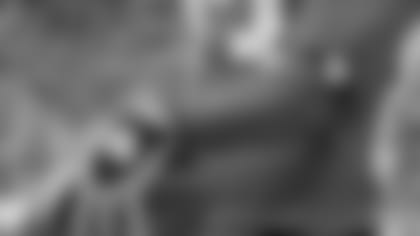 Although the effect on his leg is lessening, Hasselbeck could not do some of the tests Dr. Watkins asked and so he won't practice this week and Seneca Wallace will continue as the starting quarterback.
"Matt saw Dr. Watkins and as far as I can tell he's making progress," Holmgren said. "His leg is a little stronger. To me, there was some light at the end of the tunnel there. Now, nothing's change as far as how we're going to do that – it will be on a week-to-week basis.
"Our medical staff really has done a great job with him. When they diagnosed the problem and wanted a second opinion, Dr. Watkins is one of the back guys in the country that you go to talk about this with. They were exactly on the same page. I'm glad we recognized it, and now hopefully, with all the stuff he's doing, we can get him back on the field at some point. But again, that will be on a week to week basis."
Hasselbeck played in the first four games of the season, Charlie Frye started the fifth game and Wallace will be starting his third game in a row – with Holmgren saying his strained calf is that much stronger than it has been since he first injured it.
Tight end Will Heller (knee) and wide receiver Deion Branch (heel) are also out for this week, Lofa Tatupu expected to play although not practice with the strained groin that knocked him out of the first half during Sunday's game at San Francisco. Patrick Kerney's surgically-repaired shoulder is an issue, though, and he isn't likely to practice this week either – with the game in question.
"His shoulder a lot more sore than it was the day after actually," Holmgren said. "They're going to work that up pretty good and just see where it is. There is some concern because that was the shoulder he had surgery on. In talking with Patrick today, he's somewhat concerned. Often times, a player will say I'm alright. They're pretty good about telling you what they think is going to happen. He really doesn't know right now. It's early and you don't want to be too much gloom and doom."
If Kerney doesn't play, Lawrence Jackson and Darryl Tapp will start at the defensive ends, with Baraka Atkins fitting into the rotation after being inactive most of the season.
With Branch, there will be no more experiments, with Koren Robinson and Bobby Engram continuing to start at wide receiver.
"We're essentially shutting (Branch) down and let the thing heal, which is a good strategy," Holmgren said. "You have to test him at some point. They tested him last week and then the thing flared up the next day. So, they're going to a little different strategy – give him a little bit more time where they don't do anything other than his rehab and see where he is. It's been a tough go there."
On to the e-mail of the week.
---
I read your blog every week and enjoy the fans and your comments. I agree with a lot other Hawks' fans and you say. One big win can change everything. The win over the 49ers was huge especially on the road, but I believe the big win will have to come against a good team like the Eagles which we have this week. I read that Matt Hasselbeck was seen or going to be seen by a doctor in L.A., will the outcome of that visit be a possible look at ending his season?
I know Koren Robinson is still getting over an injury and readjusting to life as a Seahawk but is he going to get more time at receiver? I remember when he was with the team the first time he and Darrell Jackson were like the 1-2 punch and with Bobby Engram we had a receiver corps to be dealt with. Once Deion Branch gets back I think as long as he can remain healthy we will have that once again. Plus it will give the younger receivers time to develop with less pressure to perform. What happened to DJ this year? I noticed he wasn't on the 49ers roster anymore.
Yes, it was a big win over the 49ers, and yes, a win over the Eagles would be an even larger statement. In fact, that's going to be the story every week from here on in for the Seahawks to inch their way back into the division race. Every game will gain importance exponentially – particularly the two games left with the Cardinals and the one at St. Louis.
Hasselbeck is still going to be rehabbing his back through specific treatments, but won't be allowed to practice until he gets clearance from his doctor in Los Angeles, which he did not get on Monday. Robinson is starting at split end, is making an impact and is his knee is getting stronger every week. The hope is that Branch gets back healthy soon, too. As for Darrell Jackson, he was signed as a free agent and plays for the Denver Broncos. Thanks for writing.
---
I have been watching each and every game, buying the DirecTV NFL Sunday Ticket just to watch. I wanted to make a comment about Koren Robinson's hidden value. I am optimistic in his ability as a receiver for this offense but I want to add that his abilities to block as a receiver, is desperately needed for this team and those runs from Leonard Weaver are a tribute to that! Awesome win on the road! Go Hawks!!!!! Very Respectfully, Chris
There is no doubt that Robinson was an impact player on Sunday. He caught four passes – including the huge fourth down conversion and that block was a thing of beauty on the sidelines that sprung Weaver on his 62-yard touchdown on that pass in the flat from Seneca Wallace. Clearly, the staff and his teammates are happy that Robinson is involved and improving.
The hope is that his knee continues to stronger every week, he becomes more comfortable with the nuances of the routes he's running so he doesn't have to think, and he can regain the confidence and speed that allowed him to be a big-play receiver in 2002 when he caught 78 passes for 1,240 yards. Thanks for writing.
---
Third-and short, why is T.J. Duckett running off tackle or wider? Power back, nothing fancy, just right up the middle for heaven sake!!!
It varies from play-to-play, defensive formation to defensive formation. Do you run to your strength as an offensive line, or at the weakness of the defense? Is that thinking too much or is running up the middle thinking too little?
If it were that simple, then everybody would just take their biggest back and run him up the middle on short yardage every time. It just isn't that simple. If you'll notice, a lot of the biggest runs the Seahawks ever have come off right tackle, even on short yardage. There's a lot more to this than meets the eye. Thanks for writing.
---
I was wondering why we don't look at a move for Ty Law to solidify the other side of the defensive backfield? Right now I think that teams just seem to pick on Kelly Jennings and Josh Wilson because of their size. Also should we with where we are right now get a little more aggressive like bump and run and more blitzing? I guess what I mean is to just take more risks on defense.
First of all, Law is 34 years old. He is two inches taller than Wilson, but about the same weight. He is the same height as Jennings, but shorter than Jordan Babineaux and Kevin Hobbs. I'm at this point sticking to the same point as Mike Holmgren, Wilson and Jennings are very young cornerbacks who are going to have to take their lumps a bit before things smooth out. They are also very talented.
And really, a lot of it does come down to coordination with the blitzes and the style of man coverage during those blitz calls. It should improve from all angles as the season progress. It's not time to panic. Let's give it a season. Thanks for writing.
---
I think we need to run the football. We have a serious threat with Julius Jones, T.J. Duckett, and Leonard Weaver. The offense is so predictable, and with second and third string quarterbacks, it seems to be a no-brainer, RUN!!!!!!!!!!!!. I'm not saying never pass, but look back when you gave Shaun Alexander 30-35 touches, hello SUPER BOWL. Any good team with a power running game means we don't rely on pass. So how about we try it, I think we'll see a great difference. We should be running on 1st or 2nd, just like old school.
Actually, running all the time would be too predictable. And quite frankly, the passing game was far more effective than the run in Sunday's win over the 49ers. The reality is the most success this team has had has been when there has been a smooth blend of both, which is what is always the goal. You may think, that Alexander got 30-35 touches a game, but that happened only on very rare occasions. Super Bowl season, he averaged 23 touches a game.
Furthermore, if you want to know what a balanced offense is, consider, there were 519 running plays and 474 passes that season – which averages out to 32.4 runs 29.6 passes, which is precisely the way Holmgren likes it. In Sunday's win, there were 28 runs and 25 passes thrown, which is essentially the same mix. Thanks for writing.
---
The Seahawks are known as a passing team. but this year the passing game has been lacking. I know there have been a lot of injuries at wide receiver, but I feel the new receivers aren't getting a chance to shine. Koren Robinson, Keary Colbert and Jordan Kent are NFL receivers. so let's see what they can do. I mean what do we have to lose? Let that offense loose.
I'm not sure what your point is. Robinson caught four passes on Sunday, Colbert caught a pass and was the target of another, and Kent had a couple of passes thrown his way as well. Holmgren is loosening things up and presumably as Seneca Wallace gets healthier, plays more and gains confidence, the receivers will get opportunities.
But the bottom line is the Seahawks had their best balanced offense of the season on Sunday, and came away with a huge road win. If the receivers get the job done, they'll get more opportunities as the season progresses. Thanks for writing.
---
First, I want to say how wonderful it was to see the Seahawks come out with a great victory in San Francisco this past Sunday! The game was SO AWESOME! Second, I would love to see Rocky Bernard get the credit he deserves. He had a great game on Sunday; 2 sacks and 1 forced fumble. Aside from playing a great game, he also is a terrific person. After warming up before the game on Sunday, he came over for autographs. I asked him if he'd take a picture with me (I'm his #1 fan) and he had no problems with it and didn't even hesitate. Thanks, Rock!
Rocky did have a very good game on Sunday and that's what everybody has been hoping for all season and the desire is that he continues to stay healthy and productive. He's had foot problems the past few seasons, and it has prevented the consistency. He has always been very popular with his teammates in the locker room.