The nucleus of the best two-year run in Seahawks history was built largely through the draft. Star players who helped Seattle advance to back to back Super Bowls and win a Lombardi Trophy—players like Earl Thomas, Russell Wilson, Bobby Wagner, Richard Sherman, Kam Chancellor, Russell Okung, K.J. Wright, Bruce Irvin, Doug Baldwin and Jermaine Kearse—they have all be Seahawks since the beginning of their NFL careers, though in the case of the two receivers, they were undrafted free agents, not draft picks.
Yet for all the good things the Seahawks have done in the draft, they, like every team, have had to supplement their roster in other ways. And along with trading for Marshawn Lynch in 2010, perhaps no moves were more important to Seattle's success than the free agents signing made on consecutive days in March of 2013.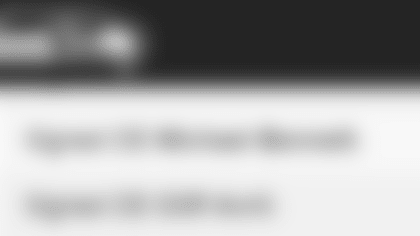 When the Seahawks lost to Atlanta in the playoffs a couple months earlier, Pete Carroll made it clear that one of his biggest offseason priorities was to upgrade his team's pass rush, which struggled against the Falcons a week after Chris Clemons went down with a knee injury. So while it was no surprise that Seattle went after Cliff Avril, it was less expected that only a day later, the Seahawks landed Michael Bennett, another top free agent defensive end.
And fittingly, the two players signed a day apart to play the same position, at least on paper, have gone on to become nearly inseparable, both on and off the field.
This season, as has been the case since 2013, Bennett and Avril have been huge parts of Seattle's success, with Bennett tied for the league lead with 6.5 sacks, and Avril adding 3.5 sacks. While Avril doesn't have as many sacks as Bennett, he has arguably been the most consistent pass-rusher on the team, recording 10 quarterback hits, four passes defensed and a forced fumble, which is part of the reason that the football analytics website ProFootballFocus.com has him ranked as the fifth best 4-3 defensive end in the league, two spots ahead of Bennett. Seattle is the only team in the league with two of the league's top 10 ends, per PFF. Bennett was also named NFC defensive player of week after recording 3.5 sacks against the 49ers.
"He's playing terrific football," Carroll said of Bennett. "He really is doing a great job. He's been very consistent with his productivity, the problems that he causes our opponents. Not just in the throwing game when he's rushing the passer, but in the running game as well. He's an explosive player. I don't think he changed anything, he just had good opportunities and worked with—he and Cliff kind of shared some good efforts on the pass rush last week. Cliff flushed a guy and he made the sack, and vice versa. So it was some just good continuity by those guys. But he's been playing really good football, and I don't think this is anything different than putting together a terrific season. I think that's what he's doing right now."
As Carroll notes, so much of Bennett's success is tied to Avril and vice versa. While the two line up on opposite ends of the line in Seattle's base defense, they frequently play right next to each other in pass-rushing situations, with Avril playing left end and Bennett playing defensive tackle. Either player makes for a tough matchup for an opposing offensive lineman on his own, but the two stacked next to each other can be nearly unstoppable, as was the case in San Francisco.
"The way he lines up kind of helps me out as far as to how wide he is—he kind of makes the guards become tackles, and they don't like space," Avril explained. "Then for me, sometimes a tackle wants to help out on him, so it gives me an advantage as a speed rusher. I think it just creates a little bit of a problem for the O-linemen. Then we just complement each other as far as understanding what kind of rush he's going to give, I can play off of him and come underneath, different things like that. It's just a feel game, I guess, and we've just got a good feel for it right now."
And both say that the familiarity they have built with each other on and off the field means as much to their success as any physical matchup problems they can present. Since forming a bond as the two new defensive linemen in 2013, Bennett and Avril have become close friends, and knowing each other so well has translated to the field.
"Together, me and Cliff, we've been really great here together," Bennett said. "We've obviously been to the Super Bowl twice since we've gotten here and we work well together. We're great friends off the field, our wives are friends, so we understand how to play with each other. We know about rushing, we understand how to rush together, so it makes us work well together."
Adds Avril: "Once we got here, we were both in the same situation—both were starters (on previous teams) and had to put our pride aside and come off the bench that first year—I think we just built a relationship off of that. Getting here at the same time, we just meshed, and then on the field it shows as well. We've learned how to play off of each other. I understand what kind of player he is, he understands what kind of player I am, and we've just been able to play off each other."
On one hand, the fact that the two are close friends makes a lot of sense. They signed at the same time, play the same position, and as Avril notes, both had to take on reduced roles in their first season in Seattle when Clemons and Red Bryant were the starting ends. But on the other hand, their personalities don't exactly seem that compatible on the surface. Avril definitely has a sense of humor, but is much more reserved than Bennett, who has a joke—often a slightly inappropriate yet funny one—for every occasion. Yet just as their pass-rush skill complement each other on the field, their differences help balance each other out off of it.
"We're just two different types of people, but we get along so well," Avril said. "It's like a brother relationship. He's very outspoken and crazy, I'm more the laid-back guy. I kind of mellow him out a little bit sometimes when he's getting a little crazy, and he kind of brings it out of me when I need it. We're just real good friends, we just mesh. Our wives hang out, our kids love playing with each other. We're just genuinely friends outside of this place."
Friends, brothers, nightmare to opposing quarterbacks—whatever you want to call Avril and Bennett, the two players signed a day apart in 2013 have been vital to Seattle's success ever since.