Renton, Wash. — It's 6:30 in the morning at the Virginia Mason Athletic Center. The sun is roughly another hour and a half away from rising and the parking lot is mostly empty as cold morning air tacks on. Most people living in the Pacific Northwest are prepping for the work day, but Michele Clarke-Mason is up and at it already.
As a nutrition consultant for the Seattle Seahawks, who host the Detroit Lions in a Wild Card playoff game this Saturday at CenturyLink Field, this is her daily routine as the person in charge of what 200-300-pound professional athletes eat and drink. She's here well before most players and coaches to make sure they're well maintained to perform at the highest level. 
The early mornings aren't the only thing that come with the responsibility of being a team nutritionist. There are continuous changes to diets and always new developments in the health and fitness industry. Oh, and no slip-ups. It's an essential, critical and diligent role in a fast-paced environment for NFL franchises. 
If there is anybody more equipped to handle this environment, though, it's Clarke-Mason, who joined the Seahawks after roughly 25 years in the restaurant business, which is far from calm and relaxed. The long nights of working are what forced her to try something else, which oddly resulted in her landing an opportunity with the team.
In what she described as "a series of fortunate events," Clarke-Mason started her next move. She enrolled in a one-year, food-based program through the Nutritional Therapy Association, a Washington-based organization that targets teaching the importance of "properly prepared whole foods that are delicious, nourish our bodies, and restore good health." While participating in the program, she met another student that asked her to discuss the importance of nutrition at a wellness center. Thanks to infrared saunas that were inside (this was when they were a rare commodity), the center became a hot (pun intended) location for professional athletes to attend to burn extra calories and body fat. A few players from the Seahawks were a part of that group. 
One athlete in particular was wide receiver Bobby Engram, who spent eight of his 14 pro years in Seattle and finished as the Seahawks' fifth all-time leader in receiving yards. Engram was at the facility when Clarke-Mason met him and offered to help him with his diet. Soon enough, Clarke-Mason was meeting with Engram once or twice a week and giving him a package of meals and snacks for Engram to bring home and on the road.  
"She just kind of educated me on what different supplements did, what the foods did, how it affects your body, some things I might need to look at to remove from my diet," Engram said by telephone. "I started working with her and I felt great. 
"She did things like make healthy snacks, like all-natural beef jerky. She had me on bone broth, which helps you with your cartilage, your knees, your joints and it was just a number of things that she did. She started preparing different things that were healthier and easier for my body to intake and digest, that way I can perform at a high level." 
Once Engram noticed the results from Clarke-Mason's tutelage were paying off, he didn't keep her advice to himself. Engram spread the word in the Seahawks locker room and increased the amount of clients she was working with. Some were unable to connect with her for too long because they no longer played for the team due to retirements, trades, free agency, etc., but she started to become a known commodity. 
"I felt like if it was going to help me, it could help my teammates," Engram explained. "And a lot of those guys I consider friends. If I'm helping Michele build her business at the same time, it's a win-win for all of us.
"Who knows? Maybe she can help somebody's kids. Kids deal with different health issues that might be food or nutrition-related. So that's why I felt like that was the right thing to do. And I knew personally how much working with her helped me, and how much knowledge I got from just being able to talk to her and pick her brain about things she spent years studying. 
"She helped me out a lot, and I was thankful for her during that time."
What stemmed from that conversation with Engram was a meeting with Seahawks Director of Player Health and Performance Sam Ramsden and team Executive Chef Mac McNabb during training camp in 2013 about things Clarke-Mason would implement if she were a member of the organization. She impressed them, and they elected to keep her on board going forward.  
"I never really went out and said I want to work with football players, it just happened," Clarke-Mason says. "I think having the food background makes a huge difference. I didn't just do the clinical stuff." 
The Process
Every person working in the Seahawks' player health and performance department plays a vital role in the growth of players on the team, with all of them bringing different levels of experience. As a nutritionist, what Clarke-Mason does each day differs depending on the team's schedule, but regardless, she is at the facility whenever players are. 
I spent a day with Clarke-Mason to provide a short inside overview of what she does through three different stages of a day. This is a Friday, a day typically lighter for her, and the Seahawks are preparing for a regular season Sunday home contest. Keep in mind that this day can be a lot different if the team were on the road because Friday is when they usually travel.
Pete Carroll's "Always Compete" mantra is digitally labeled on every blender on the Seahawks' smoothie counter, a station similar to an extremely small coffee shop. It's a continuing essence of the head coach's culture that steers from the football field to kitchen. 
This is the beginning portion of Clarke-Mason's day, an area that focuses a lot on preparation inside the Seahawks cafeteria, which is partially her office. There are basic things that need to be done such as cleaning off counters, grabbing proper utensils, making sure food equipment is ready, and that food and nutrients are stocked for her morning rush of smoothies. 
Not every single player requests a smoothie, but they can always ask. Clarke-Mason knows their taste buds in and out for the most part. She begins to prep each player's cup by sticking a printed label in place and sorting them by the type of ingredients they are having blended in. Each one has their last name, plus a letter or two that specifies an extra nutrient that player prefers.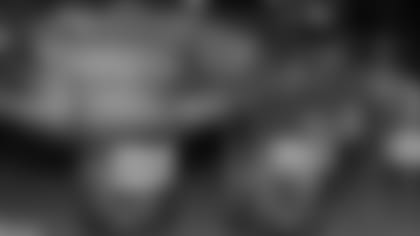 A consistent ingredient Clarke-Mason puts in each smoothie as a base is avocado, which provides not only a set of health fats, but a creamy texture to thicken and smooth out the drink. The taste is hardly noticeable. When it comes to ingredients that do in fact impact the taste, she uses fruits ranging from blueberries and raspberries, to mangos and pineapples.
The smoothies have become a hit across the organization, with even coaches joining in on the list. In his weekly press conference with the media last Thursday, Seahawks defensive coordinator Kris Richard joked: "I'm involved, so I get my little shakes and things like that, too."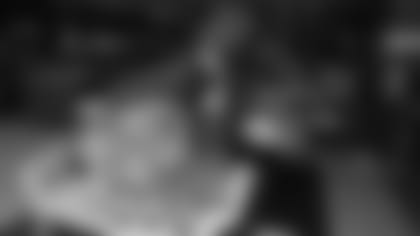 Some coaches, football operations staff members and occasionally a few players make their own drinks, too.  Players are pressed for time a lot, especially as they jump through meetings and fulfill media obligations and maintain community appearances. However, there are shorter and faster options for them available. For example, inside the smoothie station's cooler is a blend of frozen berries rich with vitamin C that everyone refers to as "shots." It's a red colored mixture that is on the tart side, but is optimal because not only does it provide nutrients, but it also helps prevent players from getting sick and helps them adapt to climate changes, travel and seasonal turns. Poured into a small shot-sized cup, it's sometimes consumed after practice if they can bare the taste. 
After stocking is complete and the counters are clear, the next step of her morning process — the busiest — is underway.
This particular time slot for Clarke-Mason is the most important of her day. Not only do more players enter the cafeteria, but it's the most critical because of the interactions she has with them as they prepare for meetings, training and practice. 
"That's definitely the most concentrated slot," she says. "For me, within half an hour of me getting here, until they come out of team meeting, that's like the push. And then you get to catch your breath and get the rest of the stuff done.
"If I know it's going to be a chaotic day, I'll stay late and make sure all the fruit is stocked, I'll label the cups the day before and that kind of thing." 
Typically, smoothies have to be made shortly before 7 a.m. instead of 7:30, but due to this specific day, she has a bit more flexibility to focus on other things. Regardless, they have to be ready before they start to enter.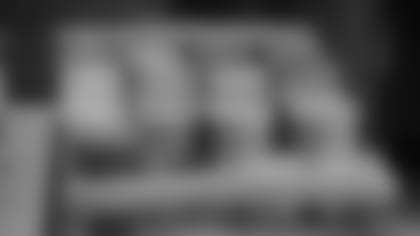 As players trickle through, it's a great time for interaction and check-ins with players like Brock Coyle, Cassius Marsh and Jimmy Graham as they make their way through her station. Communication is important in her role because not only do players need to believe she's authentic, but they have to have the comfort level to approach her with questions. They definitely get that vibe. 
"I think that's such a great value she has," Coyle said. "Just how she's so nice, so approachable and wants to help everybody. People feel drawn to her for help. If they have questions, they'll ask. 
"She wants to help you, and if you show her interest, she's going to help you understand everything — why you should eat this, why you should take that." 
Said receiver Doug Baldwin: "She's very genuine and you can tell that she genuinely cares about the people that she's trying to help, so it's not necessarily her trying to have a power struggle or show her authority, it's more so her genuinely caring about the guys." 
Some players prefer the grab-and-go method at this time, while others grab meals and stay nearby. Not every player has time to stop through in the morning, though, so one task Clarke-Mason constantly does is make sure the team's snack fridge near the locker room is stocked for those in a rush. There are things to grab such as buffalo chicken wraps, bone broth cups (which Engram mentioned), fruits and vegetables. She even prepares hot meals and delivers some of them.  
"We get crab legs here sometimes," Marsh said with a laugh. "Crazy stuff."
Added Mason-Clarke: "I try to make sure that there are healthy and balanced options for them by working with the kitchen staff." 
Intimidating football players walk through the VMAC, but at roughly 10:15 a.m., the building's cafeteria resembles a high school hallway. Jokes are being cracked, people are running in and out, and snacks are being grabbed. This is all happening once the team has concluded team meeting and transitions to positional meetings with coaches.  
One of the healthy and balanced options Clarke-Mason has available for players is a convenient snack stand filled with bins consisting of proteins and carbs. It's an easy way for players to just walk over, reach in depending on what they need, and go. Some don't necessarily grab a snack and instead opt to get a late breakfast and/or their individual smoothie if they missed it earlier. All of this happens fairly quick, but she remains on-hand in case a player has a question or just wants to talk.
Once meetings commence at 10:30, a small window finally opens up for Clarke-Mason. She now has an opportunity to catch up on emails, re-stock supplies and complete other office work until players return for lunch later in the day. This down time allows her to take a look at the lunch schedule for the day and prep meal replacements, if needed. For example, if some players prefer to digest rice instead of starch that is wheat or fried food for carbs, she provides that option for them. Another replacement is a gluten-free and dairy free salad dressing for those making salads. 
"One of my really big goals for them is for them to have the tools, whether they're here, with another team, in the season, in the offseason … for them to know what to do," Clarke-Mason says.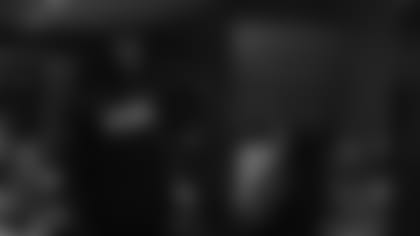 "She's Like A Team Mom"
Seahawks Legend Marshawn Lynch didn't know Clarke-Mason's name, but knew where to find her.
"I had gone somewhere to do something, and I came back, and the kitchen staff was like: 'Marshawn was looking for you,'" Clarke-Mason recalled. "He said 'where's the little lady that tells me what to eat?'"
Soon enough, though, Lynch knew her name after working with her during most of his five and a half pro seasons in Seattle. It was a funny and different approach by the former running back, but not an experience Clarke-Mason never went through before.
"I absolutely loved dealing with him," she said of Lynch. "I won't say that he did everything I wanted him to, but I would tell him what I wanted him to do and why, and he'd say yes or no. And if he said yes, I knew he was going to do it. If he said no, there was no convincing, but he didn't waste my time."
A handful of players may not remember her name, but they recognize and understand how important she is. For many others, they beam when you ask them about the work Clarke-Mason has done for them. You can sense how connected they feel to her because of how much she dedicates her time to providing them guidance and making sure they are well.
"A lot of guys when you first got in told you, 'take advantage of Michele,' and I tried to, but you don't realize how much you can really get from her," said Marsh. "She has a wide range of knowledge. Everything that you need is available as far as diet is pretty much here if you want, even if you're picky. Michele pretty much just accommodates everybody and I think that's pretty special because coming from college, it's completely different.
"She's really just amazing, and I try to tell Michele I appreciate her every time I pass by and remind the other guys to tell her as well because we're spoiled."
Said Coyle: "Right away when she came on, I really just wanted to pick her brain and learn more. I've always been interested in it (nutrition), and you can just see her knowledge and how open she was and how nice she was. She's super approachable and she's really helped me in every way."
"She's like a team mom," said Baldwin. "She really cares about what we're eating, so if she see's us eating something with sugar in it, she's going to get on us about it. She has that mom mentality, which brings a certain element of accountability to her. So we'll second-guess ourselves about eating something that we shouldn't be eating when we see her, when we know she's around because we not only want to make sure we eat right, but we also want to make sure we don't upset her."
Added Marsh: "Michele is definitely like a mom. I feel that way towards her, I have that care for her. She's just a great person that cares a lot.
"There's a lot of guys in here that care for Michele because she's done a lot for them."