INDIANAPOLIS, Ind. - The NFL is already in Maxx Williams' DNA.
That's because Maxx, a tight end out of the University of Minnesota, watched his father Brian play 11 seasons for the New York Giants.
In 1989, after a collegiate career at Minnesota, Brian was selected by the Giants with the No. 18 overall pick in the first round - the same round his son Maxx is expected to go this May as one of the top players at his position.
"It was a great experience having my dad play in the NFL and growing up around that kind of atmosphere," the younger Williams said from his podium at the NFL Combine inside Lucas Oil Stadium on Wednesday, the first day of media availability in anticipation of Friday's on-field workouts for tight ends, offensive linemen, and specialists. "Being able to be in the locker room, just seeing what the game's all about, the actual inside the NFL and what the NFL truly is. I think that's helped me in my career knowing that I know what it's like.
"I can fall back on my dad if I have any questions, and he's one of those guys I've always relied on for those questions because he's been there, he's done it. He's succeeded at the highest level."
Maxx recalled his favorite memory growing up with his father playing in the big leagues: Hot-tubbing with his dad after every game.
"He'd go in the cold tub and he'd have a little swim suit so I could go in the hot tub," said Maxx.
But his athletic blood line doesn't end there. Maxx's mother, Rochelle, played volleyball for four years at Minnesota. She's the one that Maxx likes to call the "most athletic" in the family, which given the clan's descent, is saying something.
In the late 1980s, Rochelle's brother Ron Goetz - Maxx's uncle, played fullback and linebacker for the Golden Gophers. Maxx's two grandfathers played college football too - one at quarterback for the Notre Dame Fighting Irish in the 1950s and the other at running back, also at Minnesota for the Gophers.
"Knowing that both my parents were elite athletes, it really helped me growing up," he said.
At 6-foot-4 and 249-pounds, Maxx caught 61 passes for 986 yards and 13 touchdowns in 25 games through two seasons at Minnesota. He likes to model his game after Jason Witten of the Dallas Cowboys, admiring the NFL veteran for his "complete" style of play.
"He blocks, he runs routes, he makes plays for his team, and that's what I want to be," Maxx said. "I want to go in the NFL and be a complete tight end. Be able to make plays with my hands, but also in the run game be able to make key blocks."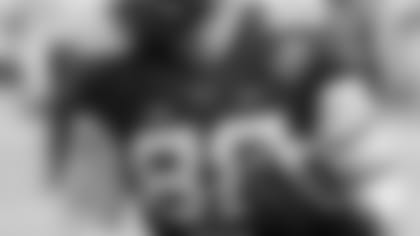 Like the Seahawks, the Gophers offense operates with a relentless commitment to the run game. It was a system that limited Maxx's potential as a receiver, but aided his development at the line of scrimmage.
"I knew we were a power offense when I committed there and I think it actually benefited me because it taught me how to be an on-the-line blocker and play in on the power-scheme," said Maxx. "It worked to our advantage because then I had the mismatches with the play-action game."
Maxx last played for the Gophers as a redshirt sophomore. He elected to enter this year's NFL Draft - and the combine that comes with it - at just 20 years of age. The decision to leave college didn't come easy.
"I put a lot of thought into staying and leaving," said Maxx. "Being only 20, being a redshirt sophomore, it was a long process for me. It started about midseason and kind of crossed my mind that maybe I had the opportunity to leave."
Maxx weighed his options with his parents. As a family, they sat down and made lists that reassured Williams he was making the right decision: Pros of leaving, pros of staying; Cons of leaving, cons of staying.
Maxx said he's scheduled to meet with 21 teams this week as part of the combine's interview process that allows clubs to get an up-close-and personal look at each draft prospect, if only for a mere 15 minutes. So what's been the most-difficult question he's faced so far?
'Why did you decide to leave?'
"I know I can answer it because I left because I want to be the best I can," he said. "And to be the best you have to play against the best because competition is what makes you better. The way I explain why I wanted to leave is I'm following my dream to be a pro, follow in my dad's footsteps, and I always strive to be the best I am at my position and my sport and going to the next level is how I can get there."
Williams isn't the perfect prospect, though. He admits his nearly 250-pound frame could use a little more weight, something he thinks will come as his body continues to develop during life at the next level.
"I feel like my biggest weakness could turn into one of my strengths as I do turn 21, 22," he said. "Get those years of experience in the weight room extra just developing my body."
Maxx said he's taking a lesson he learned from his NFL veteran father to heart during this week's combine. It's a trait that shined through on Wednesday at Lucas Oil.
"He's taught me how to be a pro," Maxx said. "He's told me my whole life, be a gentleman. Present yourself so people think you're a gentleman.
"The biggest advice he gave to me was take it day-by-day. You can't worry about what's going to happen the next day. You worry about what's happening that certain day, and you go from there."
RELATED