Matt Hasselbeck's first season in Green Bay was Mike Holmgren's last as the Packers' head coach, and the rookie quarterback was pretty certain that he wasn't on his coach's radar at the time.
"I really didn't think Mike Holmgren knew my name that one year I was on the practice squad while he was in Green Bay," Hasselbeck said in a phone interview. "I was the fourth-string quarterback. Every practice, I played scout team tight end blocking Reggie White, then I went to quarterback meetings."
Fortunately for Hasselbeck and the Seahawks, Holmgren did know a little bit about the player his team had selected in the sixth round of that year's draft, and in fact Holmgren thought so highly of Hasselbeck, he eventually traded for him after becoming the head coach of the Seahawks, a move that would help turn a franchise around and end a two-decade-long playoff victory drought.
Hasselbeck announced his retirement Wednesday, ending an 18-year career that he never could have envisioned back when he was still at Boston College and only one coach, Green Bay assistant Andy Reid, bothered showing up to watch Hasselbeck throw at his pro day workout. And while Hasselbeck's career included an early stop in Green Bay, then stints with Tennessee and Indianapolis after a decade in Seattle, his time with the Seahawks will always hold a special place in his heart. From playing in front of small crowds at Husky Stadium, to losing the starting job to Trent Dilfer, to battling through losing seasons and injuries, to making three Pro Bowls while helping the Seahawks to four division titles, six playoff berths and one Super Bowl appearance, Hasselbeck had plenty of ups and downs in his 10 seasons in Seattle, and it was a time he'll always remember fondly. 
"The fact that Mike traded for me and gave up a lot for me when I had only thrown 29 passes, that meant a lot," Hasselbeck said. "Then it didn't start out well—Trent Dilfer came in and took my job. He had just won the Super Bowl (with Baltimore), he really was the guy that second year. Unfortunately for him, he tore his Achilles, and I was a little more prepared the next time I got a chance to play. I learned a lot from watching Trent. I saw the special relationship he had with the offensive line and thought, 'You know what, I need to have a special relationship with the offensive line.' I noticed Brett Favre had it, Trent had it, that's a thing. I noticed the short, kind-of-slow wide receiver Trent always looked for on third down, his name was Bobby Engram, and I said, 'You know what, I'm going to start looking for that guy too.' All the different things along the way—I think I grew as a person with Jim Zorn as a coach, with Brock Huard in the quarterback room."
In Seattle, Hasselbeck helped lead a franchise that had previously been to the postseason just five times in its history to five straight playoff appearances from 2003 to 2007. Hasselbeck earned Pro Bowl honors three times during that stretch, the Seahawks won four NFC West crowns, and won the first NFC championship in franchise history. But as good as those days were for the Seahawks, Hasselbeck is just as proud of the work he and his teammates put in in those first few years to lay the foundation for future success.
"I just remember how hard it was at first, how hard it was to knock off the 49ers, they were the great team in our division with Bryant Young and T.O. Then it was the Rams, the 'Greatest Show on Turf,' and how hard it was to beat those guys and win the division," Hasselbeck said. "It just was a challenge. I remember one day in '02, and Mike Holmgren was just livid one day. It's one of my favorite early Mike Holmgren moments. I don't remember what happened, but he looked over at Trent Dilfer and Robbie Tobeck and he says, 'I'm looking for you two guys to put this team on your back and turn this thing around!' And Tobeck says to Dilfer, 'Man, I really hope there's two guys standing behind us right now.' We were kicking and clawing and scratching and trying to do anything to be a winning team, have a winning program, create a home-field advantage, create a swagger and a belief. A belief in ourselves, but also a belief in other teams that when they came in, they were saying to themselves, 'I don't know if we can go win in Seattle.' It was tough, but for sure I'm very proud to have been a part of that."
That home-field advantage Hasselbeck speaks of is another big part of the legacy of Hasselbeck, Holmgren and the rest of those players from that era. The Seahawks moved into what is now CenturyLink Field in 2002, but before Seahawks fans could turn a new stadium into one of the loudest, most hostile environments in the NFL, they needed a quality product to cheer for on Sundays. 
"The home-field advantage that we were able to create in Seattle was really, really incredible," Hasselbeck said. "When I got there in 2001, we were playing at Husky Stadium. They'd sell it out on a Saturday, then on Sunday there really wasn't anybody at the game unless we were playing the Raiders or the Cowboys. We were a team in transition, a team without our own stadium, yet a team with this rich history of crowd noise in the Kingdome—the NFL made rules saying, hey the crowd's too loud, it's going to be a penalty. We moved into what was then Seahawks Stadium and we were able to really create a home-field advantage. Our fans became the loudest and best fans in football. The 12th man flag was kind of a small thing at the time—my mom and some other moms raised the 12th man flag in the early years—and now it's this great thing other teams have tried to copy. It's really an impressive thing."
Even if the best years for Hasselbeck in Seattle were during that run of five straight playoff appearances, he in a lot of ways is most proud of his final season in Seattle. In 2010, Hasselbeck was an established veteran on a team being rebuilt under head coach Pete Carroll and general manager John Schneider, who were brought in that offseason. The Seahawks struggled at times that year, Hasselbeck battled injuries, yet they ended up winning the NFC West despite a 7-9 record, then went on to upset the defending champion New Orleans Saints in the first round of the playoffs.
"That's probably the year that I'm most proud of because it was the most difficult year," Hasselbeck said. "We had a new staff come in, Pete came in and was really trying to change the mindset that we had, get into what he called his championship mindset. To battle through the challenges the way we did and really be playing good football at the end of the year after all of it was really exciting."
Even after winning the NFC West, the Seahawks weren't expected to do anything in the playoffs, especially not against the Saints, but in that game, Hasselbeck threw four touchdowns a week after missing Seattle's Week 17 game because of a hip injury, helping the Seahawks emerge with 41-36 win. After the game, Hasselbeck walked off the field with his three kids, Henry, Mallory and Annabelle, one of his favorite memories from a career full of big moments. 
"That game in particular—I had broken my wrist against Arizona in two places," Hasselbeck said. "I had a cast on my hand most of the year. We'd cut the cast off for games and wear a brace. It was madness, it was insane, I can't believe we did it. Then getting hurt at Tampa (in Week 16), it was just a lot of adversity. I didn't even play the last game against St. Louis, I didn't know if Pete was going to go with me as the starter in the playoff game, and I'm very appreciative that he did."
What ended up being a great game for Hasselbeck and the Seahawks didn't get off to such a great start, with Hasselbeck getting intercepted on Seattle's first possession, helping the Saints take a quick 10-0 lead.
"My (third) pass is tipped at the line of scrimmage and intercepted," he said. "I just remember coming to the sideline, and Pete kind of moved to me quickly. I wasn't sure what he was going to say. He could have easily said, 'Hey sit on the bench. I hate turnovers, I don't want to see you out there again.' And he didn't, he said something like, 'Don't worry about it, we need you today.' It was great. It was a great moment, it was a great game. We weren't the more talented team that day, so our coaches designed a game plan that was just awesome. And obviously Marshawn (Lynch) had his epic Beast Mode run at the end of the game."
That win set up a memorable family moment, one Hasselbeck never had either as a kid when his father was an NFL tight end, or up to that point, with his own kids.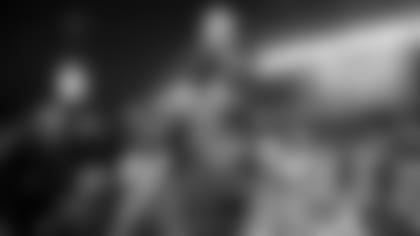 "We win the game, and never, ever had my kids been on the field after a game, but someone, one of the other wives I think, must have known what I did not know—that it was my last home game—and she handed my kids to a police officer who then got my kids on the field," Hasselbeck said. "I had a broken wrist, so I couldn't hold Henry's hand, so I put him on my shoulders. I gave my daughter the ball that I had taken the final knee with, which I found out later was probably the ball from the Beast Mode run. For whatever reason—I think I did some interviews on the field—I was one of the last guys coming off the field with my kids there, and it's a picture that I'm proud of. It was an emotional moment. My kids love the photo, my family loves the photo. I remember looking up at that tunnel, my family was sitting right there. It was a very, very cool thing."
Hasselbeck didn't get to finish his career in Seattle—the Seahawks signed Tarvaris Jackson, who was familiar with new offensive coordinator Darrell Bevell's offense, to be their quarterback in 2011 coming off of the lockout—but if there were any hard feelings about how things ended, they didn't last long. And when the Seahawks won their first Super Bowl title in 2013, a year the Colts beat Seattle during the regular season, but lost in the divisional round of the playoffs, Hasselbeck was thrilled for his former team.
"I think there could have been an opportunity to be bitter or something like that, because we weren't playing our best football at the end of the year—we lost to the Patriots in the playoffs—and Seattle was playing its best football at the end of the year," Hasselbeck said.
But instead of bitterness, Hasselbeck, who long felt like Seattle was overlooked by the national media, felt nothing but pride as the Seahawks finally had the spotlight shining on them so brightly.
"I was in New York, I was doing a show with Chris Myers, and the overwhelming thing, the feeling I had all week… Being in New York city, seeing Seahawks gear everywhere, seeing Seahawks fans everywhere, hearing people talk about the Seahawks, it was like a dream I had, a wish I had for so many years, so it was really, really cool to see," Hasselbeck said. "I was just so happy for all the people in the organization who had worked so hard for so many years who deserved it, who deserved a ring, who deserved the opportunity to be in that game and be on that stage. It was really cool."
As for Hasselbeck's decision to retire—he talked to a number of coaches and executives this offseason and had opportunities to continue playing—he felt like the timing was right, both for him and his family, to transition into a job with ESPN. 
"It was so much fun playing last year," he said. "Had I not gotten the opportunity, I don't think I would have felt this way, but I had so much fun playing that when the year ended, even though I was injured, I felt like, wow, I would love to play again. I was given some good advice to not make a decision right away, wait until after the Super Bowl and really think about it, and that's what I did. I wasn't all the way in, but I was working out as if I was going to play, I was training as if I was going to play and I was feeling like I was going to play unless another opportunity presented itself that was more family friendly and equally exciting, and that's hard to do when you're comparing it to playing quarterback in the NFL—that's a pretty cool job.
"A lot of people have always said to me, 'Play as long as you can, play as long as you can,' but I've never wanted that to be my mindset. My mindset has been to get the most out of your God-given ability and be the best version of you that you can be, so that was number one. And number two, my job as a dad is more important than my job as a quarterback. So I always try to look at any decision, especially a football decision, through the lens of, does this help me be the best dad and husband that I can be? So what happened was ESPN came in and made me an offer that was really difficult to say no to… Saying yes to ESPN wasn't hard. The hardest part was looking in the mirror and saying, 'You are retired. You're never going to play football again. You're never running out of that tunnel, you're never throwing another touchdown, you're never taking another sack, none of it.'
But ultimately, as hard as it was to say, Hasselbeck was ready to move onto the next chapter of his life after an 18-year run in the NFL, and 10 years in Seattle, that far exceeded the expectations of a one-time practice squad quarterback who spent his first year in the league blocking Reggie White.
"All of it was a dream come true," he said. "I could have easily ended up with another team, but I'm really fortunate it was Seattle. Nothing but gratitude for the experiences I was able to have with the Seahawks."
On March 2, 2001, the Seattle Seahawks acquired quarterback Matt Hasselbeck from the Green Bay Packers, beginning a 10-season span in Seattle, including the team's first Super Bowl appearance.