After 10 years as the straight man on the Seattle Seahawks offensive line - amid all the cacophony of Robbie Tobeck, Matt Hasselbeck and anyone wielding the big needle in the locker room - Chris Gray took what could have been a tragic scene and took his turn as a comedian, joking that he met with president Tim Ruskell and vice president of football operations John Idzik.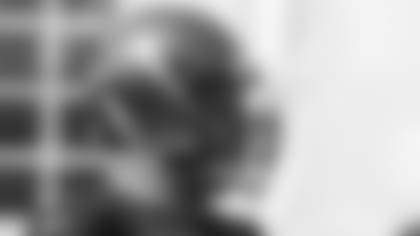 "Right now I'm actually in discussions with Tim and John and those guys working on a marketing deal," Gray joked. "Kind of like Brett Favre you know ... it's not $20 million. It's $200 Gs or something. Maybe it will work. It might go down to $50,000. Or maybe $5,000 ... well, it might pan out in the end."
The laughter abounded in the tent straddling the Seahawks practice field Monday, as Gray, in what would have been his 10th season as a Seahawk and 16th in the NFL, announced he is finished in the NFL. He strained his back on the second day of training camp hitting a blocking sled, and two days ago, the medical staff informed him that the damage to his spine was significant enough that they would not allow him back on the football field.
"They told me Saturday and it hit me like a ton of bricks. I thought it would be another week of rehab and I'd be back on the field," Gray said. "You know, I've been a guy that plays through pain and injuries. When they told me that I was done, it was pretty hard for the first day and a half."
And then he realized it was a blessing. So similar to the end for fullback Mack Strong a year ago, when a spinal injury ended his career in the fifth game - just short of what could have been a paralyzing injury.
Like Strong, injuries never were an issue for Gray, who set the Seahawks record by starting 121 consecutive games at either guard or center until he missed the final regular season game of the 2006 season with a leg contusion.
Gray, 38, was a fifth round draft choice of the Miami Dolphins in 1993 out of Auburn. He played sparingly his first two seasons, and started 21 games the next two - missing 11 due to ankle injuries. He then signed with the Chicago Bears for a year in 1997, before coming to Seattle in 1998 as a free agent. He started 18 of the next 31 games with the Seahawks, and then became impossible to dislodge.
"Honestly, I had some tingling in my legs and I've never had that before," Gray said. "To me, I'm in shock I'm not playing. I've been fortunate I've played 15 years.
"I've been one of those guys wherever I've been, I was kind of the guy they always drafted somebody bigger, faster and stronger (to replace me). Even in Miami and up here they did the same thing. I've always prided myself on being the guy not missing practice. Older veteran in Miami - Ron Heller - told me, 'The fastest way out of the NFL is to be hurt.' That's one thing I always played through injuries, played through pain. I always prided myself on knowing what to do and get the technique to do it right. A lot of guys are just big and strong and try to manhandle people. I wasn't the biggest, strongest guy, so I tried to do it technical and know what to do on every play."
He even went through offseason microfracture surgery in between the two seasons when the Seahawks were playing Husky at the turn of the century, and played seven more. But he never missed a practice or game ... in fact, he couldn't even remember when it was, when so many other athletes have allowed that to end their careers.
In many ways, it's ironic that he caught this break now, avoiding the "Big One," if only because his wife Julie and children Grace and Matthew earned the right through their own endurance of his pain to get him back in one piece.
A native of Birmingham, Ala., he was constantly the butt of jokes, particularly from Tobeck, who retired two years ago after a hip injury and infection ended his career after 2006. And then Strong retired early last year. It was not coincidental that he spoke to both of them on Sunday. He said his wife wanted him to retire two years ago, but as durable and stubborn as he is, Gray said the thought had already crossed his mind about next year if it was possible. This figured to be the first season he would not start, with the signing of Mike Wahle to play left guard and the movement of young Rob Sims to right guard.
But as it was, he was working at center with the first team as starter Chris Spencer was recovering from surgery on both shoulders and a back strain of his own. In so many ways, the decision was made for him - just as it was for Strong in his 14th season a year ago.
"I feel like it's kind of a blessing," Gray said. "It was like Mack Strong's injury last year - a warning shot. I was hit a blocking sled ... if I was blocking back on Rocky (Bernard) or Marcus Tubbs - 300 pounds coming at me, it could have been something more serious. It was one of those things. I've hit blocking sleds for 20-something years since junior high. This one time I hit it and I had a pop in my lower back.
"As long as I rehab and stay on top of it, it shouldn't be an issue. (As long as I) don't hit any 300-pound defensive linemen or get in a serious car wreck I should be totally fine ... which is great news. I've got two young kids and a wife that has supported me the whole time. It will be fun to spend time with them now. I talked to Tobeck and I talked to Mack, they thought I was crazy coming back anyway. They're glad everything is fine."
And so is everybody else. The good news is he never did suffer that debilitating injury and he'll be able to enjoy his family and friends without an asterisk. Besides, despite what everybody always said or thought - Chris Gray never was displaced from the starting offensive line by anybody. It required a quirk of fate that would make him walk away.