Not long after John Schneider moved back to Seattle to become the general manager of the Seattle Seahawks, he went to Brotherton Cadillac's Celebrity Steak-Out, an event that raises money for the Fred Hutchinson Cancer Research Center, and Schneider was blown away by the generosity he saw on display that night in 2010.
On Thursday night, for the seventh straight year, John and Traci Schneider witnessed a similar level of generosity as they hosted Prime Time, a celebrity waiter event that raises money for their nonprofit, Ben's Fund, which gives grants to families affected by autism.
"When I moved here in 2010, Brad Brotherton and his wife Amy had an event for cancer research—his father was sick at the time—and he asked me to go to it and help out," Schneider said. "And I was just floored by the community and, quite frankly, the amount of money people were giving. It was amazing. I remember going home that night and telling Traci, 'When you move out here, we've got to get this rolling again.'
"There's so much need for it, people are starving for help. We're cruising along in this entertainment business, basically, and this is real life. It's real life for Traci and I every day, and there are so many families that need help. Honestly we feel like we can't do enough. I'm just really proud of Traci for everything she does. I don't have a ton to do with it, Traci really handles everything—I get jerseys and stuff. There are just so many people who are giving of their time and money to help all these families."
With dozens of Seahawks players serving as waiters, the dinner, silent auction and live auction raised over $630,000 for Ben's Fund Thursday, bringing the total raised for Ben's Fund to more than $3.5 million since 2012.
"We're blown away," Traci Schneider said. "We never thought it would flourish and turn into what it is. The fact that we've been able to reach so many families and help them on their journeys is a gift for us. We're just thankful to have all the support from the community and the Seahawks and the Seahawks Women's Association. We're just very, very thankful."
Because of the success the Schneiders have had raising money and growing Ben's Fund, the organization is broadening its scope this year, awarding grants to 19-23 year olds.
"We're so grateful we're even in the position to expand Ben's Fund and do the young adult grants from 19 to 23, and how important that age group and how underserved it is," Traci Schneider said. "There's a lot of things coming into play now, but there needs to be a lot more to really serve this age group of kids. Because you're leaving the school district, you're leaving all of the supports you had growing up, and now what? Do you go to further education? How do you get job training? How do you get a job? Where are you going to live? So we're offering those things. We're offering job training, education, social skills and life skills with this young adult grant to try to help set those kids up to be successful in their adult lives."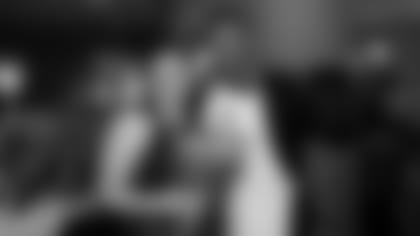 Thursday night's event at El Gaucho in Bellevue featured not just current players, including Pro Bowlers like Russell Wilson, Bobby Wagner, K.J. Wright, Duane Brown and Tyler Lockett, but also a number of former players in attendance, including the entire 2005 offensive line that helped pave the way for one of the best offensive seasons in franchise history.
"We were talking last night at dinner, we don't get together as much as we should," former All-Pro guard Steve Hutchinson said. "… I'll take any excuse we can get to get together. It's fun. That group has had a lot of good times together."
At one point before dinner, young Seahawks tackle George Fant was engaged in a long conversation with Hall of Fame left tackle Walter Jones and current Seahawks left tackle Duane Brown, a four-time Pro Bowler.
Told he was keeping good company, Fant smiled and said, "I know, I'm just trying to soak in as much as I can."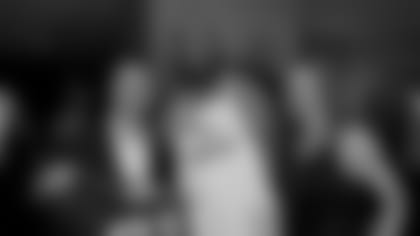 In addition to the auctions, another way money is raised at this event is through "Ben's Bucks" which attendees can purchase for $12 each. Players then compete with each other to earn the most Ben's Bucks, charging various prices for everything from autographs to pictures to facetiming with a guest's friend or family member not in attendance. Unlike in years past where position groups have competed with each other to raise the most Ben's Bucks, this year it was offense vs. defense, and the offense, led by Wilson, who is quite popular at this event, won that competition. At one point early in the festivities, Wilson had a long line of people waiting for a chance at a picture or autograph as he announced prices, saying "Get yours now, it only gets more expensive as the night goes on."
During the live auction, guests bid on everything from a trip on the team's charter flight to a road game to tickets to Seattle's game in London to a cameo role on HBO's Curb Your Enthusiasm to a painting made by the Schneiders' 16-year-old son, Ben, who was diagnosed with autism at the age of 3 and is the inspiration behind Ben's Fund. For that item, Ben's younger brother, Jack, took over as guest auctioneer, drawing big cheers after the painting sold for $6,500. That item capped an auction in which hundreds of thousands of dollars were donated in a matter of minutes, just another example of the generosity John Schneider first saw in this region eight years ago.
"It's very humbling to see everybody step forward, the Seahawks fans, the people who come and support us in the community," he said. "It's just amazing. It's a very giving community. We realized that several years ago when we moved back. So yeah, it's very humbling."
For the seventh year in a row, Seahawks general manager John Schneider and his wife Traci, along with Seahawks players, coaches, and staff, put on a celebrity waiter event to support Ben's Fund, which provides grants to families impacted by autism. More than $630,000 was raised.