The journeyman soaked in every second of Friday night in the Minneapolis Metrodome. So much so, that Howard Green tucked the football from the final play of the Seahawks 17-point preseason win over the Vikings under his arm, put it in his bag and took it home.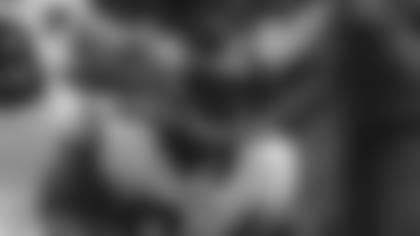 After bouncing around the NFL with six teams in six years, you'll have to pardon his excitement.
As if it wasn't enough that the 6-2, 320-pound defensive tackle had five tackles - including two sacks and a quarterback hurry - a fumble recovery and a pass defense, but he made a diving interception of a deflected pass on the final play of the game.
Undoubtedly, everybody on the team was happy for him, including coach Mike Holmgren, who acknowledged how hard he worked in the offseason to compete for a job.
"I loved it ... I was very happy for him," said Holmgren, who joked about the interception with Green afterward. "He's really a good guy. You kind of root for guys like Howard to get an interception. The only thing I said to him was, 'When you intercept the ball, get up and run with it. Go the other way with it. That's what you're supposed to do when that happens.' I think he took the ball home, kept it, and slept with it. It's great. The whole team was happy for him in at the end."
A sixth round draft choice from Louisiana State University in 2002 by the Houston Texans, Green has kicked around from the Texans to Baltimore, back to Houston, New Orleans, Miami, Minnesota and then signed with the Seahawks Oct. 16 last year when Chuck Darby was placed on the injured list with a knee injury.
And when Green came to camp this season, the 29-year-old Louisiana native was confronted with the numbers game again. Not only is it about incumbent starters Rocky Bernard and Brandon Mebane, but the return of Marcus Tubbs from knee surgery, Craig Terrill, the drafting of Red Bryant and the signing of Larry Tripplett.
Green refuses to allow it to overwhelm him. Even though he never did play in the 2006 season, and looked on the brink of no football last season when the Seahawks signed him in October, he never stopped believing while helping out as an assistant coach at his high school in Donaldsville, La. Whatever it takes, he'll do. A guy that size can lose it all very quickly; and certainly many have. But that obviously isn't the case with Green, who participated every day in the offseason workout program.
"This offseason he worked very, very hard and came into camp - he's a really big man - in really good shape," Holmgren said. "So he becomes really a factor in our inside play on defense."
Bryant is out very likely until the regular season. Tubbs remains out and Tripplett's been out with a sore knee as well. It doesn't take a lot of insight to grasp the opportunity that Green sees here.
"It makes a difference how a team fits you," Green said. "There are a lot of combinations of things going on here, so I just want to come out here and compete every day and let the cards fall where they may on the table to see what happens.
"I never really questioned myself ... 'Can I play?' It was just a matter of getting the right fit - the right place at the right time - just getting a look from different teams that you can fit into. You have to have things fall in your favor, of course. You can come in, impress the coaches and the staff upstairs, and just do your job. Empty the tank every day."
No doubt the tank was full when the game began on Friday and it was empty in the end. With the energy he put into every play he was on the field, his empty tank prevented him from getting up and running after the interception. Certainly a touchdown on the play - some 81 yards - is on the comical side for a 320-pound lineman.
Nonetheless, it was a performance and experience that will stick with Green forever.
"It was a real special game for me," Green said. "Just thinking back - my first interception ever in my career and everything else that happened ... things just went in my favor this week.
"It gives you a great deal of confidence just to get it all working together at one time. You work on it in practice every day and to actually see it come together at one time in a game, that's a major step forward for me and my career."
---
A couple of days later and Holmgren's perception of the preseason game remains the same as the Hawks turn their sights toward Saturday's game against the Chicago Bears at Qwest Field.
The first team was superb offensively, with quarterback Matt Hasselbeck leading their right down the field for a touchdown on the first series with the kind of energy and tempo Holmgren loves. The newly constructed offensive line not only blocked well for Hasselbeck, but open huge holes that allowed Maurice Morris to break off runs of 20 and 21 yards.
"The first drive went about as good as it can go," Holmgren said. "You kind of hope for that in the first drive of a game - we do talk about tempo a lot. In the preseason, you're always trying to judge when your first group is going against their first group. Even in a short period of time you want it to work because it's a good indicator. Once the start, depending on the substitution pattern of the other team, it can be difficult to gauge how things are going.
"That is the tempo (we need). We need to play that way. That is our style of play. It doesn't mean anything if your tempo is high but you're not executing and you're throwing the ball all over the place. So you still have to execute."
He talked about the competition at running back being so intense. Mo Morris started Friday's game and had 62 yards on six carries, while Julius Jones played sparingly. That will flip Saturday when the Bears come to town.
"I thought in the game Mo got off to a really good start," Holmgren said. "In all like likelihood I'll start Julius in this game. We're going to play the both of them. That's the plan."
---
Rookie tight end John Carlson on the Vikings game, his first NFL game experience being about an hour from his hometown of Litchfield:
"I didn't see any family that first night. After the game, I briefly spoke to my parents and some siblings. We had a little bit of free time on Friday night and I walked around downtown Minneapolis with some friends. There really wasn't a whole lot of time.
"It was a bizarre to have my first experience in an NFL game in Minnesota. It was pretty cool. The game was fun. We're looking at the film today, and I'll be able to judge my performance and better understand how everything went. Took a shot in the lower back, and it's kind of sore, but no big deal. It was just great to play in an NFL game.
"I didn't hear anybody in the stands, I was just playing football. It was cool to have friends and family there. I never got a count, but there were quite a few. My parents were really excited. It was special for them to be there for my first game. I have three siblings and they were all in attendance. It was absolutely special to have the game there, to have my wife, my family and friends for my first game, was a special experience."
---
Punter Ryan Plackemeier has begun punting and holding for place kicks in drills, proof positive that the torn pectoral muscle he suffered lifting weights during the offseason workout program. ... Surprisingly, wide receiver Logan Payne participated in all drills on Sunday just eight days after the cracked rib he suffered at the intrasquad scrimmage Aug. 2. He was, however, wearing the red jersey, which means he is off limits to hit. ... Fullback Owen Schmitt and snapper Tyler Schmitt were exchanging long snaps Sunday afternoon after special teams practice. Owen laughed when it was suggested Tyler should go through blocking drills with the fullbacks on the linebackers on Monday. ... Center Chris Spencer, who has not practiced since hurting his back on July 24, was running during the morning practice, as the countdown begins for him to get back on the field very soon. ... Cornerback Kelly Jennings was superb all morning, breaking up passes all over the field. ... Both Matt Hasselbeck and Lofa Tatupu sat out Sunday's practice with assorted bumps and bruises, with Holmgren saying they'd be back on the field Monday.