After more than two decades in NFL front offices, John Schneider knows a good situation when he sees one, which is why it was an obvious choice for the Seahawks general manager to sign a contract extension earlier this week.
But when Schneider really knows how good he has it in Seattle isn't when things are going well—when he, head coach Pete Carroll, Seahawks president Peter McLoughlin and owner Paul Allen hoisted the Lombardi Trophy at MetLife Stadium, for example—it's when the job gets tough.
"The times you appreciate it are the times that are tough and you have to make tough decisions," Schneider said Thursday.
"When you have a head coach, really strong ownership, a really strong president in Peter—the relationship between us is special—having that core group of people together to have a consistent, solid foundation, that continuity is huge."
That solid foundation started with Allen hiring Carroll and Schneider in 2010, with McLoughlin joining the organization just after the start of the 2010 season. The relationship between Carroll and Schneider has often, and rightly, been celebrated as a key element to the Seahawks' success—and with Carroll also agreeing to an extension this week, that partnership will continue into the future—but the connection between football operations, ownership and the business side of things, the "hidden support system," Schneider called it, has also been a vital part of the Seahawks building a Super Bowl winning team and a huge, dedicated fanbase.
"Coach Carroll doesn't have to have this philosophy," Schneider said. "He's Pete Carroll, right? And I'm John Schneider. This guy won national championships and was basically running Los Angeles for a couple of years, so he could have come into this thing guns blazing, it's my way or the highway, but that's not his philosophical approach at all. So that part of it is refreshing especially when you're at these tough points. And Peter came into this thing at an odd time, we had just (started the first) season together, and he came in in full support of what Pete and I are doing. Pete and I are running football operations and we're together all the time, but you have to have that strong foundation with ownership and the president as well to help guide you through those tough times."
Whether those tough times consist of a tough personnel decisions such as having to release players like Red Bryant and Chris Clemons for salary cap reasons after the 2013 season, or not being able retain Golden Tate or Byron Maxwell in free agency; or complicated business ones involving ownership, the Seahawks have found ways to work through them and persevere in recent years without front-office friction, which is why Schneider says he reflects on how good he has it here, "All the time. All the time."
"It always fluctuates and changes with different ownership groups, but this is clearly a top three, top five team in the league in terms of ownership. Obviously we're biased so we would say it's No. 1. Having a strong ownership and a strong president is extremely important."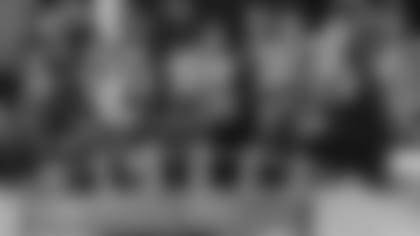 Of course having a new contract and a great job situation doesn't mean Schneider is about to let contentment set in. He notes that staying fresh in a job that can be a real grind requires constantly looking for the next move that can help the team, or as he puts it, "just being open to different ideas and different opinions. We're literally trying to be in every deal, anything that's going on in the National Football League. There's plenty of challenges so that it doesn't get repetitive."
"As long as you're challenging yourself and you never feel like you have all the answers, then I think the shelf-life is endless," Schneider said. "If you think you've got all the answers and have everything figured out, and you start doing the Shooter McGavin and that sort of (stuff), then that's when you're screwed."
When Schneider and Carroll began their relationship in 2010, there were long days and nights as they pored over their current roster and looked for ways to make it better, not to mention heated games of corn hole. One goal they discussed in those early days was to someday have a roster deep and talented enough that other teams would covet their roster cuts rather than Seattle being the team scouring the waiver wire for upgrades that other teams had let go. The 2013 season, in which 23 players who spent time with the Seahawks in camp ended up on other NFL rosters, was the culmination of that goal, but Schneider felt like even in those early days they were heading in the right direction.
"I thought we were starting to get there right away," Schneider said. "We were working it. We had 250-some transactions our first year (actually 284). It wasn't like we were trying to make players feel uneasy, it was more about, 'Look, this competition thing is real, and we're going to get ourselves in a position to improve on a daily basis.'"
That quest to improve on a daily basis, or as Schneider likes to say it, to build a consistent championship-caliber club, will continue into the future with Schneider and Carroll both locked up to new deals. Things won't always go smoothly, but that's when Schneider will be reminded of just how good of a thing the Seahawks have going.
"We have to have these conversations that are tough," he said. "It's not easy, so we have to be able to work through them. It really is kind of a marriage."
RELATED
With both Pete Carroll and John Schneider's contracts now extended long-term in Seattle, take a look back at the best photos of the head coach-general manager duo during their time together with the Seahawks.