When John and Traci Schneider returned home at 1:30 a.m. Friday, the Seahawks general manager went into his son Jack's room, woke the 12-year-old up and gave him a hug.
This is what Gleason, the just-released documentary about former Washington State linebacker and New Orleans Saints safety and special teams standout Steve Gleason, does to you. The raw and touching film will make you laugh, move you to tears, then make you want to find a loved one and hug him or her and not let go, even in the middle of the night.
The Schneiders were just part of a large Seahawks contingent on hand for a Pearl Jam-hosted Seattle premiere of Gleason, which opens in theaters Friday. Also in attendance were tight end Jimmy Graham, co-directors of player personnel Scott Fitterer and Trent Kirchner, college scouting coordinator Kirk Parrish, and former players Edwin Bailey, Bob Cryder, Ronnie Harris, Robbie Tobeck, Joey Hollenbeck and Marcus Trufant, the last two of whom played with Gleason at WSU.
Gleason started out not as a documentary, but as a video journal he began filming for his unborn son in 2011 after being diagnosed with amyotrophic lateral sclerosis, "in case the experts are right about my timeline." Eventually thousands of hours of footage became the critically acclaimed documentary that was on the screen Thursday night at Pacific Place in downtown Seattle.
"Our hope is that this film changes your perspective," Gleason told the crowd after receiving a standing ovation following the movie. "Your perspective on adversity, your perspective on parenting, and your perspective on life."
The movie does all of those things, which is why Gleason and his wife, Michel Varisco-Gleason, were willing to share with the world such a raw, honest portrayal, not just of Gleason's battle with ALS, but also of all the ups and downs of their marriage, which is tested not only by Gleason's disease, but also the challenges of raising a young child while Michel also cares for her husband.
"This project has evolved into something much bigger, but it started innocently enough as a way to share myself with our son, Rivers." Gleason said, speaking through a computer he controls with his eyes. "We finally chose to make this footage into film because we think people in the audience will see themselves in our humanness. We're imperfect people striving to find strength, solidarity and love under extraordinary circumstances."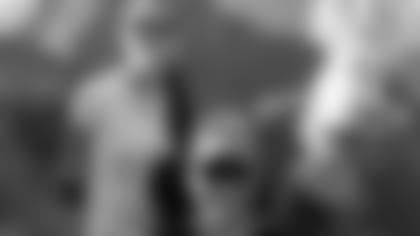 One reason the Schneiders and some of Seattle's personnel department were in attendance is they have a personal connection to this terrible disease. Derrick Jensen, a longtime member of the Seahawks' scouting department, was diagnosed with ALS in 2011 just before the start of training camp that year.
"It was really intense, really raw," Schneider said of the movie. "Just the fact they let you in like that. It just goes to show his determination. His determination, the strength of his wife Michel, it's unbelievable, and his caretakers too. I thought the whole thing was unbelievable, and not just about ALS, but also about parenthood and spirituality."
Fitterer was particularly close with Jensen, who retired after the 2012 season, his 22nd with the Seahawks, though not before making the final two picks of Seattle's 2013 draft class.
"To see the progression, what Derrick has gone through—from the beginning when he first came in and talked to us, he walked into my office and said, 'Hey, I'm going through this process,'" Fitterer said. "It was a day just like today, he came in here and talked to us, and said he wanted to finish the season and go as far as he could take it. Just to see the determination and fight he has, the way he approached this showed how strong he is, it's inspiring."
For Graham, the movie was also personal, having built a relationship with Gleason during his career in New Orleans. Gleason had already retired by the time Graham joined the Saints in 2010, but Gleason was around the team regularly after his diagnosis.
"It's unbelievable just how raw and real it was," Graham said. "I remember the day he told the team about what he had and what could happen, and then seeing him before every home game. He was a part of who we were, he was our identity. Every time we left the locker room we gave him a hug, him and his son and his wife. So for me it was obviously very personal. It's amazing on all fronts how much of a warrior he is as a person and as a husband and as a father.
"He truly is a hero to a lot of people. He's an inspiration to all. He has brought a lot of light to ALS, that's something that's needed. It's amazing how many people he has affected, how many people he has touched. I love him, I love his family. It was a special night to be there for him and to see him again—I hadn't seen him since I left New Orleans—it was very, very special. It was just a really unbelievable night."
This must-see movie covers everything from Gleason's journey from undersized linebacker at WSU to hero in New Orleans for his blocked punt in the Saints' first game at the Superdome after Hurricane Katrina, to his personal fight against ALS as well as the work his foundation, Team Gleason, has done to raise money for equipment for ALS patients and research to combat the disease, to his relationship with Pearl Jam, the Seattle band whose music has, as Gleason put it, "plastered the wall of my adolescent and my adult life. It's really been a soundtrack of my life."
"This movie does not shy away from the truth of what it looks like to live with ALS," Pearl Jam guitarist Mike McCready said as he, lead singer Eddie Vedder and bassist Jeff Ament introduced the film. "It's one of the bravest accounts I've ever witnessed, and it's beautiful."
But more than football or even ALS, Gleason is a movie about fathers and sons, about husbands and wives, and about faith, love, adversity, strength, hope, pain and so much more. Early in Gleason, while Michel is still pregnant, Gleason talks about the possibility that he may never have a real conversation with his son, noting "That's (expletive)'d up." Later in the movie, Gleason is in the front seat of the car having a discussion with 4-year-old Rivers about his birthday party.
It's those moments, ranging from heartbreaking to uplifting, that make* Gleason* such a memorable experience. You see Gleason and his wife have a frank argument in bed, but you also laugh at their goofiness and are touched by their love throughout the film. You're moved by the juxtaposition of Rivers feeding himself cake on his first birthday while his father, less than a decade removed from his NFL playing days, is being fed in the background. You hurt for Gleason when he struggles to say, "I have no faith I can heal. I want to punch something, but I can't. All I can do is scream." Then you are inspired when you see the love between Gleason and Rivers.
"My number one purpose is to share with you who I am and to give you as much as I can, while I can, for as long as I can," Gleason says into the camera, addressing his son in the future. "… I've been thinking about fathers and sons a lot since you've been born. At this point, it looks like we're not going to have the normal father-son relationship. I can't go out and play catch with you, but I'm going to do everything I can to be a good father, to give you what a son needs from his father. I'm gonna be around, buddy. It's not gonna be easy, but it's gonna be awesome.
"That's all that matters is me passing myself to you… That's what dads do. They pass the best of themselves to their kids."
(Photos courtesy Open Road Films)
https://www.youtube.com/watch?v=uZ8iwHT1hJM