Doug Baldwin is not only one of the Seahawks' more experienced players, having been with the team since 2011, he is also one of the more thoughtful, articulate players you'll find in the NFL, so when he has opinions on his team, or just about anything else for that matter, it's usually worth taking note.
Baldwin met with the media following a walk-through practice Saturday, and covered a number of topics ranging from where the team stands heading into its eighth season under Pete Carroll and John Schneider, to his thoughts on rookie receivers, to what goes down in those intense one-on-one battles with safety Earl Thomas.
Here are some of the highlights from Baldwin's press conference:
1. A little offseason drama might have been good for the team.
The Seahawks were the topic of a number of interesting storylines this offseason, ranging from the possibility of Richard Sherman being traded to an ESPN story that depicted a rift between certain players, most notably Sherman and quarterback Russell Wilson. Sherman, Wilson and Carroll have all downplayed those reports, but regardless of what might or might not have happened in the past, Baldwin thinks that a team full of players with chips on their shoulder could benefit from a little bit of offseason drama.
"We're always getting better, we're always finding ways to improve," Baldwin said. "I think this year, we kind of found our—I don't want to say edge, but we got some motivation. We had a lot of stuff happen in the offseason, and we couldn't wait to get back to the locker room and formulate our family, our tribe again, if you will, and just put our heads down and get to work.
Baldwin said those offseason stories "just reinvigorated us to get back here. Everyone being in their separate areas, separate states, whatever it may be, you don't really have that face-to-face interaction and conversation that we have on a day-to-day basis for 12 hours-a-day during camp. Now that we're here, we can have those conversations, you can feel each other, you get the depth of the relationships, and we build upon that. And so all the issues that may or may not have been true during the offseason, they get resolved in the locker room."
Asked if the air needed to be cleared about anything, Baldwin said, "I don't think any air needed to be cleared. When whatever happened during the offseason came out, we had our conversations, it was resolved rather quickly, then we just couldn't wait to get back here to the facility to get to work."
2. Carroll is both consistent and willing to evolve.
Much of Seattle's nucleus has been in place since 2012 or in some cases, even the 2011 and 2010 seasons, and for those veterans, Carroll's messaging can get somewhat repetitive, but that doesn't mean it isn't effective. One reason for that is that even if Carroll's central theme of competition remains unchanged, he works with his veterans to make sure the message is getting across the right way both to them and perhaps more importantly, to young players still trying to fit into the Seahawks' culture.
"He's still as consistent as can be, but he does allow the older guys to come in and communicate with him about ways we think he can reach the younger guys in a more efficient manner," Baldwin said. "And he has been very open and honest with us about the things he's trying to do, and that speaks volumes about the type of person Pete is, the humility he has and the willingness to be vulnerable with his players, because he knows that ultimately our goal is to be successful just like his goal is to be successful. When we have that unified perception and a unified goal, it makes it a lot easier for us to have a close bond and relationship."
3. There are no divas in the receiver room.
As much as Baldwin, Jermaine Kearse, Tyler Lockett, Paul Richardson and the rest of Seattle's receivers want to produce numbers, they take as much pride in doing the dirty work that comes with being a Seahawks receiver, whether that means blocking in the running game or having a big role on special teams. And from the get-go, Baldwin has seen this year's crop of rookie receivers exhibit the right attitude when it comes to being a part of a balanced offense that won't necessarily allow them to put up huge statistics.
"First and foremost, the thing that always stood out to me, even during OTAs and minicamp, was just how willing they were to come out and work," Baldwin said. "They weren't divas, they didn't act like they were entitled to anything. They knew they had to compete, against not only the guys in the (receiver) room with us, but also against the defensive backs. They have done an excellent job up to this point of doing that."
4. Tyler Lockett is doing "extremely well" in his comeback from a serious injury.
Lockett, whose 2016 season ended with a broken leg on Christmas Eve, returned to practice for the first time Friday, and Baldwin has been impressed not just with what he has seen physically from his fellow receiver, but especially in how Lockett has handled the metal side of a serious injury.
"He's doing extremely well," Baldwin said "I'm excited for his progress. Physically we all knew he was going to be OK, but mentally, just the toll injuries take on competitive athletes. He has done a great job of battling himself in terms of getting right and being prepared for his opportunities.
"It's very hard for the media and fans to really understand what it means to go through an injury as significant as Tyler went through. It's not so much the physical part of it as the mental part of it, and he had to get through his battles. And he has been through some major battles, mentally. I just wanted to be there for him. Whenever he needed some support, some encouragement, all of us in the receivers room wanted to be there for him. He has done a tremendous job of navigating through those battles, and we were there for him when he needed us."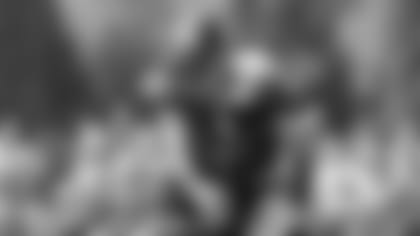 5. Baldwin loves going one-on-one with "a future Hall of Famer."
"I don't think any competitor would say that they don't like going up against any other competitor, and Earl and I are no different," Baldwin said. "I absolutely love the opportunity to go against Earl, because he brings out the best in everybody that's around him. When you step up against Earl Thomas, you know that's a future Hall of Famer, and my job is to embarrass him every time that I get a chance to do so, which is quite often. We go back and forth because all we can think about in that moment is winning our one-on-one battle. And there's nobody that's better in the league, in terms of winning your one-on-one battle and the mindset you have to have, there's nobody better in the league than Earl Thomas."
6. Russell Wilson is "just a consummate pro."
Russell Wilson came into camp in better shape than he has in years, changing his offseason workout routine and diet in the same offseason that he and his wife, Ciara, welcomed a daughter to the world. Baldwin, like a lot of other people, is impressed with what he has seen from his quarterback thus far.  
"He's a professional," Baldwin said. "You can't talk highly enough about the way he prepares himself, the things he does to get himself ready day in and day out, season in and season out. He's just a consummate pro, and it's no different this year. Coming in, being lighter than he has been in the past—we always made fun of him how he sometimes looks a little chubby, it comes with old age—but he has done a great job to come into this camp more prepared than he has been in the past."
The Seahawks conducted a short walk-thru Saturday Morning at the Virginia Mason Athletic Center.