When Suzanne Anderson heard the words "you have breast cancer," she was just 35-years-old, had recently adopted a baby girl and believed she didn't have to worry about breast cancer at her age. But the lump she discovered was malignant and her world suddenly swiveled and tilted on its axis.
"This is a time of your life when you still think you are invincible to those kinds of diseases, so when I heard the diagnosis, I was thrown for a loop," recalled Anderson, now 55. "The only silver lining at the time was, as a workaholic, I decided to take a year off, do the chemotherapy and radiation, and spend a lot of time with my daughter. It really created a very special bond."
Anderson is President of Virginia Mason Medical Center in Seattle and is now a two-time breast cancer survivor who is currently cancer free. Her second occurrence, in 2009, was unrelated to the first, but as someone who was adopted herself, she and her doctors believe she has a genetic predisposition. Doctors say it is uncommon for someone to have two separate premenopausal breast cancers.
Without knowing her biological family history, Anderson said her testing for the BRCA genetic mutation was ambiguous. The second time she was diagnosed, it was discovered in a mammogram, and her treating physicians could not guarantee it would not return, so she opted for a double mastectomy.
"This is how important mammograms can be," said Anderson. "The cancer shown in my mammogram wasn't life-threatening, but having it can increase the risk of developing an invasive breast cancer later on. Early screening saved my life."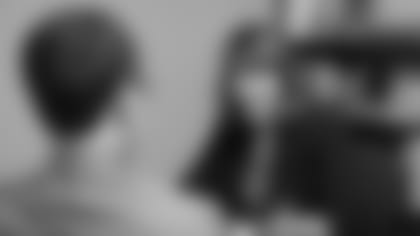 October is Breast Cancer Awareness Month, and Virginia Mason, the American Cancer Society and many other breast cancer organizations use the month to provide education, screening awareness and a call to action to fund cures for breast cancers. The NFL and the Seattle Seahawks also sponsor A Crucial Catch game, with players wearing pink, to emphasize how crucial it is to catch breast cancer early.
Not all organizations are in agreement as to when to begin screening. The American Congress of Obstetricians and Gynecologists, for example, recommends that regular screenings begin at age 40—as does Virginia Mason. The American Cancer Society calls for women to start yearly screening at age 45 and then move to screening every two years starting at age 55.
In Anderson's case, the cancer showed up early, before organizations suggest screening.
"This becomes an individual choice—if you are concerned about breast cancer and screening, talk with your doctor to make an informed decision," said Anderson. "Together you can decide what's best for you based on personal preferences, medical history and your individual breast cancer risk."
Today, Anderson says she still works hard, but balances it with her husband and their desire to play hard too. You don't know, says Anderson, what the future holds, so why put off having adventures, traveling and enjoying life until you retire.
"I'm a pretty pragmatic, glass-half-full person, who is now taking the time to enjoy my life too," said Anderson, adding that her next adventure is learning how to play golf.
For the month of October, the Seahawks will light the stadium arches pink on Wednesdays and Thursdays to raise awareness for breast cancer screenings. Anderson was the first to ceremoniously switch on the lights for the Seahawks.
In support of the NFL's 'A Crucial Catch' campaign to expand education and raise awareness for breast cancer screenings, the Seahawks will turn CenturyLink FIeld's arch lights pink every Wednesday and Thursday night throughout the month of October.