Every day when the wide receivers break off into their own meeting, Courtney Taylor likes to be the first one there ... after Doug Baldwin.
"That's one of my goals every day to sit next to Bobby in the meetings," Taylor said. "He has so much to say when we look at film, and in every conversation. I just don't want to miss anything, and I hope that some of what he's got rubs off on me."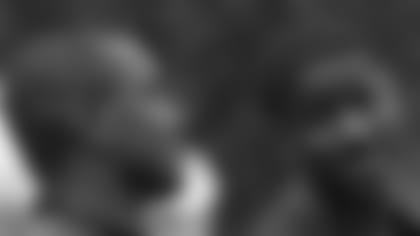 These days, Taylor is just one of many as if he and the rest of the young Seattle Seahawks young wide receivers were trying to get a seat next to the prettiest girl in the class. Day after day, the 35-year-old Engram sprinkles off the cunning and guile he has acquired during his 13 seasons in the NFL on the half dozen or so Seahawks 24 or younger trying to earn their stripes.
With veteran Deion Branch rehabilitating his knee after surgery and Nate Burleson now in his sixth season, the other guys are 24 or younger, and in need of attention. Consequently, a little love from Engram goes a long way.
"It's always helpful when you get a great player who's a veteran who is willing to do that," Seahawks coach Mike Holmgren said. "If you're a young player, you're silly if you don't listen, particularly if it's someone who has relied on not only his physical ability, but his smarts to play the game. (Engram) is a great guy to have and he really is very helpful to the young guys.
"He's really a true professional and very much a team person."
In a lot of ways, Engram feels this is merely a case of payback. He cites his Camden (S.C.) High School receivers coach Guy Eckenroth and Penn State receivers coach Kenny Jackson as two mentors that helped him learn the game at another level. A three-time All-State receiver in high school, Engram was introduced to offseason camps by Eckenroth and taught him to be a student of the game at a young age.
That has stayed with him all these years.
"I'm really fortunate to have had a couple of great coaches," Engram said. "There were a lot of competitive situations in South Carolina and on into college. We'd go around to passing camps and learned a lot about the passing game - doing a lot of 7-on-7 drills.
"Kenny Jackson actually played at Penn State and in the NFL for nine years with Randall Cunningham on those great Eagle teams. He was able to impart a bunch of knowledge. He came my third year at Penn State and he helped me more than words can describe. He was a key factor in preparing me for the NFL. One of the reasons I didn't come out after my junior year - which I contemplated - was because I wanted one more year just to work with Kenny to work on my craft and hone my skills. That was a very good decision on my part."
His good decision has clearly elongated his career. Just the concept that he would have a record-breaking and career-best 94 receptions for 1,147 yards and six touchdowns at the age of 34 explains how well he has plied his craft. An exercise and sports science major at Penn State, he also remains in incredible condition and his fastidious approach to the game of life has allowed him to overcome injuries throughout his career and a serious thyroid condition that seriously threatened him in 2006.
For the 5-10, 192-pound Engram to still be ticking to perfection at this point of his career following all of that, speaks volumes of his commitment and resiliency.
"Life is great," Engram said. "I work real hard and train real hard. It was a great offseason. It's a tremendous blessing to be able to go on like this after 13 years."
That has everything to do with why the young players appreciate his guidance. Despite their dramatic difference in size and speed, Engram's knowledge benefits young Jordan Kent tremendously. He discussed how Engram has helped him come out of his routes and how to be tougher to tackle with a couple of sweet tricks of the trade.
"Bobby is a great leader and role model for us," Seahawks second-year receiver Jordan Kent said. "He does a great job of helping us figure out the intricacies of a lot of our routes in this offense. It's helped us out a lot having his veteran leadership and he'll clue us in on some of the secrets he's got. I think we all know that it's implied that we really respect him and any chance we can learn something from him, we'll take it. The fact that he's able to step up and tell us something without us even having to ask - shows how much more of a leader and great person (he is)."
Despite the great instruction he received in high school and college, Engram also learned an important lesson about the NFL from Jackson. After the Chicago Bears drafted him in the second round of the 1996 draft, he was told the coaching instruction would probably not be as forthcoming.
Consequently, he feels somewhat obligated to help.
"I kind of had to figure this thing out on my own," Engram said. "Kenny told me that it would be like that. I've had some good coaches, but the thing is a lot of times up here, coaches are so busy game-planning and preparing - which is very important - sometimes the fundamentals and the actual skills get lost. That's one of the things he told me, 'In the NFL, they're not going to coach you the way you need to be coached, so you've got to be able to coach yourself and be critical of yourself, and continue to work on your craft to get better.'"
"And that's what I've tried to do throughout my career and one of the reasons I like to pull these guys along and give them a few words of wisdom. A few pointers here and there will go a long way with them."
Mike Holmgren on the number of injuries sustained in the scrimmage Saturday at Qwest Field, despite holding out so many starters:
"Well, when you're in a scrimmage, you're going to bang up some people. You never know who and you never know what positions. It's football. Last year (Ben) Obomanu got hurt, if you remember. It happens. But it happens at practice, it happens in your scrimmage. I don't feel validated by (holding out the players). It's just because of the numbers ...you're always kind of concerned. You don't want to lose anybody."
The Seahawks signed veteran free agent center Ben Claxton on Sunday, taking the vacated roster spot of rookie cornerback DeMichael Dizer, who tore his ACL in the scrimmage on Saturday. Claxton, 6-2, 290, ironically preceded Seahawks starting center Chris Spencer as the starting center at Ole Miss. Claxton, 28, has been with the Raiders, Falcons and Broncos, plus is coming off a tryout with the Patriots. He is on the brink of taking the law boards and applying to Ole Miss law school. ... As a consequence of the scrimmage Holmgren talked of the following injuries that would hamper players this week heading into Friday's preseason opener at Minnesota against the Vikings: Jordan Babineaux (knee), Logan Payne (cracked rib), Floyd Womack (knee), Kyle Williams (knee), Nu'u Tafisi (ankle), Matt Castelo (knee) and Eric Wicks (quad contusion). Rookie Red Bryant (knee) will be out indefinitely. ... In addition to those recent injuries, there are those players that are recovering from offseason surgery or later injuries that aren't practicing such as Chris Spencer (back), Patrick Kerney (calf), Deion Branch (knee), Chris Gray (back), Jeb Putzier (hip), Marcus Tubbs (knee), Larry Tripplett (knee) and Ryan Plackemeier (pectoral). All told 19 players missed practice Sunday afternoon. ... Courtney Taylor (hamstring) and Wesly Mallard (hamstring) were back out at practice on Sunday after missing. ... Practice was limited to just an hour and 10 minutes Sunday morning in deference to the scrimmage - nearly an hour shorter than normal. The afternoon practice was an hour and 45 minutes. ... Single game tickets go on sale Monday at 10 a.m. through Seahawks.com and Ticketmaster by calling 206/628-0888.