A cluster of names still sat on the Seahawks draft board as the seventh round of the 2016 NFL Draft began. Seattle had two picks left, numbers 243 and 247 overall, but while the draft was winding down, the fun was just getting started.
With the draft coming to a conclusion soon, Seahawks general manager John Schneider, his scouting department and Seahawks coaches were tasked not only with deciding who to take with those final two picks; they also were about to switch into something of a controlled-chaos mode in order to add what would end up being a 13-player class of undrafted free agents.
These moments, the late rounds transitioning into free agency, are Schneider's favorites during the three-day draft process.
"I think like the sixth-, seventh-(round), free-agency part is really a blast because the draft room kind of changes," Schneider said before the draft. "We make it like, not a completely different room, but it just becomes kind of like the floor of the stock market or something. Everybody has specific roles and everybody just gets after it. And everybody wants to put Pete on the phone because he's like the ultimate recruiter."
But before the draft room can convert into Schneider's stock market floor, there were still those two picks to make.
Moments after Washington took Georgia running back Keith Marshall with the 242nd pick, Schneider was on the phone with California receiver Kenny Lawler.
"What are you doing still on that board, man?" Schneider asked Lawler before informing the sure-handed receiver that he's about to become a Seahawk. "Hey man, it's not where you start, it's where you finish."
Schneider then handed the phone to Seahawks coach Pete Carroll, who said, "Hey, is this one of Upland High School's all-timers that I'm talking to?" After a brief chat, Carroll ended their talk with, "You come in here ready to rip and compete your ass off," then handed the phone to receivers coach Dave Canales, who might have been just as excited about this moment as Lawler was. 
"You ready to roll man?" Canales asked.
"I can't wait," Lawler responded.
Before running to the back of the room, high-fiving and fist-pumping about the pick, Canales told Lawler, "You've been one of my favorite dudes in this whole process."
A few minutes later, a TV in the corner of the room tuned into ESPN showed Lawler highlights, and a crowd of coaches and scouts, including Carroll and Schneider, took a break from their work to watch their new receiver haul in touchdown pass after touchdown pass.
With only four minutes between picks in the seventh round, the Seahawks couldn't enjoy the Lawler pick for very long. Schneider hollered out a warning, more to the room than to anyone in particular, that Seattle's next pick was coming up soon and that they had to be ready.
The Seahawks had already picked two running backs in this draft, taking Notre Dame's C.J. Prosise in the third round and Arkansas' Alex Collins in the fifth, so running back might not have been the most obvious pick, but there was one name that stood out when it was time for the Seahawks to make their last pick in the draft. Schneider, among others in the room, really liked Clemson running back Zac Brooks, so rather than take a player at a position at which the Seahawks had not yet drafted, something like linebacker or defensive back, Schneider stuck to his board and made the call to the third running back the Seahawks would draft in a two-day span.
"Zac, hey, it's John Schneider in Seattle," he said. "You doing all right man? Hey, welcome to the ball club, we're selecting you right here."
Schneider referenced Brooks' draft position near the very end of the draft, and repeated the same message he had for Lawler: "It's not where you start, it's where you finish, right brother?
"There you go," Brooks said with high-pitch shrieks of excitement coming through his phone from the people in the room with him. "That's what's most important."
Next up was Carroll, who told Brooks, "Come in here with a great attitude and compete your ass off. We think you're a heck of a football player and a great kid, we can't wait to get you in here."
While Carroll was still on the phone, Schneider was already thinking not just about his new players, but the potential ramifications of every pick. The Seahawks liked the three backs they took, but they also really like Thomas Rawls, last year's rookie standout, so even as he was worried about the upcoming free-agency frenzy, Schneider asked assistant running backs coach Chad Morton to call Rawls and assure the second-year back that those picks were in no way a reflection of the team's opinion of him. 
Running backs coach Sherman Smith talked to Brooks last asking, "You ready to come prove a point?" Brooks said he was, and moments later, his name flashed across the bottom of the TV. The Seahawks 2016 draft had come to an end.
A brief cheer went up in the room, but the celebration lasted only seconds. There was still plenty of work to be done.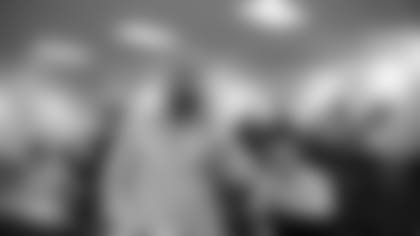 The draft ends and the real fun begins
By the time the Seahawks were finished with their call to Brooks, the final compensatory picks were being made. Southern Miss cornerback Kalan Reed went to the Titans with Pick No. 253, making him this draft's "Mr. Irrelevant," while at nearly the same moment, a whiteboard that up to that point had been in a back corner of the draft room was rolled to the front of the room.
Across the top of the board it read, "Rookie Minicamp," and at that point there were a lot more blank spaces than names filling the positions on the board. So far, draft picks filled out 10 spots, soon-to-be-signed quarterback Jake Heaps held another, and a handful of players currently on the roster who are still eligible to compete in this weekend's minicamp—players who spent last year on the practice squad, first-year players who were injured, etc.—made up a few more. But the plan now that the draft was over was to add a lot more players to the board, not just to fill out spots for upcoming minicamp, but to find players who can help the Seahawks in 2016 and beyond.
So while the draft was over, everyone in the room knew this next hour or so would be critically important.
"Definitely after the draft it's a scramble," Schneider said. "It's fun. It's a blast, it really is. There's a lot of communication and collaboration between the coaches and the scouts in recruiting a guy, then we have about four guys who are negotiating contracts the whole time. But really it's a credit to all of our scouts, because they feel very strongly about having relationships with these guys. So they can just call them up on the phone—we'll be sitting in meetings and they'll just call them and talk to them, and just check in on them. Once the draft's over, we're really honest with people. Like, 'You know what, you're best chance is to go there, and then we'll try to get you a little bit later if you get let go or something like that.' I mean Kasen (Williams) is a perfect example. Kasen went to Cincinnati, and Kevin Smith, are both guys that we were kind of like, 'Yeah, we'd like to have you, but this is probably a better spot for you.' We agreed, and then they both moved on. But then they were both very excited to come back because our scouts had that relationship with them and they felt like they could come back here and have a shot."
Not long after the draft had ended, Carroll was on the phone with TCU quarterback Trevone Boykin. The Seahawks went into the draft with just one quarterback, Russell Wilson, and didn't draft one over the course of seven rounds and 10 picks, so landing Boykin would be an important free-agent addition. By that point, Carroll was far from being the only person on the phone. Schneider, scouts and assistant coaches were all working their phones, calling players and agents trying to land Seattle's top undrafted targets.
Carroll got his commitment from Boykin, then handed the phone off to quarterbacks coach Carl Smith, who talked to Boykin about coming in to compete for the backup job as another name was added to the rookie minicamp board.   
A few minutes later, Trent Kirchner, Seattle's co-director of player personnel, handed the phone off to Carroll—the "ultimate recruiter," as Schneider put it—to close out another signing. This is a scene that repeats itself over and over again, part of why Carroll also calls this one of his favorite parts of the draft process. Southeast area scout Jim Nagy had Florida Atlantic fullback/defensive lineman Brandin Bryant on phone to line up a deal, then handed off to Carroll to close. Carroll was boundless energy by this point, bouncing around the room from phone to phone, securing one future Seahawk after another.
"It's like an entire college recruiting season crammed into an hour," noted Ben Malcolmson, the Seahawks' special assistant to the head coach/director of external relations, who came to Seattle from USC with Carroll.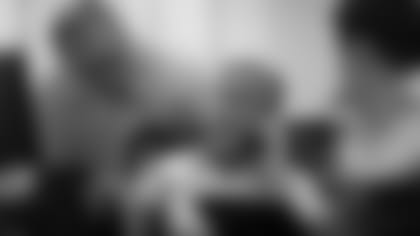 Carroll's excitement then shifted to another signing when he heard that Illinois State defensive end David Perkins was on board. Carroll asked who got Perkins, and when somebody answered it was director of pro personnel Dan Morgan, Carroll ran over to give Morgan a high five and exclaimed, "Wait 'til you see David Perkins coming off the edge!"
As all of this played out, one of the most common phrases heard among this chaos, over and over, was, "We got him yet?"
Another name went up on the board, then another. "You guys are kicking ass!" Schneider yelled.
One thing this free-agency process demonstrates in real time is how true the Seahawks are to the idea Carroll and Schneider preach of operating with "no walls." For some NFL teams, the draft is a time for the general manager and scouts to make decisions, and then the coaches can do their jobs when those players report. On some teams, if coaches are in the room at all, it is as observers only, but in the Seahawks draft room, the draft and undrafted free agency period are truly collaborative efforts.
Part of the reason the Seahawks have drafted and developed players so well under Carroll and Schneider is that the scouting department works to know what coaches want in a player. At one point, the Seahawks were talking with two different players about signing when Northeast area scout Todd Brunner asked offensive line coach/assistant head coach Tom Cable if he preferred Western Kentucky tight end/tackle George Fant, a former all-conference basketball player for the Hilltoppers, or another player. Cable said he liked Fant, and not long after, Fant's name was on the board. 
Of course, the Seahawks can't always get their man. There are only so many roster spots and so many bonus dollars available, and occasionally an assistant coach or a scout had bad news for the room when a player chose another team.
"Come on, we still got to close some guys out, gosh dang it," Carroll said to nobody in particular.
Complicating matters as things go on is that money starts getting tight. NFL teams are all allowed a set amount of money to use for bonuses for undrafted players, and as the minutes tick away and more players are added, that bonus pool starts getting tight. Every so often, Carroll or Schneider asked for an update, and vice president of football administration Matt Thomas provided the latest number while reminding whoever was asking that he wasn't the only person on the phone trying to sign somebody.
"Only bargains from here on out," Carroll proclaimed, still sounding optimistic as ever, after finding out the bonus pool was dwindling.
Finally, an announcement came: "We're out of money." But by this point the frenzy had died down, and the Seahawks were thrilled with what those wild moments had produced—a class of 13 undrafted free agents, all of whom had draftable grades coming into the weekend.
"Nice job, men," an excited and exhausted Schneider said before he and Carroll shared what can best be described as an awkward bro-hug. The draft had been over for more than an hour at this point, but now, finally, they can celebrate.