Six lost receivers later, Seahawks coach Mike Holmgren made a couple of things clear as they begin to prepare for the St. Louis Rams this week.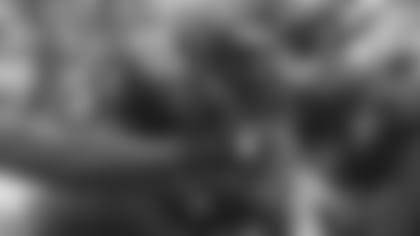 He liked what he saw out of the running game with 169 yards rushing in Sunday's overtime loss to San Francisco, including the 127 from Julius Jones. They'll need more of that from him, along with T.J. Duckett and Leonard Weaver.
"Well, I think you got a little taste of it yesterday," Holmgren said. "On the long drive we took to tie to game, it was like, 15 plays, and I didn't call many passes. The guys just blocked it and ran hard and we were able to do that. That's how you have to play right now. That was kind of a picture of how it should look."
It's a lot easier to visualize than the passing game at this point. In the wake of losing both Logan Payne (torn right knee MCL) and Seneca Wallace (strained calf), still waiting for Deion Branch and Doug Baldwin to come back, and already dealing with the loss of Ben Obomanu (fractured clavicle) and Nate Burleson (torn knee ligament), he's still looking to gain confidence in Courtney Taylor, who has struggled garner four receptions in two starts despite being the only receiver still standing from the start of the year.
Holmgren added it could mean re-signing Jordan Kent from the practice squad as they continue to figure out which way to go. Nonetheless, a growth in Taylor's game would go a long way toward helping out the offense in general and quarterback Matt Hasselbeck in particular. There's no time like the present to prove it.
"I don't think that question's been answered yet," Holmgren said. "I'll do what I have to do to try and move the football, but at the same time, just like anything else, my confidence level in choosing a play is in direct proportion to how that player has practiced or what he's shown me so far during a game. I think the jury's still out in that regard."
Losing Wallace before the game Sunday to a calf injury is not without irony considering Holmgren has been reluctant all along to risk his backup quarterback as a receiver or punt-returner. Now it's obvious that Charlie Frye will back up Hasselbeck for the next month until Wallace's calf has healed.
"I was kind of pushed into using Seneca because I had to," Holmgren said. "Charlie allowed us a little more breathing room, there's no question about that. I think Charlie did a nice job in the preseason. I was always concerned about Seneca's health, but I didn't think it'd be in warm-ups. I thought maybe someone might hit him or something."
Holmgren said Branch will practice more coming back from his ACL surgery, but he won't play in a game until he's prepared to run routes hard and take hits. Engram, too, is weeks away and the prevailing understanding is they'll both be ready after the bye week when the team heads to New York to play the Giants on Oct. 5
Meanwhile, they're looking at other receivers to go with Taylor, Michael Bumpus and Billy McMullen, who was signed last week. Kent is a possibility from the practice squad, as well as any other player on the market at this point.
"You guys will see what happens during the week, and honest to goodness, all those things, we got to bang it around a little bit," Holmgren said. "But rest assured, we'll do something, because you've got to have eleven guys. Right now it's a little thin there."
The consequence has all come down on Hasselbeck. Not only has he lost all of his receivers, they do have new running backs, and the starting right side of the offensive line is out with Floyd Womack at guard instead of Rob Sims, and Ray Willis at right tackle in place of Sean Locklear. Sims is out for the year with a torn pectoral muscle and Locklear could be back this week from a sore knee.
Still, the transition has prevented any semblance of rhythm or continuity for the Pro Bowl quarterback.
"Where it's noticeable to me is, you look at Matt's percentage of completion," Holmgren said. "It's not very good. Yesterday it was 50%, against Buffalo it was 40%. He's a 65% passer, a 60% passer over the stretch of his—that's what he does. You kind of see it there. And of course that ties in with getting first downs, all that stuff that we study.
"But, the receivers have nothing to do with a blocked punt. Not one single thing. The receivers don't have anything to do with a ball thrown deep down the middle. So, it's part of it, and it might put a little extra pressure on other parts of the football team, but they're working real hard. They're just young and inexperienced."
It all comes down to how the team overall responds to the 0-2 start. If ever there was a time to take it one game at a time, this is it. For all the struggles, to a man everybody believes that game Sunday with San Francisco should have been a W.
So psychologically, they just have to get over the hump from the injuries impact.
"Engram's coming back, Branch is coming back … that in and of itself doesn't guarantee anything, but at least we have some of our guys back," Holmgren said. "Yesterday, as an example, offensively, even though we were depleted, I thought we had a chance to win the football game, even saying all this stuff. So, it wasn't just that. We just have to improve in all facets of our game."
---
Matt Hasselbeckretaining his sense of humor despite the rugged start for the passing game and his 45.5 completion percentage:
"My percentage right now, I might have to move to baseball. Not going to cut it as a quarterback! It's like in the 40s right now I think. 40%? I don't know. Not good.
"Last week was tough, the numbers were so bad. This week they weren't that good either. I don't know. I mean, it's obviously important, but I'm not trying to dwell on it. I apologize to all the people who own me on their fantasy teams. They can put me on the bench for a little while."
---
Holmgren and Hasselbeck each made a point of lauding rookie tight end John Carlson, who snagged 6 passes for 78 yards on Sunday – giving him a team-high 10 receptions in the two games.  … Holmgren said the possibility is there that the luxury of keeping two kickers – Olindo Mare and rookie Brandon Coutu – could end this week… The Seahawks have a bye after this week and won't play again until Oct. 5 at the New York Giants. The next home game will be Oct. 12 with the Green Bay Packers coming to town.