The Seahawks' used their 10th and final pick in the 2016 NFL Draft on running back Zac Brooks, selected No. 247 overall out of Clemson.
After talking with the Seattle-area media via conference call this past Saturday, Brooks joined Seahawks.com for a light-hearted Q&A session that should help 12s get to know the Jonesboro, Arkansas native a little better.
1. College major?
Brooks: "My major was sociology and I graduated with a minor in travel and tourism."
2. Hobby?
Brooks: "I'm a gamer. I love to play Grand Theft Auto."
3. Favorite video game?
Brooks: "Grand Theft Auto and Mortal Kombat."
4. Projected Madden rating?
Brooks: "Well, I know they're going to hate on me at first, so I'll say I'll go in with an overall rating of probably like a 68."
5. Athlete you idolized growing up?
Brooks: "Ray Lewis, all day long."
6. Gameday rituals or superstitions?
Brooks: "Peanut butter and jelly sandwiches the night before every game."
7. First job?
Brooks: "My first job was working at a grocery store after hours cleaning the floors. I was 15 years old."
8. Favorite T.V. show?
9. Favorite movie?
Brooks: "Life, with Eddie Murphy and Martin Lawrence."
10. Favorite NFL team growing up?
Brooks: "Miami Dolphins."
11. Favorite non-NFL team growing up?
Brooks: "Either the Miami Hurricanes or the Florida State Seminoles."
12. Favorite sport to play besides football?
Brooks: "Basketball, all day."
13. Favorite food?
Brooks: "I'm a seafood lover."
14. Favorite artist?
Brooks: "All-time favorite music artist goes to Otis Redding."
15. First album you ever purchased?
Brooks: "[Laughter]. Yeah, actually it was a Mariah Carey album."
16. Better trilogy: 'Star Wars' or 'Lord of the Rings?'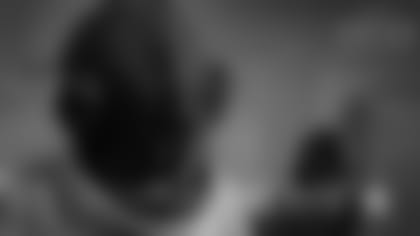 17. Dog person or cat person?
18. The first thing you're hoping to buy as an NFL player is…?
19. The Seahawks player or coach you're looking forward to meeting most is…?
Brooks: "Russell Wilson."
20. If you had to be reincarnated as an animal, the animal you would choose is…?
Brooks: "Man, I think about that question all the time. It's either a lion or a monkey, those are just my two types of personalities. [Laughter]. I'll go with a lion, though."
21. A city or country you'd like to visit is…?
22. If a Seahawks fan were to come to your hometown, the first place you'd take them is…?
Brooks: "My grandma's house."
23. The best advice you've ever received is…?
Brooks: "Was from my dad when he said, 'Business before pleasure.'"
24. Aside from the NFL, your dream job would be…?
Brooks: "Doing interior design."
RELATED
With their final pick of the 2016 NFL Draft, the Seahawks select Zac Brooks a running back from Clemson 247th overall.