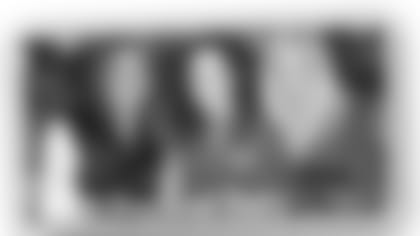 Melainie contiues her Pro Bowl diary with the final two days of practice and events prior to the big game on Sunday.
Day 5- Friday, February 8th
---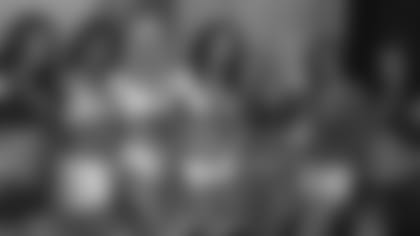 Once again, it was an early morning, yet we had a few extra hours to re-energize until NFC1's appearance and performance at the Schoefield Barracks military base.  I was really excited for this appearance because we all have a special place in our hearts for the men and women of our military. And a few months back, at the end of November, the Sea Gals Show Group had to opportunity to travel to Europe to entertain the troops and their families.  Being a part of our show group, I was able to experience how much they appreciated us being there and what a great feeling it was to hear their stories.
We arrived in uniform ready to perform, yet when our music didn't work we figured we'd start out with signing autographs and taking pictures with everyone instead. The room was filled with military men, women, and children extremely excited to see us. There were even families there with Seahawks jerseys on! I was so excited to see fellow fans.
I also met a few men being transferred up to Washington's Ft. Lewis military base, so that was exciting to know that the Sea Gals and I would probably see them in the near future because we do a lot of appearances there. We love our military!
Finally, we were able to perform for the crowd, tell them a little bit about ourselves, and ask some NFL trivia!  It was so much fun to be able to interact with the crowd! But soon enough it was time to hop back into the vans and return to the hotel for dinner on own.
Day 6- Saturday, February 9th
---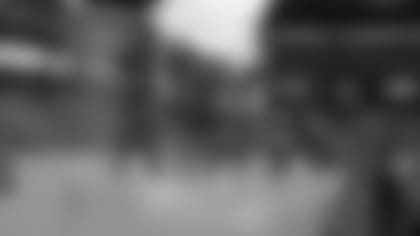 Oh my gosh! Is game day really tomorrow? This week has already gone by in a blink of an eye and to think all our work was going to end before we knew it.
I'm going to call this day our "marathon day." From the time we wake up at about 5am to about 10pm at night, we will have been just about everywhere! Or so it seems.
After our 7am breakfast call, we were to leave for Aloha Stadium in shifts; AFC squads 1 and 2, then an hour later NFC squads 1 and 2.  To those who don't know, the word "Ohana" means "family" in Hawaiian.
Ohana day at Aloha Stadium has been a tradition in which the NFL football players from both the AFC and NFC get to practice and interact with fans on the field, while the cheerleaders get to perform, practice, and interact with the fans as well.
It was a great practice for us. We got to perform our sidelines and even perform our pre-game routine in front of the crowd for the first time.
When Ohana day ended around noon, it was time to change into our practice attire for rehearsal at the stadium.  Luckily, we didn't have to drive anywhere and lunch was provided for us! Game rehearsal lasted a couple of hours and by then we were all feeling pretty comfortable with all of our routines for game day.
But the day wasn't over yet! They decided to get us nice and sweaty just in time for another appearance and performance. Luckily we were able to run back to the hotel for 10 minutes to freshen up (I kid you not, it was honestly 10 short and sweet minutes).
We then rushed back to the vans and were on our way to the Pro Bowl Football Festival at Kapiolani Park. We dropped our things off in a dressing room and ran up to the stage to perform two of our game day routines.
Now, every time we perform, we also get introduced to the crowd so they know who we are and what team were from. I saw a lot of Seahawks fans out in the crowd and definitely had to stop for pictures with them!
Next, we were off to our signing booth where the line was already formed before we got there. Autograph signings are always fun because it is a way to meet our fans and be able to let them know how much we appreciate their support. So, thank you fans!
What a day it has been so far!  It's not hard though when you love your job and love entertaining people.  That's why I couldn't wait until our next performance! We jumped back into our vans and headed off to the Pro Bowl All-Star Block Party. The streets were closed off to traffic and booths were set up all throughout the main street of Waikiki.  Our stage we would be performing on was located right outside the Mariott Hotel, and they were nice enough to give us a conference room to set all of our things in.  Before I knew it, NFC 1 and I were headed out the door to perform.
We were escorted through the hotel by security and out to the streets where thousands of NFL fans were waiting.  All I heard was, "Seattle! Over here! Picture over here!" It was crazy, and so exciting! We were then called up on the stage by Maria of e2k where we danced and were interviewed by the DJ.
It's such a different experience being on stage versus being on the field.  Being on stage with fans so close to you definitely has a more of a personal feel to it.  But we did great and it was like I've danced with these women my whole life.  We then returned to our dressing room and awaited our next call to the stage while AFC 1 had a chance to go perform for the fans.
So much for down time! I felt as if we just sat down and got a drink of water when we were called to the stage again. But I loved every minute of it. I had so much fun at the Block party and unfortunately after our second performance, it was time to head back to our hotel. It was time to get some rest for the big game tomorrow! Go NFC!