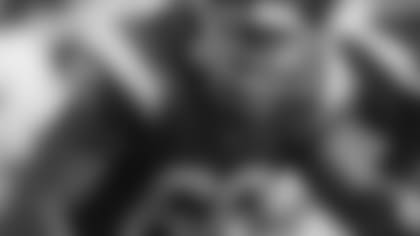 Chilo Rachal is one of two USC guards projected to be taken early in the NFL Draft .
You want to see a very big man bristle? Just make the suggestion to a guard in the NFL that he doesn't have to be as athletic as his fellow linemen to be effective. Tell him he doesn't have to play "in space" as often as offensive tackles, nor does he have to make the line calls to change the blocking scheme or react as quickly as a center.
In many ways, the guard in the NFL draws similar disrespect to the catcher in baseball.
"Some people believe guards are typically not quite as athletic as the tackles," Seahawks vice president of player personnel Ruston Webster said. "Of course, we like our guards to be able to pull and move into space. We want them to have some athletic ability."
Of course, they do. Guards must have quick feet and reflexes for misdirection traps on the opposite side of the line, pull to their strong side to get linebackers or corners, and also pull to the weak side, which can be an even longer run before they have to make their blocks.
But in a class that was referred to as "lean" by several scouts at the Combine in Indianapolis last month, there are still guys that stand out, beginning with Virginia's massive 6-6, 310-pound Branden Albert. Reportedly the only guard who is a real possibility as a first round draft choice, Albert is also eminently capable of playing tackle as well – drawing plenty of attention coming out of high school in Maryland as a left tackle.
"I'd say my primary position is guard, but I am also comfortable at tackle," Albert said. "Wherever a team wants to draft me, either position, I feel comfortable playing. It was a situation, when I first got to UVA, D'Brickashaw Ferguson was there my first year and the coaching staff felt like they had to find somewhere on the field for me. I played the left guard spot that year and they kept me there since then."
That's not unusual when it comes to the top tackles coming into college; the same goes for tight ends. Seahawks right guard Chris Gray, who hold the team record for consecutive starts, was recruited by Auburn as a tight end, was moved to guard and just finished his 15th season as a guard in the NFL.
Oregon State's Roy Schuening is also a top prospect in this year's draft. Because he is 6-4, 306 pounds, he was moved to tackle late in his senior year out of necessity from injuries to the Beavers' line. That adds not only versatility to his resume, but gave him more perspective about playing on the line.
"It was great for me," Schuening said. "Going into the season, I had an idea that I'd probably play tackle also. I didn't start playing it until toward the end of the season. Things happened on the team and they needed me to fill in. I filled in and did fine. I was excited for the opportunity.
"In the NFL, I see myself playing a lot of guard. But also, if need be, if one of the guys goes down, I could step in there and be a tackle. You need that versatility on your team with the rosters the way they are. I was really excited, because I knew I could play tackle. But then the last five games I really came through and showed it."
Mike McGlynn from Pittsburgh, Southern Cal's Chilo Rachal and Eric Young from Tennessee are three other massive guard prospects quite likely to go the first day of the draft. Although nobody will ever refer to them as particularly quick, all of them have played tackle at one time or another but have moved inside with good results.
In fact, Young has never even be a guard other than in practice. He just pencils out better as a guard.
"All I played in college is tackle but most teams are projecting me at guard," Young said. "I've never really played it in a game, but from what I've been told they say going inside is easier, but who knows?"
McGlynn in particular would have plenty of perspective, considering he played all over the line at Pitt. To top it off, he was even the Panthers' long snapper.
"I could play center, I could play guard, and I could play tackle," McGlynn said. "Versatility is one of my strengths. Hopefully, a team really looks into that and it helps me out. It can't hurt me. At Pitt I was a backup center and backup guard while starting at tackle.
"I could definitely back somebody up as a long snapper. I don't know if you're going to have a lot of guys 310, 315 pounds running down on punts, but I'm a pretty good long snapper and short snapper."
The point is, of course, these guys are athletes. To carry around more than 300 pounds on a field of play for three hours, well, you try it. And while the Seahawks did sign free agent Mike Wahle to bolster their line, they've taken a good look at this guard class as well, and they know what they're looking for in a prospect.
None of them would ever be considered soft.
Guards have to be very tough playing inside and grinding things out," Webster said. "The thing you also look for is a guy who's not going to get pushed back and will anchor the pocket for the quarterback. So when he sets to pass protect, he doesn't give up any push, and cave the pocket on Matt (Hasselbeck). Those guys have to sit, anchor the pocket, and bend at the knees, so they have to be flexible. Just like all the other positions on the line, none of it matters if they're not tough."
The following is an alphabetical list of the best guards tackles in the draft by a consensus of draft information compiled by the writer, and is not reflective of the Seattle Seahawks personnel department.
Branden Albert, Virginia, 6-6, 309. 5.17
Robert Felton, Arkansas, 6-4, 315, 5.43
Chris McDuffie, Clemson, 6-4, 330, 5.30
4. Mike McGlynn, Pittsburgh, 6-4, 311, 5.34
Chilo Rachal, Southern California, 6-5, 315, 5.22
Drew Radovich, Southern California, 6-5, 301, 5.28
Chad Rinehart, Northern Iowa, 6-5, 320, 5.37
Roy Schuening, Oregon State, 6-4, 306, 5.30
Donald Thomas, Connecticut, 6-4, 303, 5.00
Eric Young, Tennessee, 6-4, 310, 5.18
Also considered: James Blair Western Michigan; Kerry Brown Appalachian State; Andrew Crummey, Maryland; Mike Gibson, California; Shannon Tevaqa, UCLA.