By Mike KahnSeahawks Insider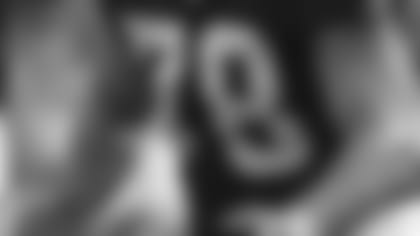 John Sullivan is one of three centers with a chance at being drafted in the first round.
On those rare occasions when the football fan's mind drifts to the offensive line, they bask in the security of huge, mobile tackles protecting the blind spots of the quarterback. They'll even get all fired up about a guard flattening an unsuspecting tackle on a trap or blowing out a linebacker in the front of a sweep.
What about the guy playing center?
Rarely is he mentioned unless it's in the context of a fumbled snap. That isn't the reality of the position at all. Actually, he is the glue of the line, to say the least, not to mention the guy they hope can not only lay a hit on a nose tackle, but explode past the defensive linemen to get a body on the middle linebacker or even a defensive back.
"Center is a little bit of a different position," Seahawks vice president Ruston Webster said. "It varies what teams do with centers as far as pulling and trapping. But all centers have to be very smart. They basically are the quarterbacks of the offensive line, so those guys have to smart, quick and have to anchor and play low.
"You like them to be strong and get push in the run game up the middle. But the key really is the guy has got to be able to kind of run things on the offensive line so it doesn't come down to the quarterback having to make more calls. Being alert is a really big deal at that position."
So as teams prepare for the NFL Draft on April 26-27, they are looking for a bright guy, about 6-3 to 6-4, at least 300 pounds with good burst and capable of carrying your refrigerator 40 yards in less than five seconds.
Although there are plenty of talented centers to be had in this year's draft, they pale in comparison to other positions – meaning there aren't likely to be any taken in the first round. Nonetheless, the trio of Arizona State's Mike Pollak, Steve Justice from Wake Forest and Notre Dame's John Sullivan will be high picks and figure to play in the NFL for a long time. At least their numbers sure penciled out at the Combine, and they got good response. Then again, these guys are also smart enough to know that regardless of what they heard, the truth is in the draft.
"The coaches were telling me quickness is my strength," the 6-4 293-pound Justice said. "I think getting up to the second level (past the defensive line) is the key. I just need to keep working on that, getting there as fast as I can.
"Of course they'd like me to play some guard. Well, I'm willing to play whatever they want me to play – including fullback."
Well, let's not get too carried away now Steve. We understand what you and the coaches meant when they said they liked your quickness. But that's center quickness, which is a far cry from fullback quickness … not when you ran the 40 at the Combine in 5.24.
Now Pollak, on the other hand, broke hallowed offensive line number when he snuck in at 4.99 – which is terrific for a team that is looking for a center to pull or consistently get to linebackers – providing he has that burst at the line. Pollak is 6-4, 301 and enormously strong, which is why he is the only center who may sniff the upper realm of the second round.
Sullivan is virtually the same size as Pollak, but is even a little slower than Justice – so that duo is more likely to go in the third round or so. And below them you'll find more plus-size centers with speed varying from the 5.1s to nearly 5.5 for Southern Cal's jumbo Matt Spanos.
In reality, this is the classic position where somebody gets a steal either late in the draft, free agency, or even moving a player there, which is what happened to Justice's former teammate at Wake Forest, Steve Vallos with the Seahawks as a rookie last season.
Essentially, it's the classic individual spot on the line because there is so much responsibility, both blocking and making the line calls. From Sullivan's point of view it has translated very well from his experience as a top drawer heavyweight wrestler in high school.
"Yeah, it's not the exact same sport, but there's definitely carry-over," Sullivan said. "I love wrestling – the one-on-one battles going on out there. Just you against the other guy and the competition … I really like to compete.
"Just like on defense, on the offensive line leverage is important; balance is important, and wrestling really helps you develop those qualities."
In the end, it really comes down to showing the leadership on the line, recognition and having the power and quickness to get your own job done while directing the others. And that's no easy task.
"I wasn't maybe a vocal leader, but I had to show the guys, this is what you have to do," Justice said. "Make sure you listen to what I say when I make calls on the line. Trust me, because I've been here and I know what to do and we'll get the job done."
Ultimately, that's all that really matters.
The following is an alphabetical list of the best centers in the draft by a consensus of draft information compiled by the writer, and is not reflective of the Seattle Seahawks personnel department.
Carvalho Brennan, Portland State, 6-1, 316, 5.14
Richard Jamey, Buffalo, 6-5, 295, 5.21
Steve Justice, Wake Forest, 6-4, 293, 5.20
Doug Leqursky, Marshall, 6-3, 312, 5.22
Kory Lichtensteiger, Bowling Green, 6-2, 298, 5.19
Mike Pollak, Arizona State, 6-4, 301, 4.99
Matt Spanos, Southern California, 6-5, 317, 5.38
John Sullivan, Notre Dame, 6-4, 301, 5.3
Fernando Velasco, Georgia, 6-3, 318, 5.14
Cody Wallace, Texas A&M, 6-4, 296, 5.26
Also considered: Marcus Coleman, Wisconsin; Drew Miller, Florida; Eric Scott, Kentucky; Adam Spieker, Missouri; Ryan Wendell, Fresno State.