If you're going to brag about your ping-pong prowess as it relates to a certain competitive cornerback, it's better if said cornerback is not lurking behind you, eavesdropping. Because then this happens:
Cliff Avril: "I'm pretty good at ping-pong. I've been whipping Richard Sherman's behind a lot lately."
Richard Sherman: "Excuse me, can you tell her what happened this past game that we just played a few minutes ago?"
Avril: "We're even for the day."
Sherman: "I didn't ask about the day ... I was asking about the past game."
Avril: "I can tell her about the one day I beat you four straight times."
Sherman: "Nobody remembers that day. Just today. Today is the present. It's a gift."
Avril: "...so I'm good at ping-pong. I actually just started playing ping-pong, but I'm probably top 10, top 5 in the locker room."
It's not surprising that the Seahawks' talented defensive end is competitive both on and off the field. Which brings us to the top of our list of 12 things you (probably) don't know about Cliff Avril:
1. He's not that good at naming something he's not good at.
Avril: "I'm good at everything. What is something I'm not good at ... I haven't had to cook in forever, so I'm probably terrible at that."
---
2. He's addicted to Candy Crush.
Avril: "I'm on level 750 or something. My wife's like, 'you still play that game?' Usually I get fed up with games after a month or two. I've been playing candy crush for a year. [Checks his phone.] I'm on level 681. That's a lot."
---
3. His two sons are named Xavier and Xander.
Avril: "Xavier is just a name I've always wanted to name my child. My French name in high school was Xavier, so I always liked that name. And my wife came up with Xander [born Oct. 12]. I was surprised she liked the 'X' too."
---
4. He bought his wife a push present.
Avril: "I got her a nice push present. She'd been asking for this doggone Chanel bag forever and a day, so I got her a Chanel bag. I don't know the name of it, all I know is the price tag was too much for a bag. It was ridiculous."
---
5. His first and only job was at Krispy Kreme.
Avril: "It lasted all of two weeks. I worked there for about two weeks, and then I quit to play football. I didn't start [playing football] until high school. It ended up working out."
---
6. His favorite Seahawks uniform combo is...
Avril: "I like our all blue. The home uniforms are pretty dope. Gray is cool. I think all blue is best, though, personally."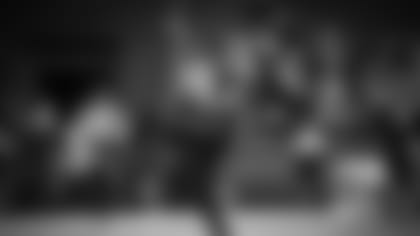 ---
7. He's a fan of Martin Lawrence.
Avril: "Favorite show for me, ever, is Martin. I love Martin. And then favorite movie is probably Bad Boys and Bad Boys II. I just like those two from back in the day."
---
8. He's not into minivans.
Avril: "Heck, no. I refuse, I'd rather get the biggest Suburban or something before I get a van. I have a [Mercedes-Benz] G-Wagon. I don't have the kids [in my car] often, so I can have a G-Wagon."
---
9. His kids influence his musical taste.
Avril: "I listen to anything, it depends on the mood, it depends if my kids are up. That definitely [determines] whether I go hardcore hip-hop or if I go R&B. So it just depends on what the kids are doing."
---
10. Michael Bennett makes him laugh the most.
Avril: "He's crazy, he's a nutcase. So he's hilarious. There's never a down day around here."
---
11. If he wasn't playing football, he'd be flipping houses.
Avril: "From a career standpoint, I'm into real estate, so I'd probably be doing something with real estate, flipping houses. I think that's probably what I'll do when I'm done playing."
---
12. He has big plans for his Cliff Avril Family Foundation, which raises awareness of juvenile diabetes and supports healthy living habits in children.
Avril: "We're doing a lot of great things. We're going to go to Haiti this summer and we're partnering up with some people to do a football camp, and I'm also looking into building a school out there as well. I used to go to Haiti every summer, but I haven't been there in 10 or 15 years, since my grandma passed. My grandma had diabetes."